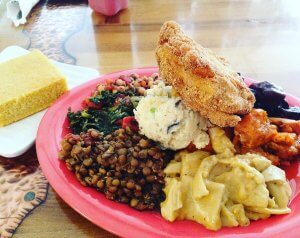 Vegan soul food is sweeping the nation—think black-eyed peas, collard greens, cornbread, fried green tomatoes, grits, mac 'n' cheese, and fried "chicken" (for starters). Is your mouth watering yet? Visit one of these soul food joints to experience scrumptious, compassionate down-home cooking:
This soul food restaurant is killing it (kindly) with a second location that will open in December 2016. CNN called the restaurant "the shiniest rising star in the vegan world." Popular dishes include the Seitan Pepper Steak, the "Catfish" Tofu, and the Smothered Tempeh.
A photo posted by Domenika Tarazhi (@domenikaa) on Aug 3, 2016 at 5:31pm PDT
Detroit Vegan Soul is located at 8029 Agnes St., Detroit, MI 48214 and is coming soon to 19614 Grand River Ave., Detroit, MI 48223.
2. Souley Vegan
You can peruse the vegan menu online, but beware of drooling on your computer keyboard. The Oakland, California, restaurant's soulful offerings include Creole Style Spaghetti, Black Eye Pea Fritters, Souley V's Chick'in (Seitan) Nachos, and okra gumbo.
Picture taken with my own "sometimey" iPhone
. Yes, my plate arrives to the table looking this beautiful each time I'm here

! Mac n cheese, BBQ Tofu, yams, southern fried tofu, collard greens, lentils, black eyed peas, potato salad, cornbread

. #souleyvegan #getyourown
A photo posted by @bayvegetariangrubs on Feb 28, 2016 at 7:20pm PST
Souley Vegan is located at 301 Broadway Ave., Oakland, CA 94607.
3. NuVegan Cafe (Formerly, Woodlands Vegan Bistro)
If you are what you eat, we want to be anything that the NuVegan serves. That's because everything there is 100 percent vegan, with organic and raw options. It has two locations, in Washington, D.C., and College Park, Maryland, and recently added a food truck to share the love throughout the nation's capital.
Vegan steak and cheese w/ green beans & squash.. ##fuckthatsdelicious #nuvegan #whatprotein
A photo posted by Ryan Schline (@ryanschline) on Jun 8, 2016 at 8:29am PDT
NuVegan Cafe is located at 2928 Georgia Ave., Washington, DC 20001 and 8150 Baltimore Ave., College Park, MD 20740.
Located in Chicago's Hyde Park neighborhood, B'Gabs offers delicious items such as the Loaded Smashed Potato Bowl, nacho salad, jicama fries, and so much more that we want right now.
Joined daddy for his lunch break today
A photo posted by Ma, Pa & Bebè (@mamas.tribe) on Feb 17, 2016 at 1:56pm PST
B'Gabs Goodies is located at 1450 E. 57th St., Chicago, IL 60637.
This Chicago-based gem of a restaurant is dedicated to delicious vegan cuisine—and it's been open for more than 33 years and counting.
i'm a sucker for phenomenal vegan food
A photo posted by S H Ⓥ Y (@shayxdynamite) on Dec 28, 2015 at 10:02am PST
Original Soul Vegetarian is located at 203 E. 75th St., Chicago, IL 60619.
This popular Atlanta-based spot isn't related to the Chicago restaurant of the same name, but they both serve delicious food.
Experiencing some vegan soulfood in Atlanta George….Tofu, Mac and Cheese, Yams and Corn Bread… #soulvegetariansouth #atlantavegan #vegan #veganfoodshare #veganfoodporn #whatveganseat #vegansofig #instavegan #veganism #meatfree #dairyfree #cruelityfree #plantbased #plantstrong #plantpower #veganlife
A photo posted by Adam Smith (@adambombl13) on Jun 27, 2016 at 1:42pm PDT
Soul Vegetarian South is located at 879 Ralph David Abernathy Blvd. S.W., Atlanta, GA 30310.
7. Soul Vegetarian Restaurant No. 2
Feast your eyes on this plate of tofu, mac 'n' cheese, yams, and cornbread from another Atlanta restaurant.
Collard greens, BBQ cauliflower, mac & cheese. Highly recommended. A++
#soulvegetarian #soulvegetarian2 #atl #atlanta #vegan #whatveganseat #vegansofig #southernfood #nofilter
A photo posted by Erin (@erinnbrie) on Aug 12, 2016 at 10:24am PDT
Soul Vegetarian Restaurant No. 2 is located at 652 N. Highland Ave. N.E., Atlanta, GA 30306.
8. Stuff I Eat
Reading the descriptions of chef Babette Davis' menu items is like being transported to vegan heaven. Also check out this video, which will take you on a field trip to Inglewood, California, to experience these divine dishes.
Good thing I'm extra hungry today lol. The best vegan soul food in all of Inglewood
A photo posted by Oscar Morales (@oscaramora) on Aug 19, 2016 at 2:00pm PDT
Stuff I Eat is located at 114 N. Market St., Inglewood, CA 90301.
This soulful restaurant started as a pair of food trucks and has since traded in its wheels for a brick-and-mortar location. Scrumptious dishes include spinach quiche, Battered Tofu, and Spice Jerk Tofu. It also offers catering and delivery services.
Nourishment
A photo posted by @strawb_bb on Dec 7, 2015 at 3:07pm PST
Soul Veg Tallahassee Restaurant & Catering is located at 1205 S. Adams St., Tallahassee, FL 32301.
10. The Southern V
This Nashville, Tennessee, hot spot will satisfy your sweet tooth with doughnuts, sweet potato pie, caramel apple pie, ice cream cake, and more—in addition to classic savory dishes.
Made it home in time to make some #vegan #breakfast #brunch

Please don't ask me if this is ALL vegan, because it is! #homemade #everything #tofu #scrambled with veggies, #friedpotatoes , fluffy #pancakes , #facon #bacon #nashville #nashvilletn #openingsoon #midtownnashville #southern #comfort #food #bakery #veganbakery #513bFisk #follow #downtownnashville #12south #nashvillevegans #vegansofig
A photo posted by Tiffany Hancock (@thesouthernv) on Jul 9, 2016 at 9:21am PDT
The Southern V is located at 513 Fisk St., Nashville, TN 37203.
11. Khepra's Raw Food Juice Bar
Raw foodists in Washington, D.C., are lucky to have Khepra's nearby. Dishes such as Avocado Plantain Pie, Creamy Collards, and Jerk Eggplant and sweet treats such as Cashew Cheesecake and Apple Pear Goji Pie also make this restaurant a must-taste destination for visitors.
Ackee Pie. I'm hungry. Day 4 #rawretreat
A photo posted by Khepra Anu (@chefkhepra) on Apr 6, 2015 at 4:47am PDT
Khepra's Raw Food Juice Bar is located at 402 H St. N.E., Washington, DC 20002.
12. Seasoned Vegan
Harlem's first full-service vegan restaurant, this family-run operation serves up gourmet soul food that puts a "soul food" twist on Asian, Italian, and Middle Eastern dishes. Its motto is "The food you love, veganized."
Shrimp and grits! Burdock root "shrimp" is so good. #vegan #veganism #vegansofig #veganfoodporn #veganfoodshare #veganfood #whatveganseat #veganbrunch #vegannyc #seasonedvegan
A photo posted by Rebecca Gordon (@maskedfantom) on Feb 21, 2016 at 12:23pm PST
Seasoned Vegan is located at 55 St. Nicholas Ave., Harlem, NY 10026.
Your taste buds will be tantalized by dishes such as vegan BBQ Chicken, Pepper Steak, and Curry Chicken.
I love me some @belmontvegetarian_ goodness. ♡♡♡ #belmontveg #vegworcester #worcesterma #whatveganseat #vegan #plantbased #nevegfest
A photo posted by Panda & Niko (@xmandarose) on Apr 6, 2016 at 1:34pm PDT
Belmont Vegetarian Restaurant is located at 157 Belmont St., Worcester, MA 01608.
14. Vegan's Delight
Specializing in Jamaican soul food, this Bronx-based restaurant, grocery store, and juice bar has been thriving since 1992. Interesting menu items include vegan fish and prawn dishes, pepper "steak," and Eggplant Mélange.
Seriously just had the most delicious Jamaican/Caribbean takeout food from Vegan's Delight in the Bronx. Kombucha, Curried seitan with brown rice, and a flaky hot pocket filled with jerk tofu. Sitting on a concrete stoop never tasted so good!

#damnitfeelsgoodtobeavegan #veganfoodshare #whatveganseat #vegan #bronxny #vegansdelight
A photo posted by Nathalie Jamar
(@covalentmagz) on Oct 7, 2015 at 1:58pm PDT
Vegan's Delight is located at 3565-C Boston Rd., Bronx, NY 10469.
15. Seed
Mouthwatering, Creole-inspired items such as Southern-fried nuggets, gumbo, Creole zucchini wraps, and sweet corn polenta can be found at this New Orleans restaurant.
Boo's fav from #NewOrleans: Tofu po'boy from @seednola
Insider tip: Add garlic aioli, whoa. #WhatVegansEat #AllDayVegan
A photo posted by Christopher & Elizabeth (@alldayvegan) on Jul 6, 2016 at 5:40pm PDT
Seed is located at 1330 Prytania St., New Orleans, LA 70130.
16. Go Vegetarian
This Atlanta-area restaurant doesn't shy away from vegan meat and features items such as BBQ Vegan Pull Steak Sandwich, BBQ Vegan Rib Tips, and Vegan Sliced Roast Steak with Gravy, among many other hearty dishes.
Delicious. BBQ Vegan Rib Tips, Mac & Cheese, and Fresh Collard Greens. #govegetarianresturant #govege #govegan
A photo posted by Go Vegetarian Restaurant (@govegetarianrestaurant) on Jun 24, 2016 at 3:59pm PDT
Go Vegetarian is located at 2179 Lawrenceville Hwy., Ste. H, Decatur, GA 30033.
Interested in incorporating some soul food recipes into your cooking repertoire? Check out one of Bryant Terry's soul cookbooks, like Vegan Soul Kitchen, to help get you started. You can also check in with your local soul food restaurant and encourage the owners to add some vegan fare to their menu.
Take our vegan pledge today!
The post Vegan Soul Food Restaurants That Will Blow Your Mind appeared first on PETA.