Vegan Chocolate Chip Brands for the Cruelty-Free Kitchen
November 14, 2016
Vegan Chocolate Chip Brands for the Cruelty-Free Kitchen
Compassionate bakers know that chocolate chips are a crucial ingredient of some very special recipes, but not only is cow's milk bad for you, it's much worse for the cows who suffer on dairy farms.
Luckily, we've put together this list of vegan chocolate chip brands so you can have your cookies and eat them, too!
Feast your eyes on these scrumptious morsels:
Divvies
Wishing I had one of these right now. #cookies #divvies #nutfree #vegan #plantbased #plantbasedvegan #hclfvegan #highcarbvegan #carbs #healthyliving #starchsolution #nutrition #balancedlife #easy #love #healthy #vegansofig #follow #instagood #weightloss #veganfoodshare #veganism #veganlife #cleaneating #healthyfood #plantpower #eatingwell #health #govegan #whatveganseat
A photo posted by Melissa • Vegan
(@happybalancedvegan) on Nov 5, 2016 at 7:19pm PDT
Enjoy Life
Dark Chocolate Morsels
Semi-Sweet Chocolate Mega Chunks
Semi-Sweet Chocolate Mini Chips
I buy the bags of chocolate chips with excitement of baking. But I always end up eating itself.
#chocolatechips #veganchocolatechips #tgifriday #veganbaking #dreaming
A photo posted by Hazuki (@easypeasyvegantokyo) on Jul 22, 2016 at 7:20am PDT
SunSpire
Dairy-Free Chocolate Dream Semi-Sweet Baking Chips
Organic Semi-Sweet Baking Chips
Organic Fair Trade 42% Cacao Semi-Sweet Baking Chips
Organic Fair Trade 65% Cacao Bittersweet Baking Chips
Raw Vegan Cookie Dough Balls
#yummy #plantbased #chef #healthcoach #mommy #snacks #vegan #vegansofig #whatveganseat #vegetarian #vegetariansofig #plantprotein #organic #almondbutter #coconutoil #sunspire #chocolatechips #almondmeal #oatflour #maplesyrup #ohsheglows #kidapproved #delicious #raw #rawkstarhealth #chocolatechipcookiedough #veganfoodshare #foodie
A photo posted by Jenni (@rawkstarhealth) on Nov 19, 2015 at 8:42am PST
Wegmans
Life source. #vegan #whatveganseat #veganfoodshare #veganfoods #veganchocolate #chocolate #vegansofig #foodphotography #food #photography #wegmans #wegmanschocolatechips #chocolatechips #foodblogger #veganfoodblogger #blog
A photo posted by Meghan Coggins (@meghancoggins) on Jun 22, 2015 at 1:34pm PDT
Whole Foods
365 Everyday Value Dark Chocolate Baking Chunks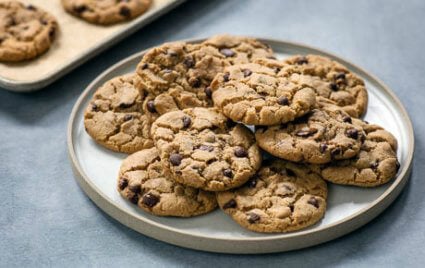 © Whole Foods Market
Obsessive Confection Disorder
© Obsessive Confection Disorder
Always be sure to check your local grocery stores, too, which may carry an "accidentally vegan" brand. Simply look at ingredients for milk or whey.
Ghirardelli Semi-Sweet Chocolate Baking Chips have long been a favorite "accidentally vegan" treat. But recently, the company quietly added "whole milk powder" to the ingredients, and the original dairy-free chocolate chips are disappearing from grocery store shelves.
Sign our action alert telling Ghirardelli how much we loved its dairy-free chocolate chips and asking it to return to the original recipe.
Want to learn more about chocolate? Visit our Definitive Guide to Vegan Chocolate.
The post Vegan Chocolate Chip Brands for the Cruelty-Free Kitchen appeared first on PETA.