Tagliolini con il Tartufo – Tagliolini with Truffles
November 6, 2016
Tagliolini con il Tartufo – Tagliolini with Truffles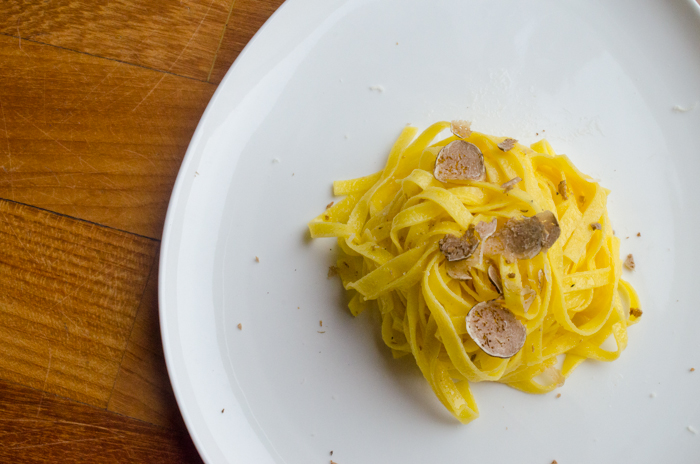 One of the most sought-after delicacies of Italy is the truffle. We are fortunate enough to be in truffle producing regions on many of our Italy cycling tours and walking adventures, be it central Italy in Umbria or the northern regions of the Veneto or Piedmont. The use of truffles in all of these regions is quite similar, sharing the philosophy that the star of the show is the truffle, and keeping the rest of the dish simple to let the deep, earthy flavor of the truffle shine through.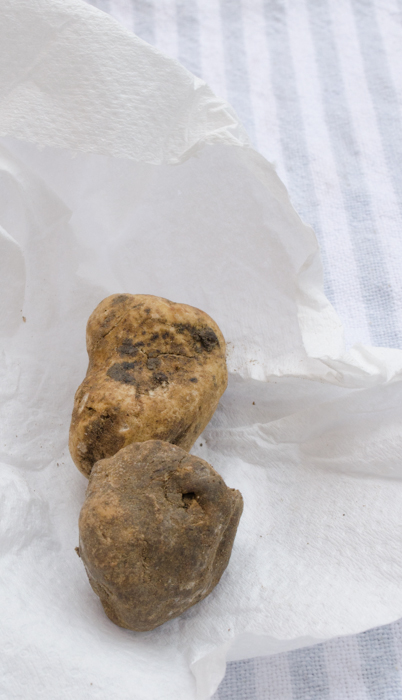 Truffles are a form of fungi, and so are related to mushrooms, as well as yeasts and molds. Truffles are ectomycorrhizal fungi, a fancy name which refers to fungi that grow in a symbiotic relationship with the roots of a plant. In the case of truffles, this is beech, birch, hazel, hornbeam, oak, pine, and poplar trees. Truffles can only thrive in the very particular soil conditions that exists in this forest environment. Each fungus will produce one truffle per year, with the 'terroir' – the soil type, tree, and local climate – providing a distinctive aroma and flavor to each truffle.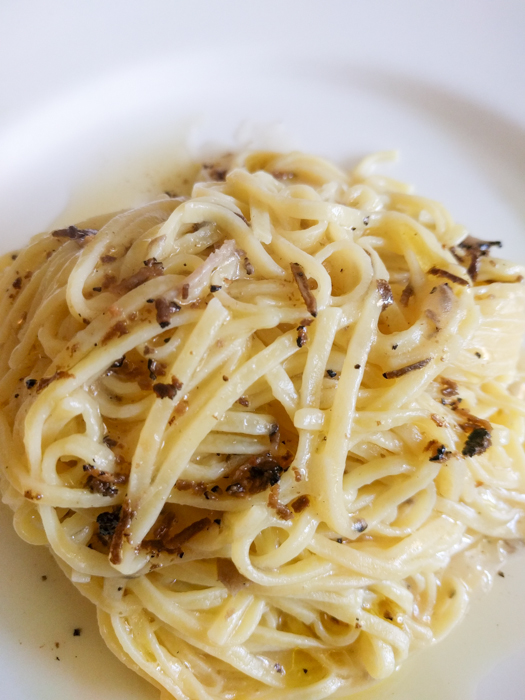 Tagliolini with Truffles in restaurant in Vicenza
The scarcity of truffles is due in part to its need for this very specific growing environment, as well as its difficulty to find – it grows completely underground. They are foraged by trifolau, or truffle hunters, who keep their hunting grounds a closely held secret. They are assisted by a trained pig or dog, whose keen sense of smell helps the trifolau locate the truffles. A pig was the animal traditionally employed, as they will naturally seek out truffles, but they naturally seek them because they like to eat them, which can cause problems when they find one. It is said that you can spot a truffle hunter that still uses pigs because he is missing a few fingers. Today trifolau typically use trained dogs.
A reputable trifolau will then carefully excavate the truffle, in order to preserve its environment so he/she can return next year to find another in its place. Poachers do double damage when they steal a truffle, both to the pocketbook of the reputable trifolau, as well as destroying the spore so it will not produce again.
Here is a very classic recipe for truffles found all over Italy, Tagliolini with Truffle. This recipe is translated from Italian, from "La Cucina del Veneto" by Morganti.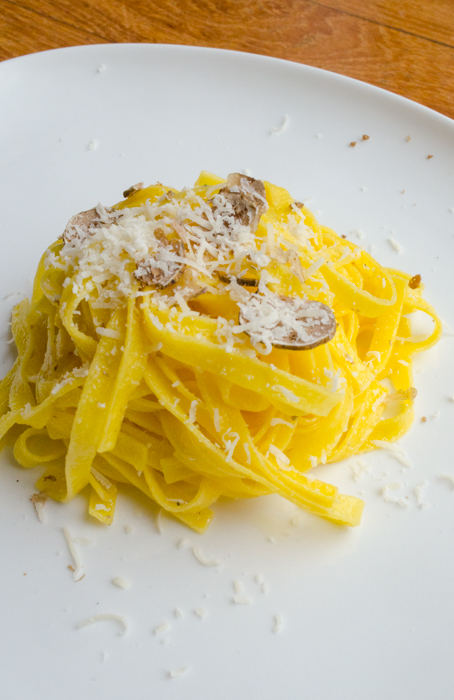 Tagliolini con il Tartufo
Serves 4
4 ounces butter
1 small black or summer truffle, brushed clean and sliced very thin, or coarsely grated
1 pound good quality tagliolini (or tagliatelle or fettucine, if you cannot find tagliolini, as I had to do)
1 tablespoon finely minced parsley or chives
Grana cheese, grated
In a large saute pan, melt the butter and add the truffle. Cook for a few minutes over medium heat, then turn off and keep warm.
Bring a large pot of water to boil, salt well. Cook the tagliolini until just al dente, then drain and add quickly to the pan with butter flavored with truffles. Sprinkle with fine chopped parsley or chives and serve in individual serving dishes. Garnish with grated Grana.
The original recipe recommended pairing with a Bardolino Classico.