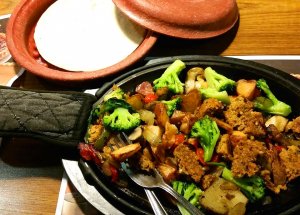 This piece is adapted from peta2. 
Americans know that no matter where you are, Denny's is the spot for late-night gatherings or to refuel on a road trip in the middle of nowhere. Diners may not be the first place you think of when you're seeking plant-based food, but Denny's vegan offerings can really hit the spot. Check out the options:

Skillets (add tortillas for 99 cents)
Vegan at Denny's


#carbthefuckup #dennysvegan #ilovemymom
A photo posted by Plants are great
(@thegodessvenus) on May 24, 2016 at 5:48am PDT
Sides
Broccoli
French fries
Fresh sautéed zucchini and squash
Garden salad (with balsamic vinaigrette, French dressing, or Italian dressing)
Seasonal fruit
Seasoned fries
Sweet petite corn
Breakfast
Grits or oatmeal: Ask that they be made with water instead of milk.
Hash browns: Add bell peppers, onions, mushrooms, and avocado to make them extra delicious!
Red-skinned potatoes
Regular English muffin: Be sure to avoid the gluten-free one, which has dairy ingredients in it, and use jam or jelly instead of butter.
Toast: Ask for potato, multigrain wheat, or seven-grain bread, and use jam or jelly instead of butter.
Build Your Own Burger (comes with lettuce, tomato, red onions, and pickles)
Choose the brioche or whole-wheat bun and the veggie patty (it's vegan!). To make it a double, order an extra patty for $1.50. Skip the cheese and choose from these toppings: grilled onions, sliced jalapeños, fresh avocado, sautéed mushrooms, barbecue sauce, bourbon sauce, ketchup, and mustard.
Late Saturday dinner: Vegan Denny's! #vegan #whatveganseat #veganontheroad #dennysvegan #bocaburger #frieshavetheirownoil #nomayo #nocheese #veganincamarillo
A photo posted by Dustin and Joana (@halnez_foodness) on Aug 3, 2015 at 10:12pm PDT
So there you have it. The next time your stomach is rumbling at 1 a.m., go find that warm glow of the familiar yellow sign and feast on all that tasty vegan food at Denny's.
Want more vegan options on the go? You've come to the right place. Check out our guides to ordering vegan at The Cheesecake Factory, Burger King, and Taco Bell!
Show a friend how easy it is to go vegan by ordering him or her a FREE vegan starter kit:


Order a Free Vegan Starter Kit for a Friend
The post From Skillets to Burgers, It's Easy to Eat Vegan at Denny's appeared first on PETA.