Paarlbrot – Traditional Bread from the Venosta Valley
February 27, 2016
Paarlbrot – Traditional Bread from the Venosta Valley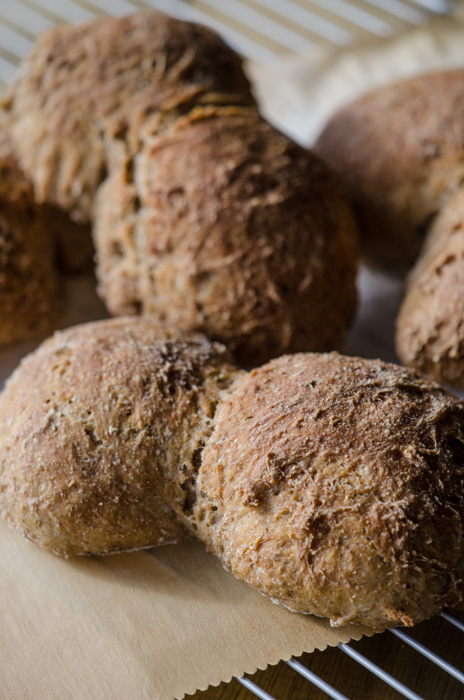 The first few days of our Bike the Wine Roads of Trentino-Alto Adige tour is spent in the lovely Val Venosta, or Vinschgau Valley. This is the upper part of the Adige river valley, running west to east from the Reschen Pass to Merano. A well-maintained bike path follows this valley, winding through apple orchards, vineyards, and berry fields, with spectacular mountains on either side. A great cycling destination for all levels of cyclists, offering tranquil flat bike paths to the start of the ascent of Passo Stelvio.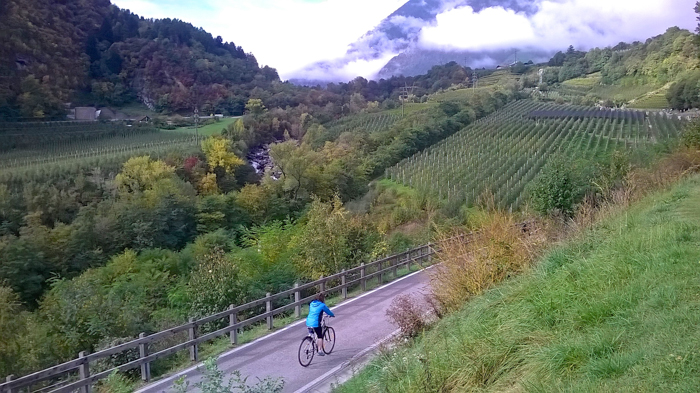 Sudtirol was part of the Austrian-Hungarian empire until after WWI, and the region today still strongly reflects its germanic roots, with German being used as frequently as Italian. The cuisine too reflects these same roots, one example being the breads you find – the mountain farmers here have always preferred whole wheat and rye based breads over the white bread you find in most of Italy. I find the best and most interesting varieties of breads in all of Italy here in Sudtirol.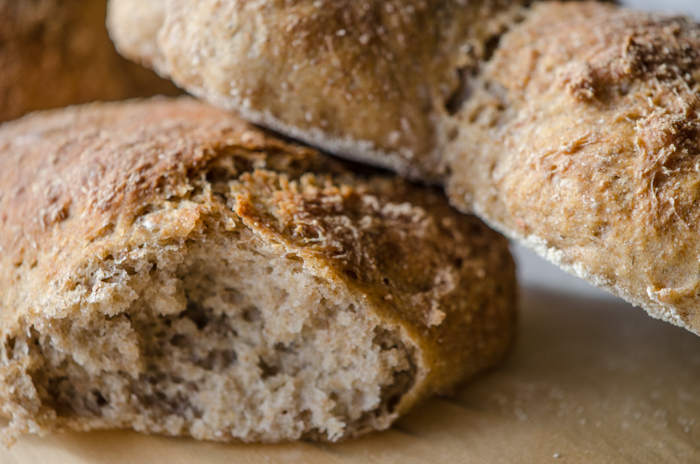 The enviable climate of the Vinschgau, with very mild temperatures for the elevation is optimum for the cultivation of wheat and rye. The best rye flour is cultivated at higher elevations, and with over 300 days of sunshine a year, the rye has sufficient time to fully ripen.
Paarlbrot is the oldest type of bread from Venosta Valley. This Vinschger Paarl, "pair bread" after its two-lobed shape, was first baked in the ovens of Monte Maria Benedictine Abbey in the town of Burgusio/Burgeis in the 13th century. At that time, this "monastery bread", as it is also called, was made at most four times a year, so it was essential that they last for the long winter months. The flat loaves of Paarlbrot and other breads were stored on racks, and were broken with a special tool called a "grammel", then soaked in milk, coffer or soup.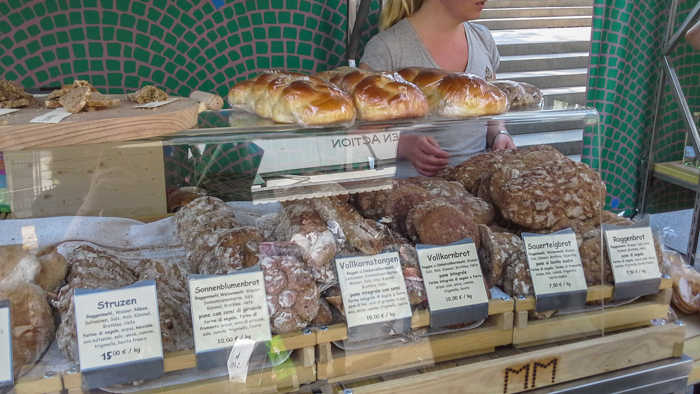 Today you find many local bakeries producing fresh paarlbrot every day, so it no longer needs a long soak to be enjoyed. The original recipes begin with a sourdough type starter, 70% or so rye flour, and using milk rather than water – milk inhibits the gluten structure resulting in a flatter breads, but the fat in milk holds moisture so the bread doesn't dry out as quickly, beneficial when these were expected to last for several month. The Paarl bread has a very distinctive flavor due to both the use of the sourdough, as well as the inclusion of cumin, fennel and fenugreek, all cultivated in the gardens of Sudtirol peasants.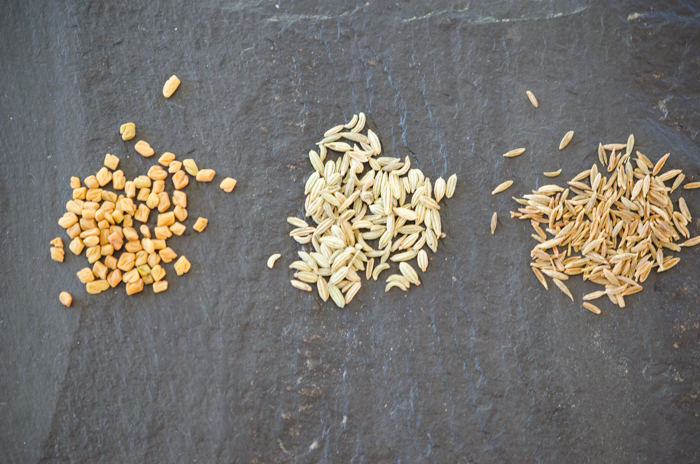 Enjoy with cheese, local smoked sausages and speck, and a glass of good local red wine like a Schiava, or a local apple juice.
This version of Paarlbrot is not authentic, but does include the traditional flavorings – beginning with a sourdough, rye flour, cumin, fennel and fenugreek. I recently purchased the cookbook "The New Artisan Bread in Five Minutes a Day" by Jeff Hertzberg MD and Zoe Francois, and have been baking a LOT more bread recently, thanks to their minimalist approach (no kneading!!). So I adapted their technique using the traditional ingredients of Paarlbrot, and enjoying a panini with speck and cheese for lunch each day this week.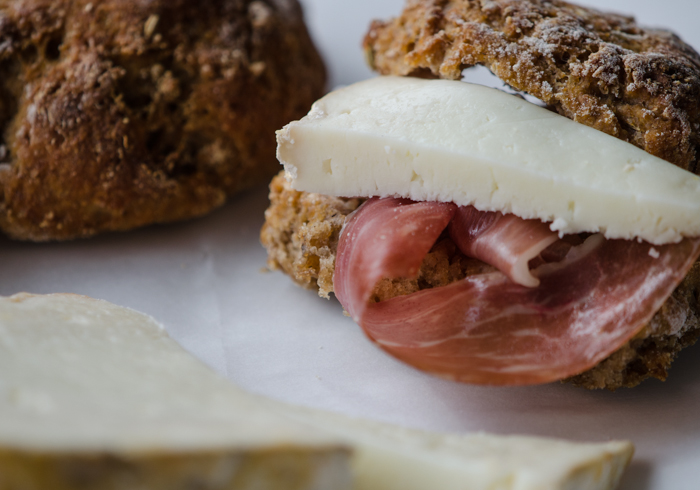 Paarlbrot
1 1/2 cups lukewarm milk (100°F or below)
1 1/2 teaspoons granulated yeast
1 1/2 teaspoons salt
1 teaspoon cumin seeds
1 teaspoon fennel seeds
1 teaspoon fenugreek seeds
10 ounces all-purpose flour
6 ounces rye flour
Pour the warm milk into a 6-quart bowl or a lidded food container. Add the yeast, salt, and seeds. Mix in the flour, do not knead. You will have a dough that is wet and loose enough to form to the shape of the container.
Cover with a lid, leaving it cracked open so it is not airtight, or loosely with plastic wrap. Allow the mixture to rise at room temperature until it begins to collapse, or at least flattens on top, about 2 hours. Then refrigerate and use over the next 14 days. You can use the dough anytime after this first 2 hour rise, but the flavor will be more complex if you allow it to sit overnight or longer in the refrigerator.
When ready to bake, turn on your oven to 450°F. If you have a pizza or baking stone, place this in the oven on a top shelf. Place an empty heavy duty metal (not glass, it may shatter )roasting pan on a shelf below.
If you have a pizza peel, prepare it by sprinkling with cornmeal or covering with parchment paper so the loaves will not stick. If you don't have a peel, you can use the back of a sheet pan. Or you can just bake on a sheet pan if you don't have a baking stone.
Dust the surface of the refrigerated dough with flour. Pull up and cut off about a cup of the dough, about 1/8th of the entire dough mass. Form into a flat oval and place on the peel or sheet pan. You want to do this quickly and handle the dough as lightly as possible; irregular shape is preferred. Remove a second ball of dough the same size as the first; shape in the same way and place on peel or pan next to first, touching for 2 inches or so along one side to make the characteristic 'pair' or 'paarl' shape. Repeat three more times to make 4 total paarl loaves.
Allow the dough to rest for 40 minutes.
When ready to bake, slide the parchment paper with the loaves onto the preheated stone. Quickly pour 1 cup of hot tap water into the empty roasting pan below the stone and close the oven door.
Bake for 20 to 25 minutes, or until the crust is richly browned and firm to the touch. Allow to cool.