Ithaca Farmers Market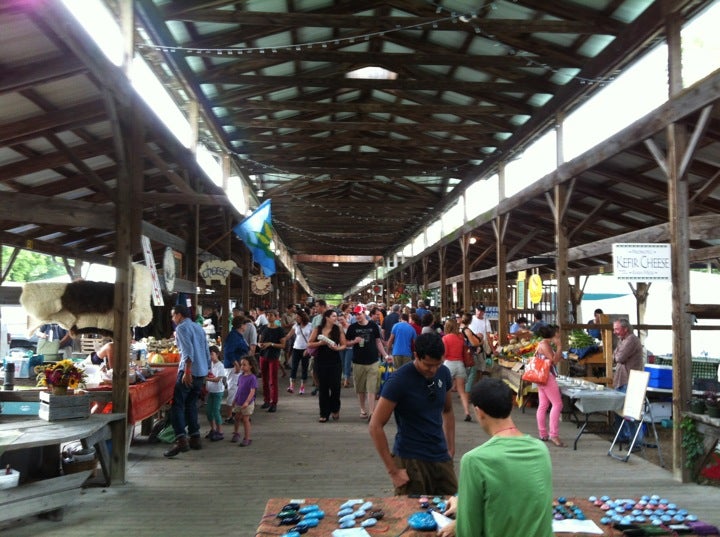 Map: Surroundings & Nearby
Foursquare Tips
Eat a breakfast burrito, and go for the large one. It's the best way to start your weekend morning.

Small breakfast burrito totally recommended

wait in line for Cambodian food from Khmer Angkor. the Banh Chev and Green Amohk Tofu are worth it.

the apple cider donuts and hot apple cider are great

This visit, try a food vendor you've never tried before, and buy some produce you don't know how to prepare. Yet.

Go early. Porchetta from The Piggery, YUM!!

Two words: Kraut. Fritters.

Be sure to try the Cambodian food!

Try the new Belgian Waffles at Cactus Heads, seriously the best waffles I've ever had!

Locavores should make sure to visit. Everything thats sold is grown within 30 miles of Ithaca.

Whether you are looking for fresh veggies, wine, cider, or small bites of good food while hanging out on the waterfront, this market has you covered.

Cambodian food stand: sweet purple rice with fresh mango, yum!

Most vendors hail from less than 30 miles away and the Market also contains prepared food vendors. Check the Ithaca Farmers Market for hours.

Highly recommend the Corn Fritters from the Macro Mommas stand. Pick up a fresh lemonade on your way down to the Landing. Find a rock to sit on and enjoy the view and often the live music.

Breakfast burrito is delish!

Bathrooms and an ATM near the main entrance, make sure to walk around to find the cheapest prices- pesto has the cheapest basil and mandeville farm has cheapest/biggest eggplants

My fave is the veg numpow from the cambodian peeps

Parking is a nightmare

Best meat at autumn's harvest farm booth... Eat organic ...beef-pork-chicken

Sundays are when they allow pets to stroll around so makes for quite a lively scene. If you're going during the Fall, grab an apple cider donut! In summer, grab cheese/vino and head for Stewart Park!