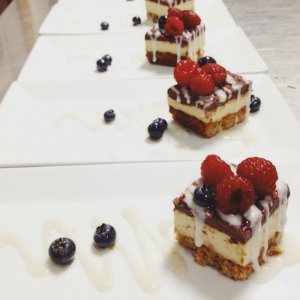 It's a great time to eat clean. With so many vegan and vegetarian restaurants around the country—and plenty of vegan options at restaurants that serve meat—it's never been easier to fill your plate with compassion. As consumers learn more about how the meat and dairy industries affect animals, the environment, and their health, the demand for plant-based food grows. Take a look at these hotels with vegan menus, and happy traveling!
Dinner at the Ravens
#VeganResort #EcoFriendly #EcoFriendlyResort #Daycation #Unplug #Woods #Beach #Nature #MotherNature #FirePlace #Vegan #PlantBased #WhatVegansEat #VegansOfIG #NorCal #Vegetarian #PlantBasedDiet #Ravens
A photo posted by Jessica Davis (@compassionatelifestyle) on Sep 12, 2016 at 8:31pm PDT
Here are some of our favorite hotels with vegan menus:
Fairmont Hotels & Resorts
Most Fairmont locations offer a separate vegan menu, so please check with your specific destination ahead of time.
Yummy! Lunching poolside @fairmonthotels Avocado, lettuce, tomato on toasted bread
I can get used to this ☀️
✌
️ #vegan #vegansofig #veganfoodshare #bestofvegan #socal #whatveganseat #govegan #plantbased #anaspiringvegan #lickmyphone #vegansofinstagram #veganism #veganeats #nomnom
A photo posted by An Aspiring Vegan | Sunny ✌
️ (@an.aspiring.vegan) on Jun 17, 2016 at 2:28pm PDT
Check individual location for delectable, plant-based offerings, like this arugula and lentil salad:
Happy Thanksgiving at #CostaRica #Golivzo ✅☀️✌️ #organic yummy #lentils #arugula #veggies #beach #tropics #livzo #fourSeasonsResortsCostaRica #salad #vegan #veganFourSeasonsResort
A photo posted by www.livzo.com Social Media (@golivzo) on Nov 27, 2014 at 3:32pm PST
If you're visiting Las Vegas, this is kind of a no-brainer. The Wynn website's Dining page has a Vegan Dining option—swoon!
It's like a #vegan happy meal in Vegas! #wynnlasvegas
A photo posted by Cameron Airen (@cameronairen) on Jun 12, 2016 at 9:51pm PDT
The Stanford Inn in California is the only 100 percent vegan hotel in North America.
Gluten free Vanilla Bean cheesecake with fresh berries #vegan #glutenfree #chocolate #glutenfree #celiac #celiacdisease #chocolate #cheesecake #vegan #delicious #delish #beautiful #veganfood #veganlife #veganbaking
A photo posted by Sadhana Wysteria Berkow (@chefvegg) on Apr 20, 2016 at 9:27pm PDT
Looking for more vegan eats in the city you're visiting? Download one or more of these cruelty-free apps to help you find a vegan-friendly restaurant nearby—and even order from the menu in the local language.
The post Hotels With Vegan Menus Serve Up Compassion appeared first on PETA.