Frozen Pies That You Didn't Know Were Vegan
November 11, 2016
Frozen Pies That You Didn't Know Were Vegan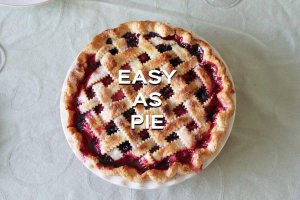 Whether you're hosting an all-vegan Friendsgiving or just trying to find a simple dessert for your vegan cousin to enjoy at the dinner table this holiday season (or, like me, you're just opportunistic and hungry), finding quick, easy, delicious vegan pies is a breeze.
It's never too early #wholefoods #vegan #whatveganseat #veganpumpkinpie #sodeliciousdairyfree #cocowhip #vegandessert #earlythanksgiving
A photo posted by JoLT (@jlt1015) on Oct 29, 2016 at 1:49pm PDT
Many brands of frozen pies are what we like to call "accidentally vegan"—meaning that, even though they aren't marketed or packaged as vegan, they happen to include only plant-derived ingredients—and you may be able to find them at your local grocery store.
Keep your eyes peeled for these vegan pies:
Claim Jumper
These Claim Jumper pies can be found in Target stores as well as at Albertsons and Safeway grocery stores:
Dutch Apple Pie
Razzleberry Pie
Lattice Apple Pie
Lattice Peach Pie
Marie Callender's
Some varieties of these frozen pies are available in Walmart and Target stores, and others can be ordered by the case on Amazon:
Lattice Apple Pie
Lattice Peach Pie
Peach Pie
Razzleberry Pie
Keep your eyes peeled near your grocery store's bakery counter, too. Some chains, such as Whole Foods, carry freshly baked vegan pies.
This too. A vegan blueberry pie!! Tastes like those blueberry pop tarts I ate as a kid. So yummy!! @wholefoods #veganinthescv #veganfood #vegandessert #veganpie #plantpowered #plantbased #veganfoodshare #govegan #fruit #noanimalsharmed
A photo posted by Katy
Vegan Since 2003! (@veganinthescv) on Oct 28, 2016 at 3:43pm PDT
And if pie isn't your thing, Daiya makes these delicious vegan cheesecakes, available at Whole Foods, at most specialty stores, and even online:
Unsure if the pie you've grabbed is vegan?
Looking at the allergen statement on a label is a quick way to see if a product contains eggs or milk. Also, check to see if an item contains any cholesterol. Plant-based foods contain zero cholesterol, so if there isn't any cholesterol in the product that you've grabbed, that's a good sign.
Remember, it's essentially impossible to avoid every single animal-derived ingredient in packaged foods or while eating out. Being vegan is about helping animals, not maintaining personal purity. What's important is that you're always conscious of the food choices you make and attempting to reduce animal suffering whenever you can.
And if you can't find any of these pre-made frozen pies in time, never fear. We've got plenty of vegan dessert recipes that you can make at home for the holidays (or any other day of the year).
The post Frozen Pies That You Didn't Know Were Vegan appeared first on PETA.