Ferguson Brewing Company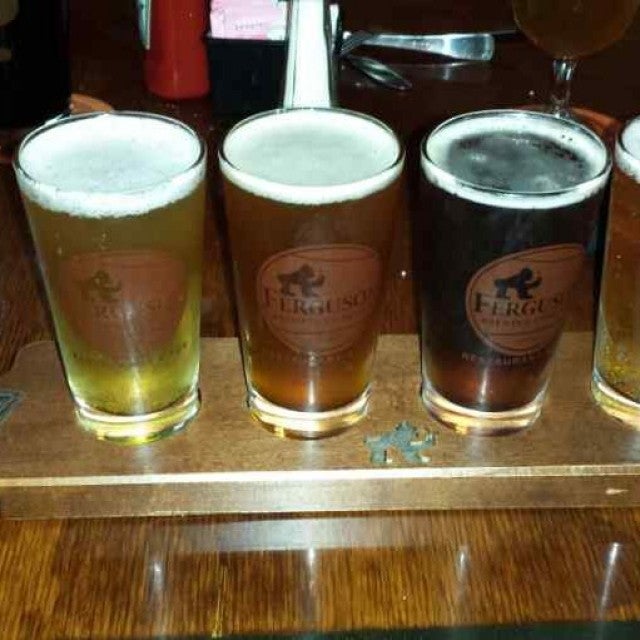 Map: Surroundings & Nearby
Foursquare Tips
The best vegetarian dish in Ferguson is Faracis black olive pizza. Next would be Fergusons veggie burger not to be confused with its barely average black bean burger.

Not too sweet, not too boozy, Ferguson Imperial Vanilla Bourbon Porter goes light on the vanilla and bourbon additions, letting its roasted malt and chocolate flavors shine through. (Evan S. Benn)

Mini brats. Do it!

I'm proud to have my college neighborhood house such a gem of a brew house: great burgers, friendly servers, great beer!

The Pumpkin Ale is a spicy beer with cinnamon and nutmeg dominating the pumpkin flavor -- though the squash flavor is definitely present. http://bit.ly/1dXRMP3

Terrific turkey burger!

Try the flatbread pizzas they are great. Really haven't had a bad meal yet!

The spinach artichoke dip is phenomenal and the beer is even better! Make sure to get a flight (or two!)

The mini-burgers are fantastically delicious. Try the seasonal spiced blonde.

All beers on the taps are delicious. If you live in or around st. Louis you should drink here on a regular basis! This from a Floridian who's jealous of St. Louis' access to fabulous local brews.

The atmosphere here is amazing!

Great pumpkin ale! They have growlers to go.

Beer, appetizers, fish and chips

The smoked wings were some of the best I've ever had - large, moist, great sauce and fell right off the bone.

Pecan brown ale

Beers are quite good here. Get a taster flight to try several different ones. There's also a good variety of food, with vegetarian options.

Beer cheese soup is amazing!!

All their beers are delicious and large portions of food for a great value. You must go!

Amazing beer choices and best Reuben EVER!!

The buffalo pizza Flatbread.