Ingredients
1 14 ounce can Chickpeas
4 cups Chicken Stock
2 tablespoons Vegetable Oil
2 tablespoons Unsalted Butter
2 Boneless Skinless Chicken Breasts, cut into bite-size pieces
1 Onion
2 stalks Celery, chopped small
2 medium Carrots, chopped small
1 clove Garlic, finely chopped
1 teaspoon Fresh Ginger, grated
1 tablespoon Mild Curry Powder
1 teaspoon Ground Turmeric
1 teaspoon Cumin
1 teaspoon Salt
1/2 Red Apple, peeled and chopped
1 cup Cooked Basmati Rice
Fresh Cilantro, chopped for garnish
Directions
Add the chickpeas to a blender with 1/2 cup of the chicken stock and blend until smooth. Set aside.
To a soup pan add 1 tablespoon of oil and 1 tablespoon butter over medium heat. Add the chicken breast and brown. Remove and set aside.
Add the remaining oil and butter over medium heat and add the onion. Cook until they start to soften.
Add the celery, carrots, garlic and ginger. Cook for 1 minute then stir in the curry, turmeric, cumin powder and salt, cook for 1 minute.
Add the apple, chickpea purée and rest of the chicken stock. Bring to a simmer and cook for 20 minutes until the vegetables are tender. To make the soup thicker, remove 2 ladles of soup and blend or use an immersion hand blender to blend up some of the apple while still keeping the soups chunky texture.
Taste for seasoning and add more salt if needed.
Turn off the heat and stir in the cooked basmati rice. Serve warm garnished with chopped cilantro.
Recommended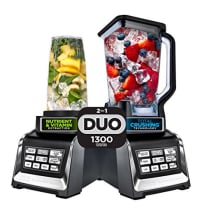 Nutri Ninja Blender Duo with Auto-iQ


Le Creuset 6.75 Qt French Oven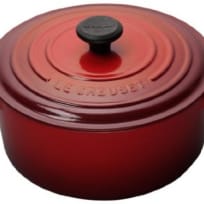 Le Creuset French Oven - 5 1/2 Quart