Downtown Des Moines Farmers Market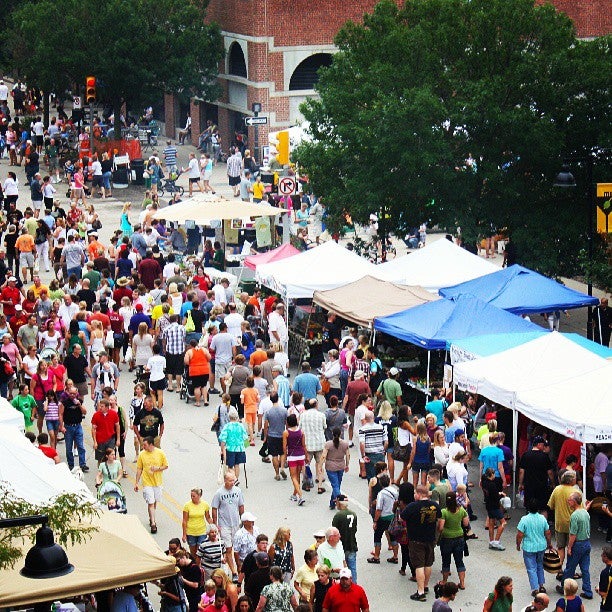 Map: Surroundings & Nearby
Foursquare Tips
Farmboys breakfast burritos are amazing!

Wouldn't mind if the preacher dude went away

Mast family breads ftw!

The Farmers' Market is an open-air street market in located in downtown's Historic Court District. The Market spans nine city blocks and boasts food, beverage and much more from over 200 vendors.

Find Barb's and buy the granola. Then love.

Breakfast pizza from Something Italian is delish!

Vander Ploeg's for Dutch letters. You won't regret it!

Reason #21 why Des Moines trumps Omaha.

Grab some iced coffee and bring $20 to buy some veggies for the week.

Iowa Coffee Roasters' coffee is the best.

Rineharts family has grilled veggies egg bacon sandwich with basil olive oil salt and pepper. Yum. I just got veggies and bacon and super delicious. Find them near the parking garage.

Grab a Pupusas between Johnny's Hall of Fame and the Court Center building. But get in line early, it gets long!

Make sure to have more than an hour to spend here, there is SO much cool stuff!

Strudl Haus has the best pastries, awesome!

Reichert's Dairy Air Roasted Red Pepper Chevre. Run, don't walk!

Enjoy all the great dog watching!

Easily my favorite Des Moines tradition. There's nothing a trip to the Farmers' Market can't fix!

Breakfast burrito is a must.

Try the chorizo burritos at the stand in the alley next to Royal Mile. So tasty!

Tami's tarts are the best! Shes usually on 4th south of court. Also, dos rios does breakfast burritos and bowls....they are awesome!!