Biscotti di Marroni – Chestnut Biscotti
December 17, 2014
Biscotti di Marroni – Chestnut Biscotti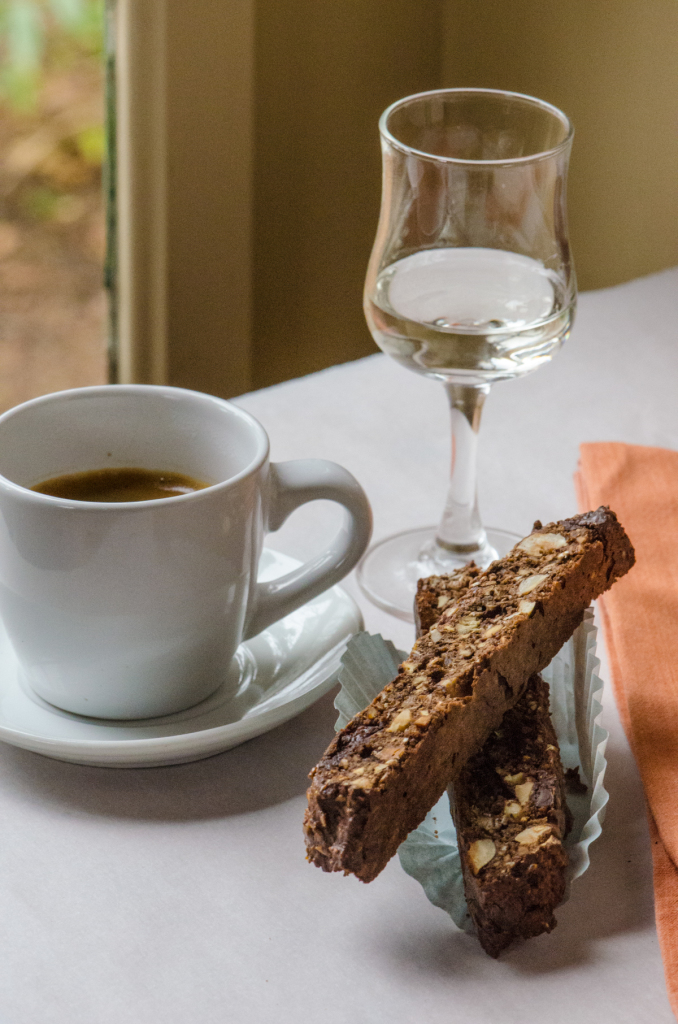 Chestnuts are found throughout Italy, and have been a staple of their cuisine for thousands of years. This past October I spent a week exploring venues for our Bike the Wine Roads of Trentino-Alto Adige bike tour, and chestnuts were just coming into season. We enjoyed chestnuts in pasta, in risotto, in soups and desserts. In fancy ristorante, local trattorie, and sweet chocolate and chestnut treats from a roadside table we passed on a bike ride. Since my return, I've been looking forward to trying a few of these recipes at home. A chocolate chestnut holiday biscotti brings me back to my cycling excursion and the homemade chestnut cookie that powered me through the last few miles.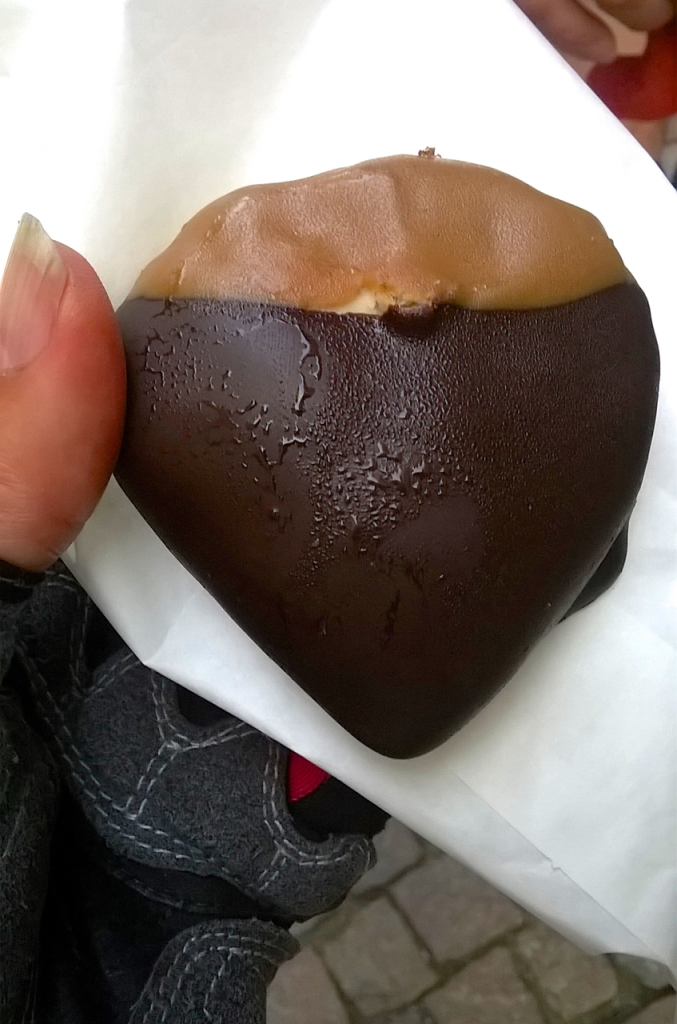 In mountainous areas of Italy, from Trentino and Alto Adige to Tuscany, chestnuts are one of the few crops that can be grown on steep slopes, as well as produce during colder winter months. In some of these areas, the economy revolved around the chestnut, as people gathered them in the fall and worked throughout the winter to sort, dry and sell them.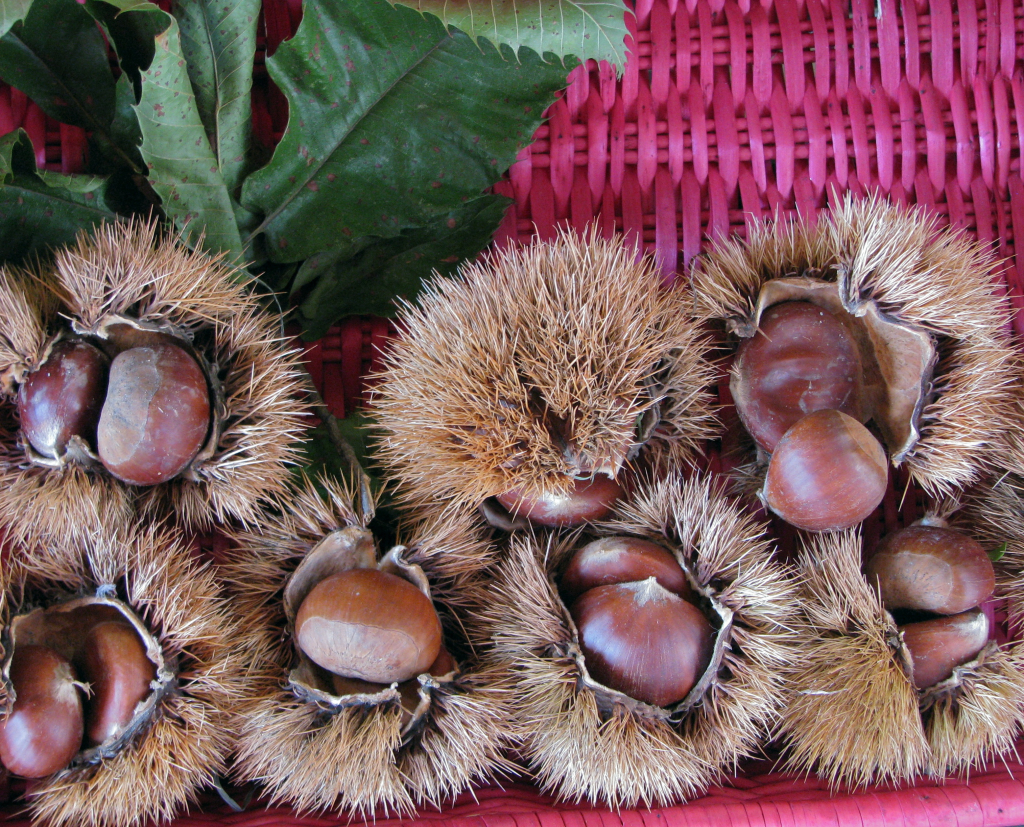 There are many different varieties found throughout Italy: the smaller, flatter castagne and the rounder, fuller marroni. Up in Northeastern Italy there are several areas that still cultivate chestnuts, mostly of the marroni variety. As I did on my last tour, you can still find vendors selling freshly roasted chestnuts at market stands in the fall; the aroma is divine, and the nuts a wonderful treat to enjoy on a cool fall bike ride.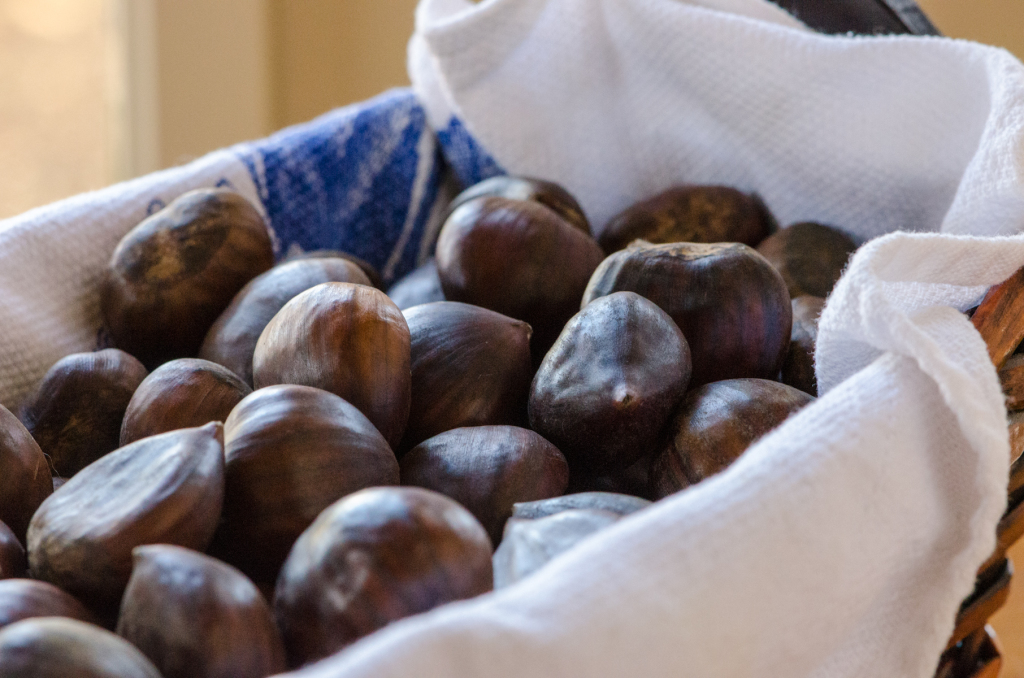 When purchasing chestnuts, look for shiny, healthy nuts without any discoloration. They should also be firm and solid, without much give between the shell and the flesh. In the markets and homes in Italy, you can still find chestnut roasters, essentially iron pans with holes, with a long handle. The nuts would be placed in the pan, sprinkled with a bit of water, and roasted over a fire. I don't have any special equipment for roasting chestnuts, all you really need is a sheet pan and a hot oven.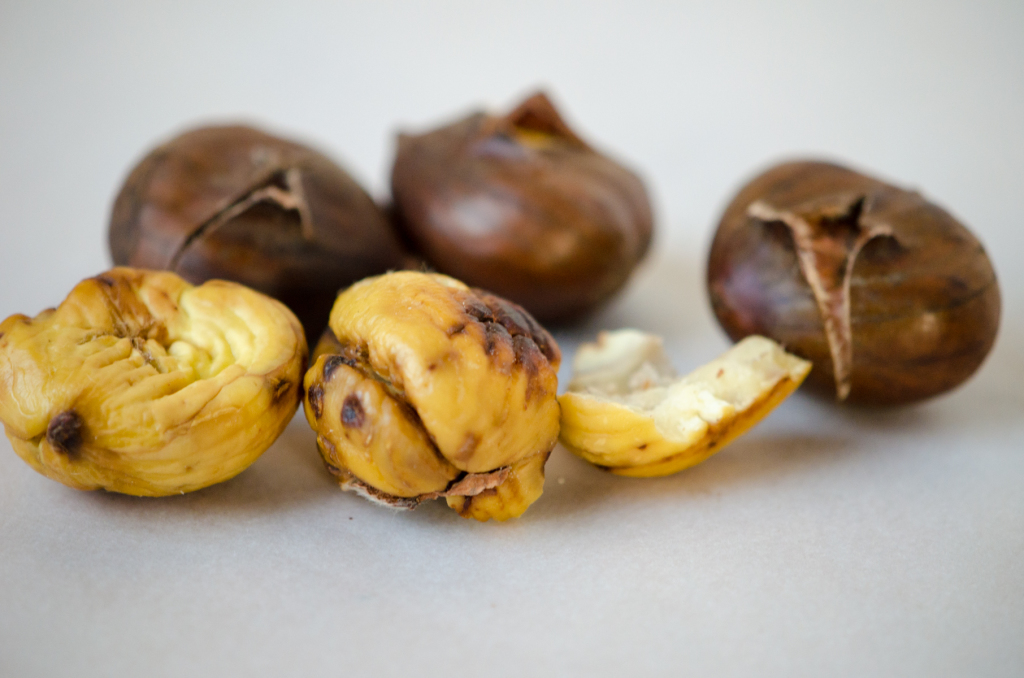 To roast chestnuts, preheat your oven to 450°. With a small sharp knife, cut an "X" into the flatter side of each nut. Place the nuts on the sheet pan and roast for about 15-25 minutes, depending upon the size of the nuts. They are done when the skins around the "X" have pulled back, and the nut meat inside is fork-tender, but still firm. Peel when still warm, and enjoy as the Italians might, sprinkled with some red wine, with a glass for yourself – a lighter Schiava from Alto Adige would be perfect.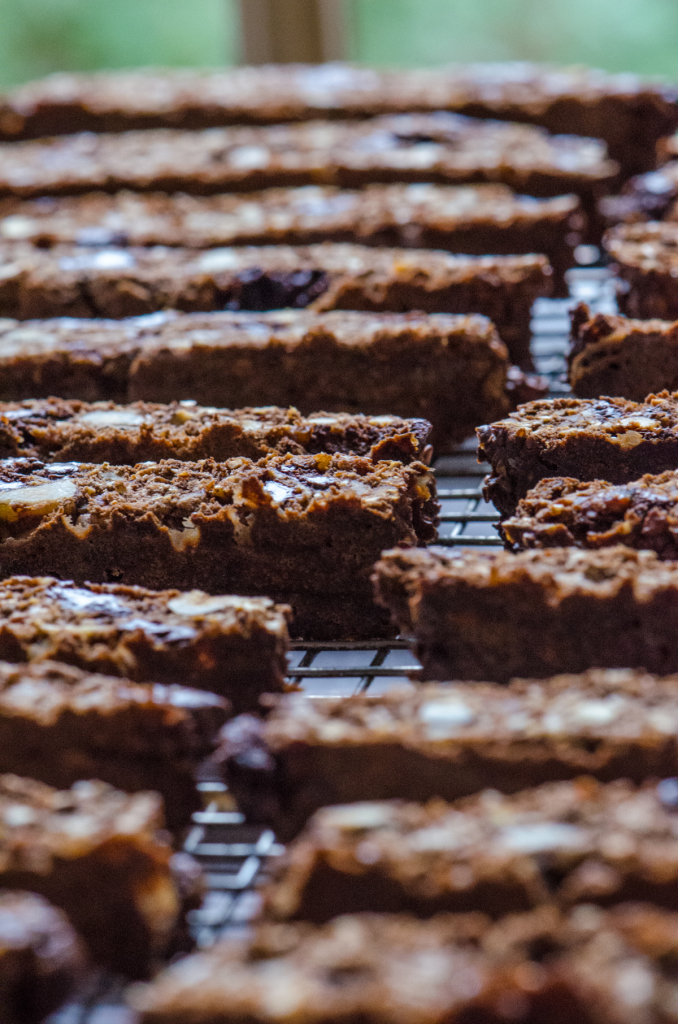 Biscotti di Marroni
3 large eggs, plus 1 egg white
3/4 cups brown sugar
2 cups whole oats
3 cups roasted and peeled chestnuts
1 teaspoon baking powder
1/2 teaspoon kosher salt
1/4 cup unsweetened cocoa
2 tablespoons grappa
3/4 cup dark chocolate chips
3/4 cup hazelnuts, coarsely chopped
Preheat oven to 350°F.
Place the eggs and egg white into a large bowl. Add the brown sugar and whisk to combine.
Place the whole oats in a food processor, and pulse to grind to a powder. Add the roasted chestnuts and pulse again until the nuts are finely chopped and combined with the whole oats. Transfer to the bowl with the brown sugar and eggs. Add the baking powder, salt, cocoa, grappa, chocolate chips and hazelnuts. Stir to combine.
Line two sheet pans with parchment paper. Spoon half the dough onto each pan, spreading the dough over the paper to form a flat loaf, about 4 inches wide and 1 inch thick.
Bake for 30 minutes. Remove from oven and allow to cool on the pan. Do not immediately transfer to a rack, as the warm loaf might break during transfer.
When cool, cut each loaf crosswise into 1 inch slices. Places the slices cut side down on the sheet pans. Place back into the oven and cook for 25 – 30 minutes, until slightly browned. Remove from oven and cool on a wire rack. Serve with coffee, or a glass of grappa or dessert wine like Vino Santo.