Sharks Underwater Grill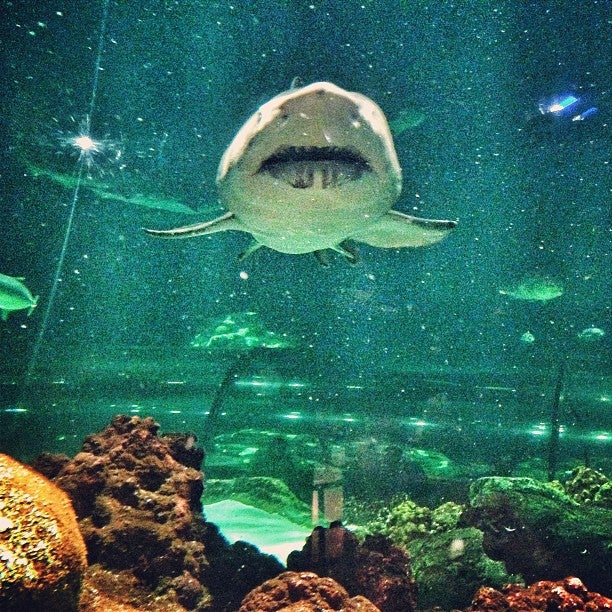 Map: Surroundings & Nearby
Foursquare Tips
The sharks swim faster than the speed of your server.....

Drink a drink

Diego makes one heck of a cocktail. Order the Key West Kiss (sounds gay) and you won't regret it. Jaws 3D was filmed in here so drink up.

$$$ meals are $25+ for basic meals you see at places like Apple bees for $12. The appetizer braised short rib ravioli $9 was worth it.

Here you'll enjoy courteous full table service in a casual, yet breath-taking, atmosphere. Relax as SeaWorld's chefs show off their skills with world-class entres and impeccable presentation.

I love this place. Food is great, they just updated menu. Lots of new items. Bar is great place for a relaxing meal and you're able to catch up on ESPN!

This place is great. Don't listen to the spoiled people who hate the food, prices and service. Been here multiple times and it's awesome every time.

The food is over priced and definitely not worth the money. The food sucks just as much as the service!!!

Be nice to the hosts and remember a table by the tank isn't guaranteed!

Absolutamente obrigatrio

Make a reservation!

Awesome place! Request Thomas. He is an excellent server!!

Wine...thats about it.

Excelente comida !

A comida boa, especialmente o tempur de camaro e a sopa de lagosta. Mas o que mais impressiona a experincia de fazer sua refeio ao lado de alguns peixes e tubares!

Everything is good

Maravilhoso, Seafood Pasta top demais

Terrible food and very expensive prices. Mussels were from frozen and ghastly. Tempura shrimp was tough. Salmon was old and smelled awful.

Bom restaurante, mas acho que no vale o preo que se paga. Para ver os tubares daquele jeito, voc pode pegar a entrada do lado do restaurante, sem gastar nada. Mas foi uma experincia interessante

Honestly the place is absolutely amazing! The atmosphere that is.... the menu on the other hand needs a re-do. The food is great but the menu is very limited and too pricy for the amount given.