Page Dairy Mart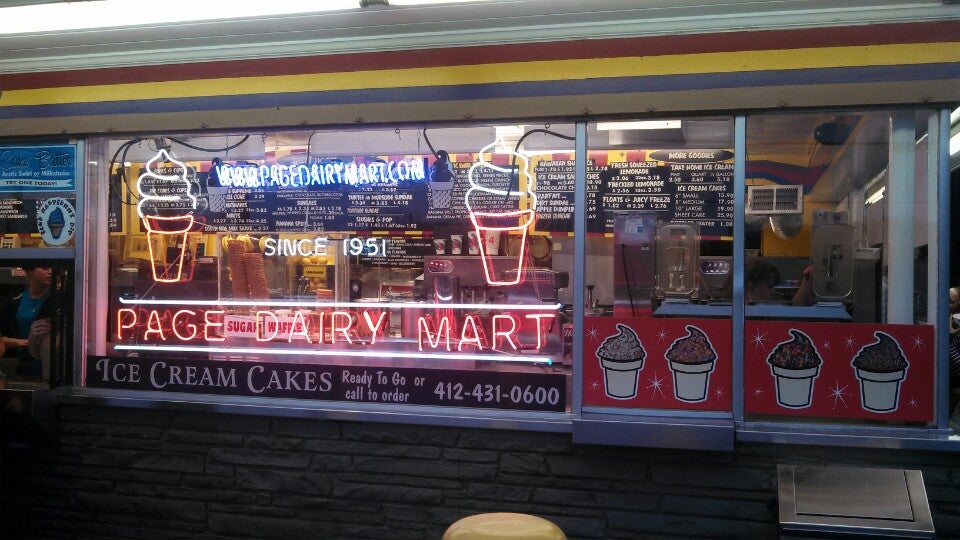 Map: Surroundings & Nearby
Foursquare Tips
The best! Just remember to bring cash!

Frozen yogurt is coming this summer....in the meantime get a lemonade. Its soooo good

This place is amazing!!

Amazing! Can't go wrong, love the Southside Shakes?

The ice cream iz good here but they should get Sherbet also cause thatz wht I like the most.

Parking can be tricky when they're busy but otherwise very yummy place! And for train nuts like me it's a good place to watch trains too.

I look forward to my annual Page's trip every year. Love the Southside Sundae Shake with extra strawberries & some pineapples OR the new family fav- Yinzer Sundae with pecans!

It's not truly springtime till that first trip to pages

Another photo of the owner - doesn't he look like a super-hero!

warm apple dumpling sundae = awesome!

Get the pretzel cone!

Dirt Cheap Dirt Sundae!

Grasshopper Artic Swirl FTW!!!

Hot fudge milkshake!!

Cake batter arctic swirls.. hands down best in pgh

The best bannana milkskakes in town.

Go for the Yinzburg or Nancy's B's chocolate peanut butter chip Sundae

The top ice cream shop in the city! There's no competition.

hands down the best ice cream in the city!

Bring cash!