Olympia Farmers Market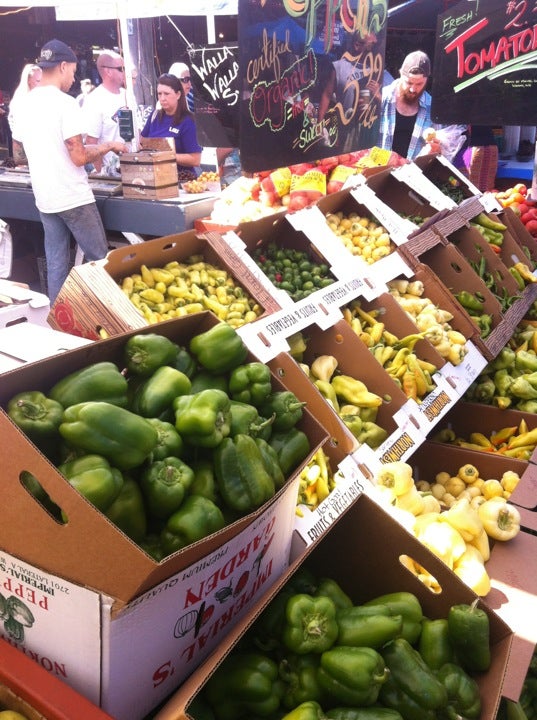 Map: Surroundings & Nearby
Foursquare Tips
Heyday! Caf has Batdorf & Bronson Coffee on drip with 24 oz cups, refills $0.50

Johnson's Berry Farm has the best jam...try the Tayberry! Yum!!!

open 10a-3p thursday through sunday!

Wild mushrooms from the fruit-sellers over by Los Tuleos. Plants and nuts from Burnt Ridge. Good stuff.

For little kids, complimentary (free) non-organic apple at Sullivan's Homestead fruit & vegetables

Best place for Pink Lady Apples!

Johnson's Berry Farm jam is the best! Try the Tayberry. Yum!

Buy a kiwi or other tree from Burnt Ridge Nursery. Love it then buy it a friend.

Organic foods and fresh veggies and fruit.

A pretty encompassing Farmer's Market. Has everything you could want from crafts, to vegetables/produce, to baked goods to meats.

Absolutely the best food trucks for breakfast food. Don't be stupid! These people cook an amazing breakfast, I have yet to try anything on their menu that didn't impress me. I'll update with the name

Strong bakery presence. This market has a good variety for its size.

Buffalo pepperoni from Stewart's Meats is amazing.

Open 4 days a week in the summer, which is awesome! Fun place to go and hang out- a bit to expensive for real grocery shopping though.

Great market with good fresh produce and cheese..

Stewart's Meat Market is the BEST!!!

Lots of variety, great food and friendly people.

Za Betta is to die for!

Check out live bands and other entertainment, 11 to 2, on the shelter stage.

gingerbread cookies are the best!!