Mother Launches Vegan Meal Delivery Service for Little Ones
June 21, 2017
Mother Launches Vegan Meal Delivery Service for Little Ones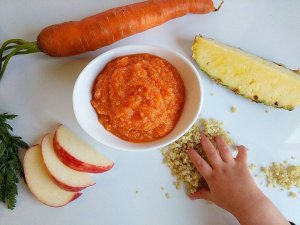 Vegan meal delivery services are all the rage right now—and with good reason. There's a growing demand for healthy, whole foods as well as an increased awareness of the benefits of plant-based eating, but sometimes, life moves too fast to prepare the meals yourself. But why should adults have all the fun? A new vegan meal-plan service called Little Harvest is set to launch later this month, and like its name suggests, the meals are for the little ones.
Getting ready for spring! Testing our spring menu and, of course, donning our Cubs bib ⚾
A post shared by Little Harvest (@littleharvestco) on Feb 11, 2017 at 5:18am PST
The new company—developed by vegan mother and former Daiya executive Ashley Gilday—will fill a niche for vegan baby food that hasn't quite found its legs in the plant-based foods market.
Little Harvest meal plans are affordable, starting at $3.27 per day, and are suitable for babies and toddlers ages 4 months to 2 years. Delivery takes 24 hours, and the food arrives in a biodegradable cooler box. All meals are created from organic, local produce and use only allergy-free ingredients.
We have launched!! Order up hungry baby mommies and daddies in Illinois www.littleharvest.com
A post shared by Little Harvest (@littleharvestco) on Jun 19, 2017 at 3:04pm PDT
Illinois is the lucky state that will be served this month, but Gilday plans to expand to the entire Midwest (and hopefully beyond!) in the next few months.
This is our BPA free, resealable, packaging (sans label). What do you think?
A post shared by Little Harvest (@littleharvestco) on May 9, 2017 at 6:47am PDT
Read more about raising vegan children here, and check out the Baby and Toddler Vegan Feeding Guide, a must-read for vegan parents. This important resource provides insights into why it's safe and healthy for parents to choose a plant-based lifestyle for their children. Written by a vegan mom with a science background, this dietitian-approved guide will help answer any lingering questions you may have.
To receive helpful vegan content in your inbox once a week, sign up for our popular Living E-News.
All fields in bold are mandatory.
By submitting this form, you are agreeing to our collection, storage, use, and disclosure of your personal info in accordance with our privacy policy as well as to receiving e-mails from us.
PETA is a participant in the Amazon Services LLC Associates Program, an affiliate advertising program designed to provide websites with a means to earn advertising fees by advertising and linking to Amazon.com.
The post Mother Launches Vegan Meal Delivery Service for Little Ones appeared first on PETA.