Exploring Valpolicella – Bike or Hike to A Great Glass of Amarone
March 10, 2016
Exploring Valpolicella – Bike or Hike to A Great Glass of Amarone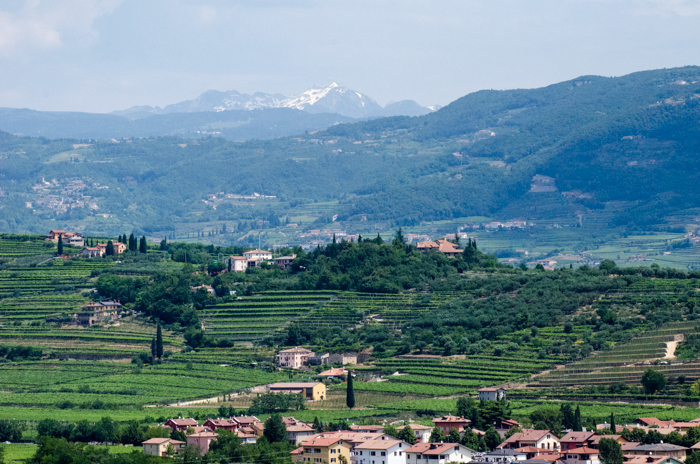 Good news for all you who enjoy toasting a great day in the outdoors with a special glass of vino. The most prestigious wine zone in the Veneto, the Valpolicella DOC, home to Amarone, and known as the "Pearl of Verona" offers a wide range of outdoor activities to interest all active adventurers. Travellers can enjoy cycling along bike paths that wind throughout the region, or challenging themselves among the lovely rolling hills. Hikers can trek the Lessini hills or along the ridge line of Monte Baldo just to the west, relishing the panoramic view of Lake Garda. Walk through miles of vineyards, or explore the history of the city of Verona, a UNESCO World Heritage site.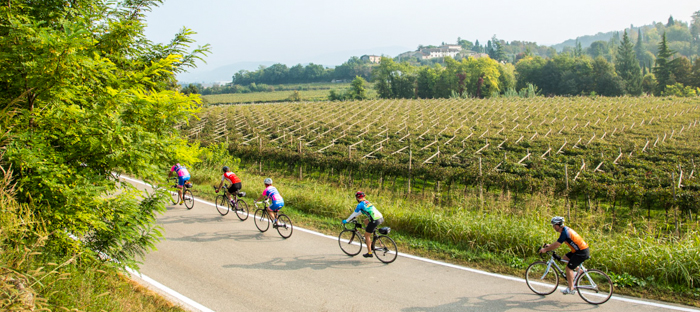 Tom Robertson photo
The Valpolicella wine zone is located in the province of Verona, east of Lake Garda, and north of the Adige River. The hills in this region are used for agriculture – predominately grapes for their wonderful wines, of course – as well as marble quarrying. The volcanic hills and alluvial valleys here in this region provided a variety of terroir for viticulture, each contributing a unique flavor profile, which the best and most experienced of producers appreciate and use to make their wines the best they can be.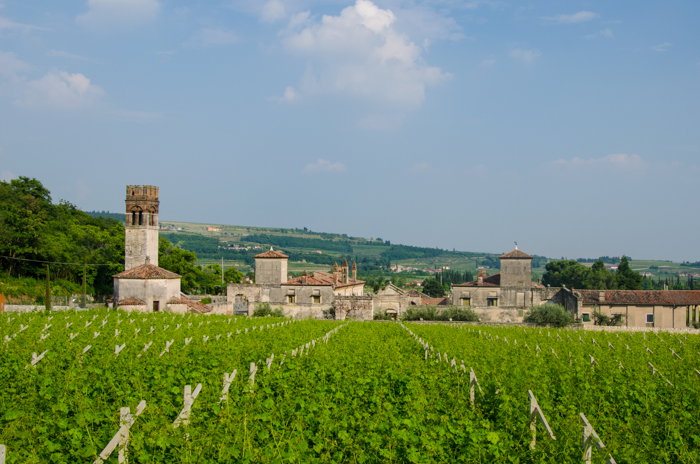 Winemaking in Valpolicella dates back to at least the times of the ancient Greeks. The Valpolicella and Amarone tradition of using dried grapes was known as the "Greek style" of wine production. Roman writers such as Cassiodorus refer to wines from this region, and during the Venetian trading period with the Byzantine Empire, one of the products regularly transported were wines from Valpolicella.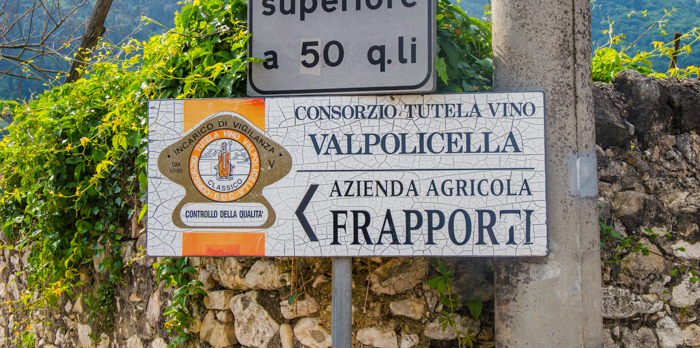 The name itself, Valpolicella, is most commonly believed to be derived from Latin and Greek, "valley of many cellars". Seven comuni compose Valpolicella: Pescantina, San Pietro in Cariano, Negrar, Marano di Valpolicella, Fumane, Sant'Ambrogio di Valpolicella and Sant'Anna d'Alfaedo. The historical "heart" of Valpolicella winemaking, known as the "classico" area, is in the Monti Lessini hills northwest of Verona. In 1968, in order to keep up with increased demand for their wines, the boundaries were extended east towards the Soave zone and south to the plains of the Po and Adige rivers. Today the economy of this region is centered on wine production.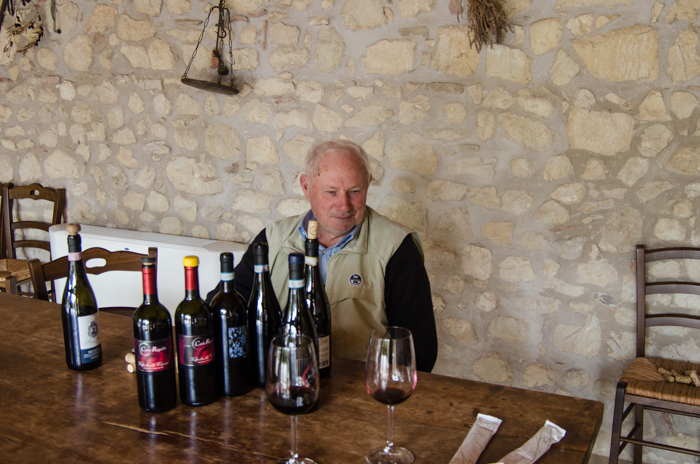 Most guided tours in this region focus on wineries that have facilities for larger group tours and tastings. These wineries are major producers with staff dedicated to wine tourists. They do a nice professional job, but I prefer to visit with smaller family producers. A bit more informal, and gathering around a kitchen table with three generations, tasting wines as they share their family story and their passion for their land, wines, and local traditions is truly unique. The occasional language barrier seems to disappear as we unite in appreciation of the wine and our shared experience. If traveling on your own, don't miss an opportunity to visit at least one  – the lack of a professional looking storefront is intimidating, but these families love to share their wines with visitors, and are thrilled you stopped by.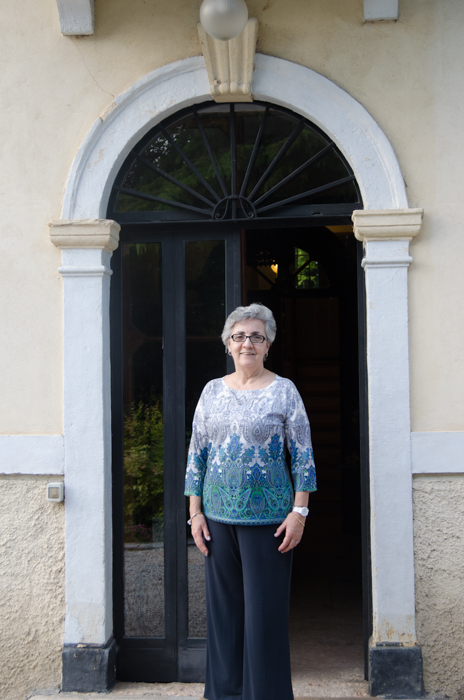 Many delightful dining options are found throughout the Valpolicella region. The area has a wonderful regional cuisine, the best dishes favoring seasonal local products – peaches and apples from orchards along the Adige, fresh olive oil from nearby Lake Garda, mushrooms, chestnuts and truffles from Monte Baldo and Lessini, Monte Veronese cheese. And look for many dishes made with the favorite wines – Beef braised in Amarone, Risotto di Amarone.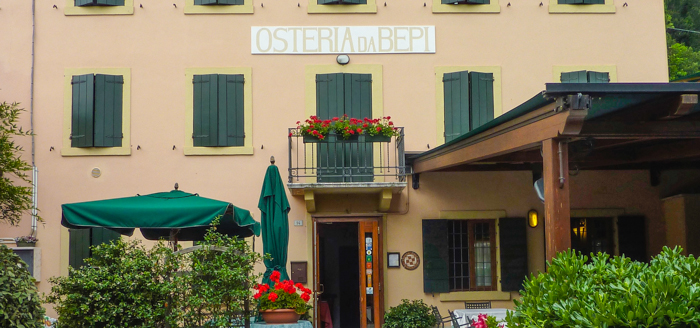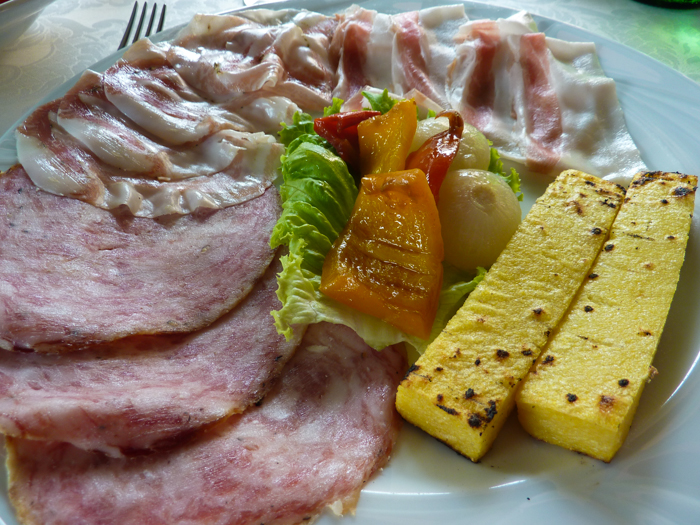 In the heart of the Valpolicella zone, Antica Trattoria da Bepi is a nice spot for a casual meal where you can sample many of these local specialties. Try the antipasti platter with grilled polenta. Polenta is traditionally cooked for a long time over a wood fire, which introduces a smokiness to the dish that modern cook top versions lack. This is one of the few places where I've actually tasted that smoke in the polenta.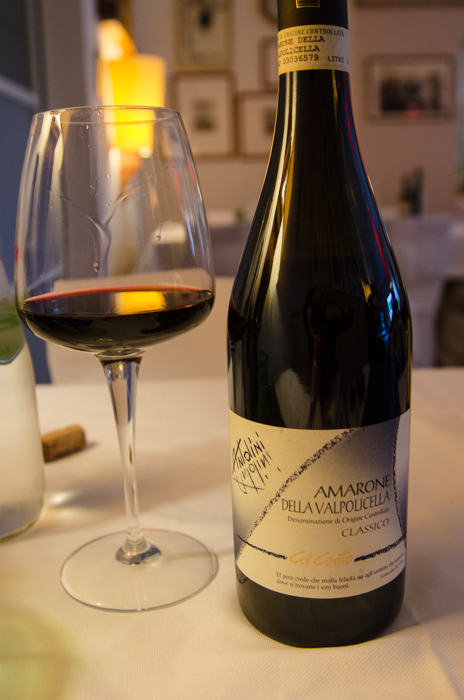 For more refined dining while enjoying a panoramic view of the hills, visit Trattoria alla Ruota. Enjoy tortelli all'amarone "fatta in casa", made in house, or with truffles when in season. Pork with apples, or a selection of local cheeses. An extensive wine cellar allows you to sample wines from a variety of local producers.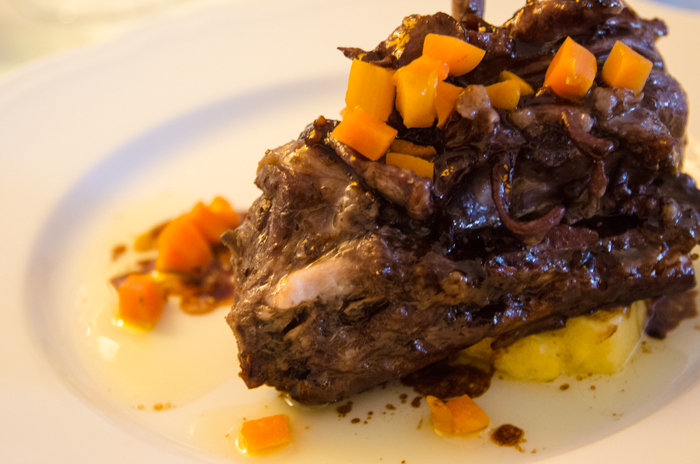 Another favorite of mine is the amazing Enoteca di Valpolicella in Fumane. I've shared details of my dining experience here on my blog. The wine cellar of the enoteca is quite impressive, with wines from over 100 local Valpolicella producers. They can design a wine tasting for a group with antipasti, or a multi-course dinner with wine pairings. I recommend just leaving yourself in the proprietor Ada's hands, allowing her to recommend both food and wine, all beautifully prepared and paired.