Ingredients
4 tablespoons Unsalted Butter, softened, plus more for greasing pan
3 large Eggs
2 tablespoons Granulated Sugar, plus 2 teaspoons
2 1/2 cups Half and Half, or half cream, half whole milk
1 1/2 teaspoons Pure Vanilla Extract
16 slices White Bread, crusts removed and cut into triangles, day or 2-days old
2 tablespoons Raisins
Grated Nutmeg, fresh
Directions
Grease a 9 x 13 baking dish with unsalted butter.
Add the eggs to a bowl with 2 tablespoons of the sugar and whisk until pale and the sugar has dissolved. Whisk in the half and half and vanilla, set aside.
Spread the butter evenly on one side of the bread slices.
Arrange half of the bread slices in the bottom of the baking dish, slightly overlapping and spread over half of the raisins. Repeat with another layer of bread slices and raisins.
Pour the egg custard over the bread layers and allow to sit for 30 minutes.
Preheat oven to 325°F.
Top with the rest of the sugar and a grating of nutmeg.
Bake for 45 minutes until the top is golden brown. Allow to sit for 10 minutes to set before serving.
Recommended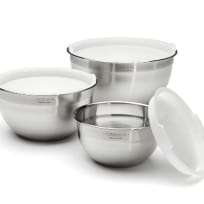 Cuisinart Stainless Steel Mixing Bowls