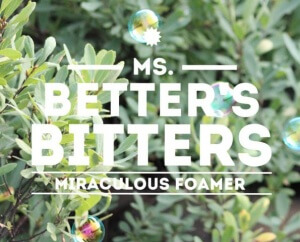 Vancouver-based bittermaker Ms. Better's has invented a vegan cocktail foam made from a blend of three botanicals called the Miraculous Foamer. On the company's website, it's described as a "function forward bitter; its function is to foam not to flavour."
What a wonderful night at @scienceworldca last Thursday for #ScienceOfCocktails. By the time it was all done, 1000 #vegan #whiskeysour had been created for 1100 enthusiastic guests, and 185k had been raised for charity | #SoC16 Image credit: @picturelisten for @georgiastraight | #CraftCocktails #Bartender #Science #VeganFoamer
A photo posted by Ms. Betters Bitters (@bettersbitters) on Feb 9, 2016 at 5:40pm PST
For you lovers of fizzes and sours as well as other classic cocktails that call for egg foam, the Miraculous Foamer is said to leave the taste of your drink unaltered and melt away on the palate, "revealing a juicier drink."
Ms. Better's recommends adding six droppers of the Miraculous Foamer, dry shaking, and then hard shaking with ice.
Tell all your favorite bartenders to order the Miraculous Foamer and help spread the good word. Also check out our list of vegan cocktail recipes so you can live lavishly in the comfort of your own home, as well. Bottoms up!
Introducing our #Vegan #Botanical Foamer | A natural botanical tincture, in neutral spirit maceration that replaces need for egg whites in drinks! | #Vanvouver based. Available for order soon! Details, and website coming shortly | #CraftCocktails #Bartender #VeganDrinks
A photo posted by Ms. Betters Bitters (@bettersbitters) on Sep 29, 2015 at 1:50pm PDT
The post Bartenders Pay Attention: There's a New Vegan Cocktail Foam in Town appeared first on PETA.