Fat Guy's Burger Bar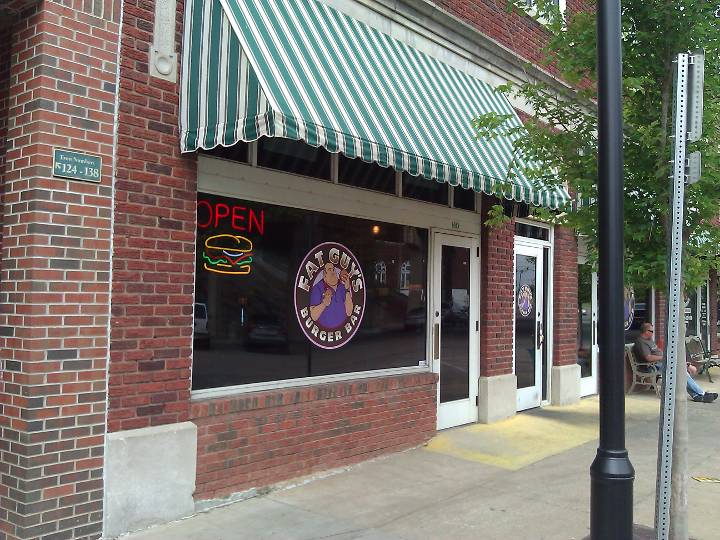 Map: Surroundings & Nearby
Foursquare Tips
Try one of the specialty burgers this visit--the Peanut Butter and Bacon, the Lamb Gyro or the Black and Blue burger.

The Fat And Juicy Burger is quite possibly the best burger I have ever had.

There isn't much indoor seating, so be polite and when you're done eating please shut up and leave. Try the spicy fries!

Try the Thai style peanut butter Bacon Burger.

Too salty on the Black n Blue burger. The fries were stale and hard. The bacon cheeseburger had only a 1" piece of bacon on it.

The fat n juicy is the bomb! Be careful on that first bite, it explodes on you!

Fat Guys is like Five Guys but FATTER!

Holy crap! Try the Dodge Dog!!

The wings are awesome. Only one flavor (buffalo/bleu), but solid. Spicy fries are great -- get the strawberry ketchup and parmesan peppercorn sauce. Burgers and shakes also are NTS (not too shabby).

Pretty much all amazing. Lots of unique toppings and sauces. Thai style bacon burger is legit!

Fat & Juicy Burger with Roasted Garlic Aioli with the fries... FTW! Best burger I think I have ever had!

Great burgers and milkshakes! Try the caramelized onion aioli sauce to go with your fries! Delish!

The girl who took my order was so nice! We love coming here!

Try the Pbbb Thai Style - Peanut Butter Bacon Burger with fresh cilantro, shiracha sauce, fresh jalapeos, and grilled pineapple. My favorite. It will change you life.

Bring an appetite, the burgers are awesome and fries excellent. The veggie burger, is one of the best I have ever had!

Great food. Great service. Great atmosphere.Unique and terrific take on hamburgers. This is a higher quality and more creative variety of hamburger that manages to do without snobby atmosphere an

Dear lord yes their burgers and fries are amazing.

It's good and greasy

Best Burger in Town.

The Jumbo with fries and strawberry ketchup was phenomenal! I will continue to come back!