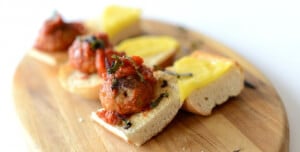 Eating vegan is on the rise, and animal abusers are taking notice. Tyson Foods reportedly invested an "undisclosed amount for a 5 percent stake" in Beyond Meat, a business working to, er, move humans beyond meat.
Beyond Meat, PETA's 2013 Company of the Year, has tantalized flesh-eaters and vegans alike with its line of delicious cruelty-free meats. Recently, the company began selling its Beyond Burger, which contains a whopping 20 grams of protein, is free of hormones and cholesterol, and actually "bleeds" when you cook it (mind = blown). It's so convincing that the select Whole Foods stores where the burger is currently available sell it in the meat case. Best of all, no animals are mutilated and slaughtered just for sandwiches.
From the package to the grill to the plate, #TheBeyondBurger looks, cooks, and tastes like ground beef… But it's made from plants! Check out our website to learn more about the world's first #plantbased burger to be sold in the meat aisle! A new breed of burger #FutureOfProtein
A photo posted by Beyond Meat (@beyondmeat) on May 24, 2016 at 1:37pm PDT
"We at PETA are beyond delighted (pun intended!) that Tyson has decided that 'if you can't beat 'em, join 'em,'" said PETA President Ingrid Newkirk. "The writing is on the wall—people are moving away from meat and dairy foods to vegan options that are friendly to arteries and the environment, so the animal-agriculture industry must now diversify to keep up."
If your whole hand can wrap around your wrap, you're doing it wrong. Beyond Chicken wrap w/ extra buffalo sauce by @cookingforluv
A photo posted by Beyond Meat (@beyondmeat) on Jun 22, 2016 at 4:46pm PDT
Beyond Meat founder Ethan Brown has welcomed Tyson's investment and believes that it's a positive, hopeful sign that "we may be moving beyond Oprah v. Cattlemen and toward productive collaboration that expands consumer choice."
"On my own beliefs," Brown stated in a news release, "I want to be clear. I believe that plant-based meats have human health … and climate benefit. … These positives issues motivate me, strongly. But I also believe in what is the third rail in polite company: animals value their lives as much as we do ours, and here we have unmet obligations. It would be disingenuous of me to downplay this belief as I entered this new relationship."
It's no surprise that Tyson has invested in Beyond Meat, given the popularity of vegan foods. One market analysis claims that the plant-based meat market will be worth $5.17 billion by 2020. Another study found that new products with plant-based proteins grew by nearly 15 percent in 2014, while new products containing animal protein grew by only 7.5 percent.
Beyond Meat is more than ready to take on mainstream culture with its unrivaled plant-based burgers, chicken, and beef crumbles. If you haven't already, definitely treat yourself with one of these tasty products, and pledge to go vegan while you're at it!
I Want to Take the Vegan Pledge!
The post The Future Is Vegan, and Tyson Foods Knows It appeared first on PETA.