Exploring Vicenza – The City of Palladio
November 12, 2015
Exploring Vicenza – The City of Palladio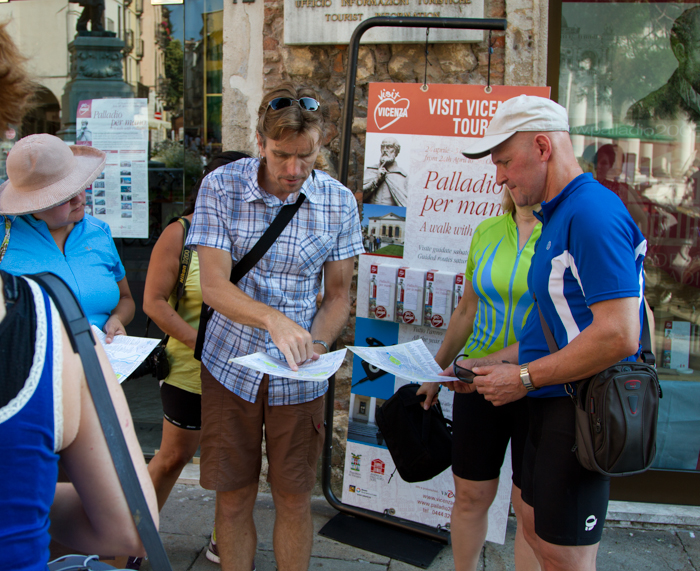 Italiaoutdoors Food and Wine tour group in Vicenza
Vicenza, The "City of Palladio" was home to the most important architect of the Renaissance, whose designs have influenced architecture all over the Western world. Home to the Rotunda, inspiration for Thomas Jefferson's Monticello, Vicenza was designated a UNESCO World Heritage Site in 1994. A lovely city to explore on a walking tour, with many of Palladio's works located around the city center.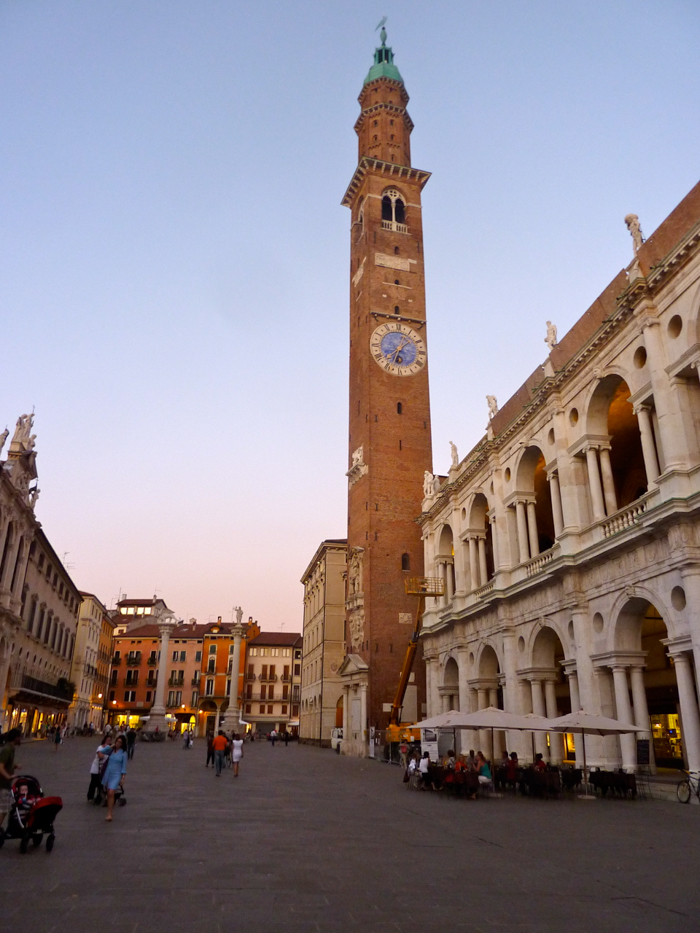 Piazza dei Signori, Vicenza
The center of activity is the main piazza of Vicenza, Piazza dei Signori. Not overwhelmed by tourists as is the case for many city piazzas, you will see locals enjoying a prosecco or gelato at one of many bars and gelaterie. A picturesque place to stop and people-watch, enjoying the surrounding architectural masterpieces including Andrea Palladio's Basilica, the Loggia del Capitaniato, Palazzo del Monte di Pietà, Chiesa di San Vincenzo, Torre Bissara and the Lion of St. Mark and Christ the Redeemer columns.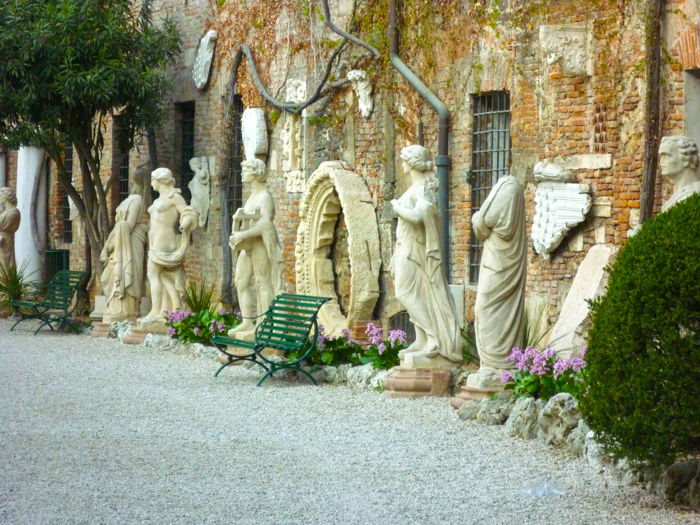 Teatro Olimpico
Nearby, several other Palladio edifices are well worth a stop. Palazzo Chiericati, a Renaissance palace in Vicenza, is just a short walk away on Piazza Matteotti. Designed by Palladio for the Count Girolamo Chiericati family, since 1855 the building has housed the Museo Civico ('City Museum') and, more recently, the city's art gallery. Across the Piazza Matteotti is the Teatro Olimpico ("Olympic Theatre"), the oldest and first enclosed theater in the world. The theatre was Palladio's final work and was not completed until after his death. Don't miss the interior, designed by Scamozzi, Vicenza's other renowned architect, with its perspective scenery recreating a ancient Roman street.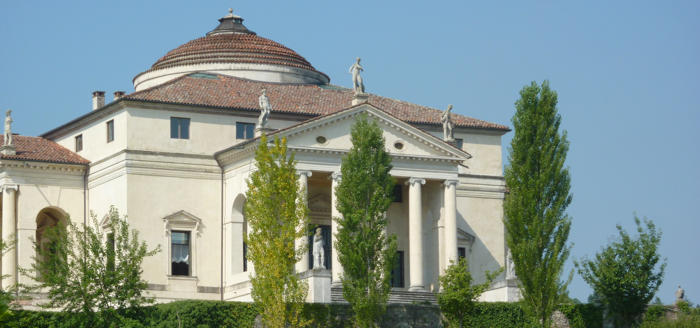 La Rotonda
Just outside the city center, on a hill on the south edge of Vicenza, is Villa Almerio Capra detta la Rotonda. This palazzo will seem famililar to many because its design has inspired building design all over the world, including Jefferson's Monticello and buildings at University of Virginia. The Rotonda is only open to the public on Wednesday, but from the road you have an exceptional view of this palazzo on its hilltop perch. Then stop by  Villa Valmarana ai Nani across the road.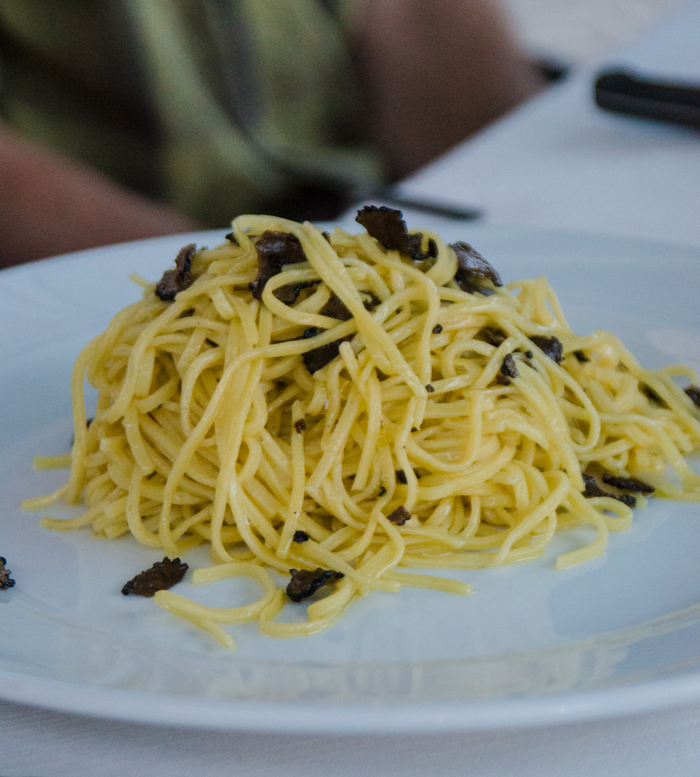 Pasta with local black truffles
While dining in Vicenza, you will see dishes typical of Veneto cuisine, and a few that highlight the local seasonal products that are cultivated in the fertile Colli Berici, just south of the city. Baccala Mantecato alla Vicentina is a very traditional dish, here made with stoccafisso (stockfish), which is cod that has been air dried as they hang on sticks, rehydrated, cooked in milk, then whipped and served on polenta. There is a local consortium dedicated to preserving this traditional dish, but it is not always everyone's favorite! Bigoli con anatra is perhaps more appealing to our modern palates, bigoli is the local pasta, a thick spaghetti; here served with a meat sauce made with duck. Seasonal dishes featuring local products include Risi e Bisi (risotto and peas), made with the first peas of the season from Lumignano, fettucine with black truffles from Nanto, or with mushrooms from Costozza.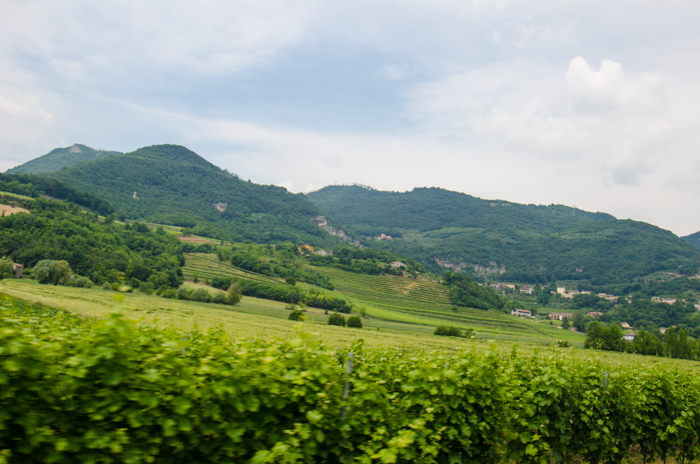 Vineyards of Colli Berici
There are several very nice local wines from the Colli Berici DOC to enjoy with your meal, all rarely seen outside Vicenza, and sometimes hard to find even in town! For a white, I recommend the Garganega from Colli Bugano, or a Garganega from nearby Gambellara DOC. For red, do try a glass of the indiginous grape, Tai Rosso, a close relation to the Sardinian cannonau or French grenache. A Tai Rosso can range from a very light, almost rose style red to a full-bodied intense red, so inquire as to what you will get. This zone also produces some wonderful Bordeaux style reds, one I can actually find in the US is Inama's Carmenere Piu, a blend of Carmenere with a bit of Merlot.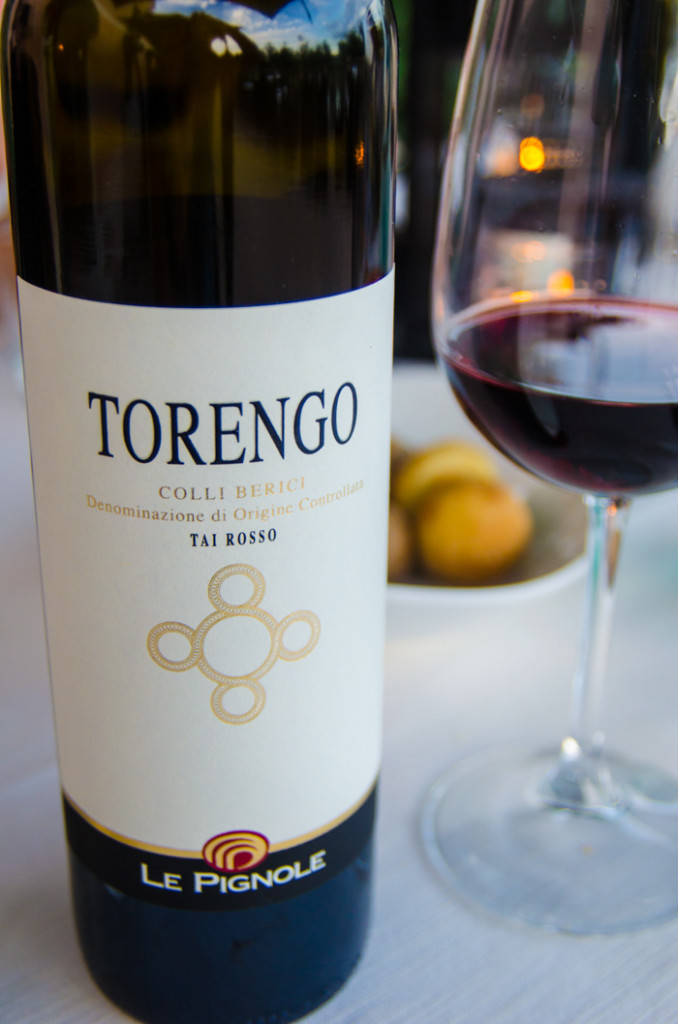 There are many restaurants to explore in Vicenza, here are a few of my recommendations. For more, visit my list on our web site.
Angolo Palladio
One of the best spots in town for dining al fresco and enjoying the bustle of Piazza dei Signori. Local dishes, including carpaccio with local truffles, and pretty good pizza. Reservations recommended.
Piazzetta Palladio 12, Vicenza
Antico Guelfo
Great place in Vicenza. Lots of interesting dishes using whole grains; local products with new ingredients like kamut, quinoa. Gluten free dishes. Dinner only, closed Sunday.
Contrada Pedemuro San Biagio, 92, Vicenza
Antico Risotrante Agli Schioppi
Local dishes, cucina veneta, baccala, fegato. Menu changes twice a month to incorporate local products. Lunch and dinner, closed Sunday and Monday lunch. $$
Contrada Piazza Castello, 24 Vicenza
Mavala Wine Bar
Located in a nice alleyway off of Piazza Signori in Vicenza, they have the best selection of local wines. Nice snacks, pleasant outdoor seating during warmer months. Closed Monday.
Contra delle Morette, Vicenza