Thai Cashew Chicken Salad Recipe
Ingredients
2 cups Red Leaf Romaine Lettuce, coarsely chopped
1 1/2 cups Bok Choy, coarsely chopped
2 cups Rotisserie Chicken, shredded
1/3 cup Shredded Carrots
1/2 cup Cucumber Slices
3/4 cup Sugar Snap Peas
1/2 cup Coconut Milk
2 tablespoons Natural Cashew Butter
1 tablespoon Coconut Aminos, or soy sauce
1 Medjool Date, finely chopped, 1 tablespoon of brown sugar or honey can substitute
1 tablespoon Lime Juice
pinch of Cayenne Pepper
Salt, to taste
1 bunch Asian Micro Greens, optional
1/2 cup Cashews
Directions
In a large bowl, combine the chopped lettuce, and bok choy. Top lettuce with shredded chicken, cucumber, and snap peas.
In a bowl, whisk together the coconut milk, cashew butter, coconut aminos (or soy sauce), date (or honey) lime juice, and cayenne pepper. Add salt to taste. Drizzle dressing over salad and toss to coat. Top salad with micro greens and cashews; serve.
Notes
You can substitute 1 tablespoon of brown sugar or honey for the date, if you like.
Recommended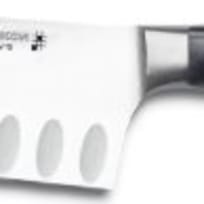 Wusthof Santoku Knife - 5 inch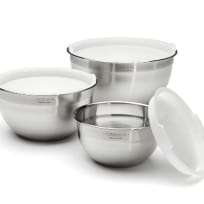 Cuisinart Stainless Steel Mixing Bowls