Cinnamon Tortilla Chips Recipe
Ingredients
6 Flour Tortillas, or corn tortillas
1/4 cup Oil, such as vegetable, canola, or olive oil
1/4 cup Granulated Sugar
1 tablespoon Ground Cinnamon
Directions
Pour oil into a medium size skillet and heat over medium high heat.
Prepare the tortillas by cutting into triangles, if using corn tortillas you can cut into 6 triangles, if using 6 inch flour tortillas they're typically a bit bigger and can get about 8.
Prepare the cinnamon sugar by combining the sugar and cinnamon in a small bowl. Stir to mix.
Add the cut tortillas to the heated oil in batches. Fry each side for about 30 seconds until starting to brown and crispy. Then turn and fry the other side.
When done, transfer to a plate or baking tray lined with paper towels. Once out of the oil immediately sprinkle with the cinnamon sugar. Let cool.
Meanwhile, continue frying the remaining tortilla until all tortilla chips are fried.
Serve warm or room temperature.
Enjoy!
Recommended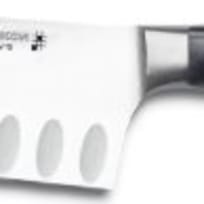 Wusthof Santoku Knife - 5 inch