A Dose of Zen & Tranquility at Dwarika's Resort Dhulikhel
May 23, 2017
A Dose of Zen & Tranquility at Dwarika's Resort Dhulikhel
Deepak Chopra was on to something when he said, "Nothing is more important than reconnecting with your bliss. Nothing is as rich. Nothing is more real." Constantly, we search for ways to escape our norms and achieve peace in all aspects of our daily routine. The journey to peace will not always be blissful. Instead, we must find a starting point that allows you to tap into a blissful state of mind amidst the chaos of life. A great starting point is at Dwarika's Resort in Nepal.
The Perfect Tailored Holistic Escape
The Dwarika's Resort is a holistic lifestyle retreat set in the hills of Dhulikhel, at the eastern rim of the Kathmandu valley. With ancient Himalayan knowledge and a strong philosophy of self-care at its core, the hideaway offers a blend of eco-luxury, tradition and nature at its doorsteps. Drawing on key elements of Buddhist medicines and beliefs, Dwarika's aim is to encourage the exploration of the physical body, inner self and the world around us. The idea is to create an experience that feels a world away. Designed to both inspire and intrigue all those who encounter the resort, the property offers curated luxury experiences, while providing all the tools required to explore the connectedness between the mind, body and earth.
Here are a few: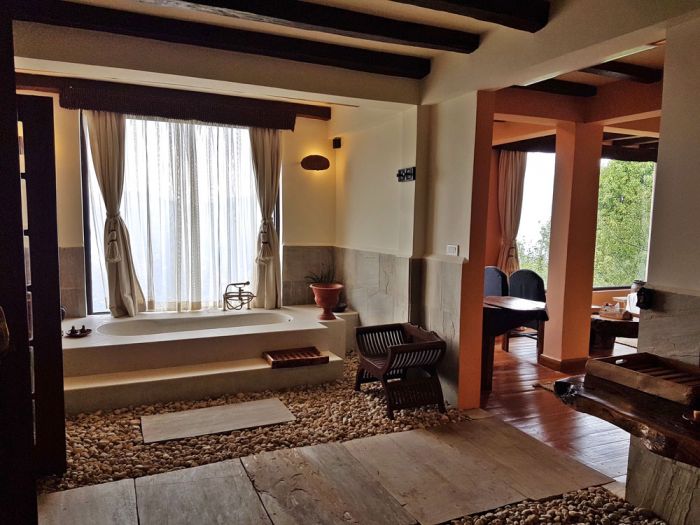 A Hideaway For The Senses
At the heart of the Dwarika's Resort lies a strong commitment to sustainability. The resort is built primarily of natural materials such as wood, stones, earth and chemical-free resources. This Mother Nature inspired theme can be seen throughout each suite, creating the ideal environment for reflection and relaxation.
The Royal Suite gets it right offering a delicate combination of elements: bright and spacious with extraordinary views. Suite Life at the Dwarika's Resort includes an open-plan bathroom, soaking tub, separate dressing room, expansive terrace and an outdoor sleeping area located at one of the resort's highest point. There's even a chef on request.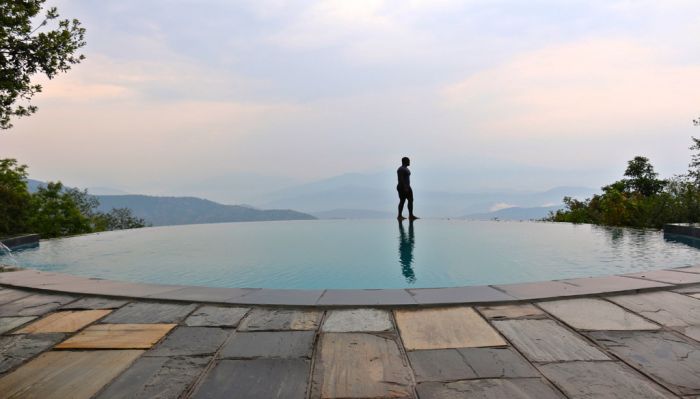 Breath More. Worry Less.
True luxury is having space—both mentally and physically. From salt rooms to pottery classes, meditation and well-being is about to take on a new meaning. Visitors will find that the resort encourages self-reflection and healing; throughout the grounds are small plaques with phrases that speak volumes to the mind.
Depending on your mood for the day, perhaps you take a dunk in the infinity pool that overlooks the Himalayas. In a more meditative state? Representing strength and creation, the resort's Meditation Maze is surrounded by eighty-four Shiva Lingas (used for worship in temples) and best experienced during early morning meditation, shortly after sunrise. Crafted with salt rock crystals to strengthen the immune system, the Himalayan Salt Room works wonders for the respiratory system, skin tone and vitality. There are also seven Chakra Sound Chambers at the Dwarika's Resort, each dedicated to one of seven Chakras found within your body, which are said to be responsible for distribution energy. Unexpectedly, this was my favorite form of meditation! For a more traditional approach to rejuvenation, guests can of course also enjoy a relaxing treatment in complete isolation and comfort. (Be sure to try the wooden steam bath!) And lastly, when you are ready to connect with some delicious local cuisine, create some Zen on a plate and meet at Chef Pramod's kitchen to test your skills with the famed Nepalese dish: Momo.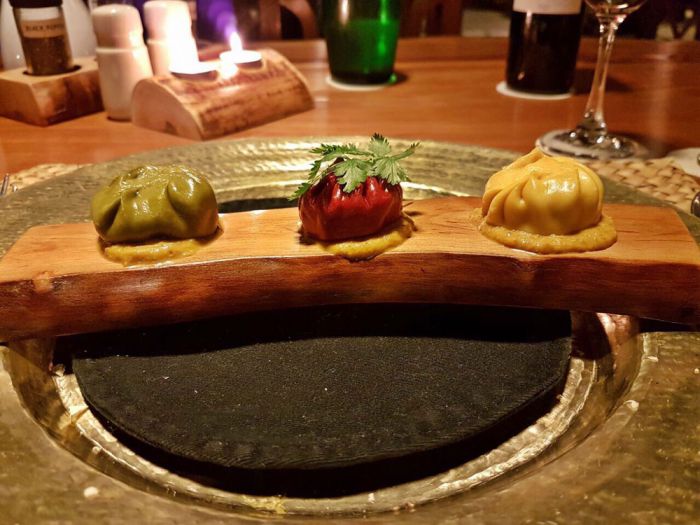 Flavored To Perfection
Rich flavors are a key aspect to the Dwarika's Resort. All meals are prepared with fresh, seasonal and local produce sourced from the Dwarika's organic farms. It is said that "before you even pick up the food to eat, take a couple of deep breaths—in through the nose and out through the mouth... just to allow the body and mind to settle." Dining at the resort requires only two things: arrive hungry, depart speechless! But that quote also rings true in many aspects of life, doesn't it? The next time the urge to embrace your inner spirituality surfaces, dive into a richer travel experience at Dwarika's Resort. And don't forget to breathe.