Alemany Farmers Market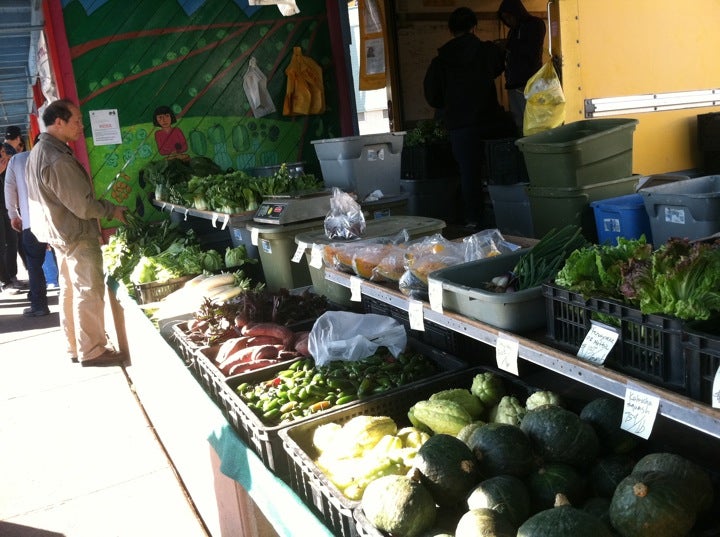 Map: Surroundings & Nearby
Foursquare Tips
Early birds get the best pickings.

Bernal Heights' Alemany Farmers' Market is home to the oldest extant farmers' markets in the US, operating every Saturday since August 4, 1947.

Get Pomelos for $0.50 each. They aren't the biggest ones but still worth it!

Try a pulled pork sandwich from Dontaye at the Good Food Catering stand. So delicious!

Be patient.

Ferry Plaza Farmers' Market is better known, but chefs prefer this Saturday market for oysters on the half shell and the curry crepes from Malaysian Lacy Crepes.

Come here to get all sorts of fresh produce. Very friendly vendors. Much better than the crowded and touristy Ferry Building farmer's market. Cheaper too.

Lamb tacos!!!

The Alemany Farmers' Market is known as "the people's market' for its abundant produce at affordable prices. If you're shopping for Asian vegetables, this is your scene.

Forget to bring cash? There's no ATM, but the Bolanis will give you cash back if you buy something with your debit card!

No ATM here bring lots of ones.

Try oysters from Pt. Reyes Oyster Farm. $10 for a dozen! So fresh you could smell the ocean. Best of all they're local :)

avoid the traffic at the entrance of the Alemany Farmer's Market by going up Putnam and turning right at Tompkin's to enter parking lot through the back.

Same great produce as the ferry building at a fraction of the cost.

there is a unique musical act here involving wooden cat puppets and a ukelele.

Do not miss the perpared food vendors: tons of great Mexican food, BBQ, crepes, pizza and the all important Afghani bread-and-spread with free samples galore served by a beautiful hustler.

Need to go in the morning when all the produce is out

Arrive early...easier parking and better fresher selection of produce! Always remember the early bird catchs the worm!!

Good mix of fruit, veggies, and people!

Great deals on fresh produce. Come here early before they run out!