Hopwater Distribution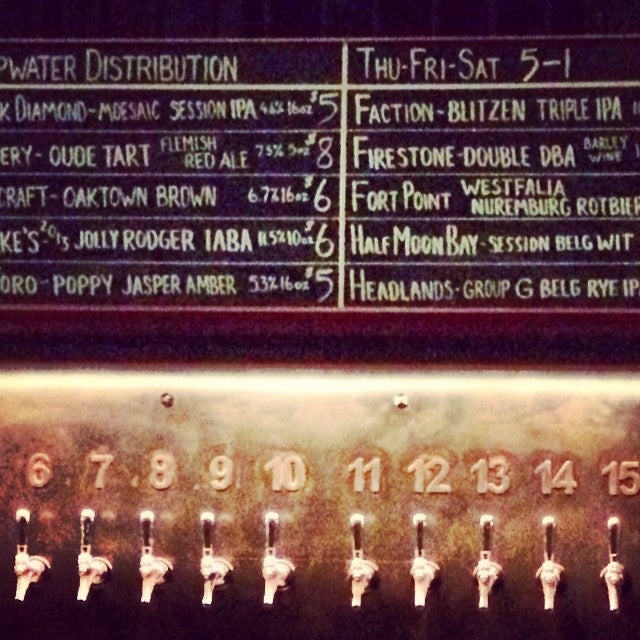 Foursquare Tips
California Craft Beers reign here on 30 chilled taps and 1 cask tap.

If you loooove craft beer, come here

Terrific beer bar, bartenders know their stuff, deviled eggs are insanely good. Wish I were there.

pranqster is one of my all time favorites, give it a taste

OUTSTANDING! Offers DELICIOUS microbrews & mouthwatering food that is not your typical bar-fare. Make sure you order the Dungeness Crab Tater Tots, Bacon Jam Deviled Eggs, and Angus Sliders--AMAZING!!

If you're really hungry, the burger is a good choice.

Excellent selection of craft beer, many local.

Lots of unique beers on tap. Food is alright!

Get the burger, deliberate over your choice of beer. Awesome spot, busy, great atmosphere

The beer selection is great and the food is delicious. Try the deviled eggs, the steak fries or the crab tater tots. All winners.

Great little spot to grab a craft beer.

Great selection of California craft beers on tap! When crowded, the atmosphere is definitely loud due to the brick interior. Could barely hear my convo with my gf directly across from me.

Chat up the bartenders. Down-to-earth guys with excellent beer knowledge.

Nice one in Downtown! Good selection of craft beers, near to 30 taps. Cool location, classic "old new" american bar. I will back sure!

Great space with a historic sign out front, 30 California beers, and a ton of expertise to go with them. Excellent!

Best beer selection ever

Beer, fried chicken tenders

Great beer selection

Good selection of beers

Solid local beers. Airy, open space and knowledgeable bartenders.