The Wines Of Umbria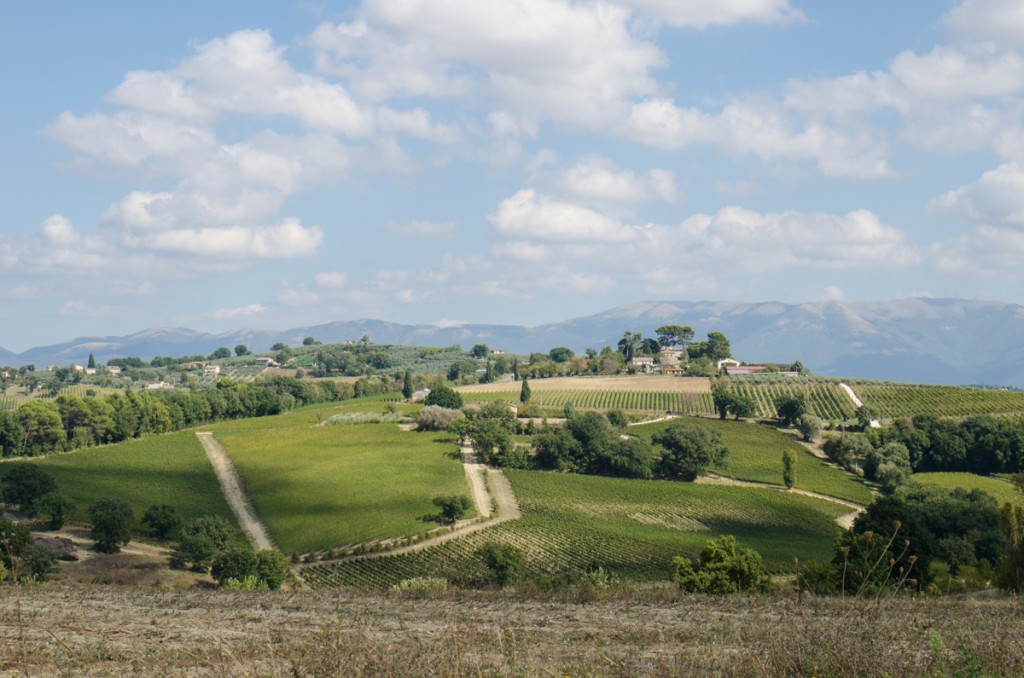 We are off on our next tour this week, our Bike the Wine Roads of Umbria tour. So as I plan tastings and winery visits, it seems like the perfect time to produce a brief primer on the wines of this region, which are still hard to come by here in the US.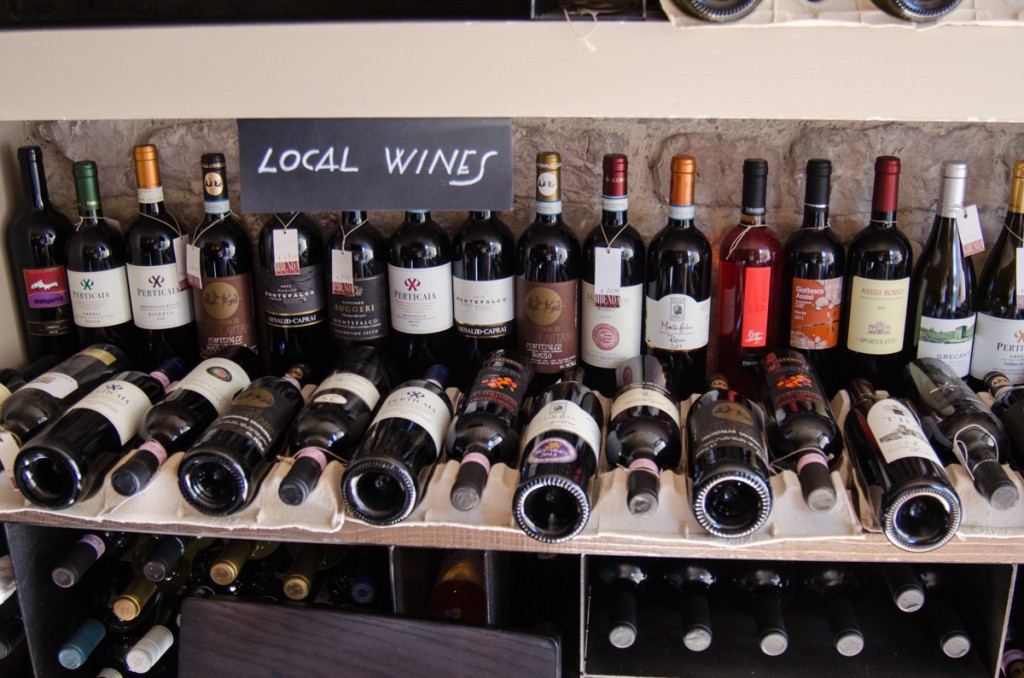 Wine production in Umbria dates back to ancient times. Archaeological artifacts show evidence that the Etruscans engaged in viticulture along the banks of the Tiber River well before the Romans here. But when they did arrive, they too developed a taste for these wines. Around the 12th century, Orvieto was a summer retreat for the Popes, and the then thick, sweet white wine from this area was shipped daily to Rome.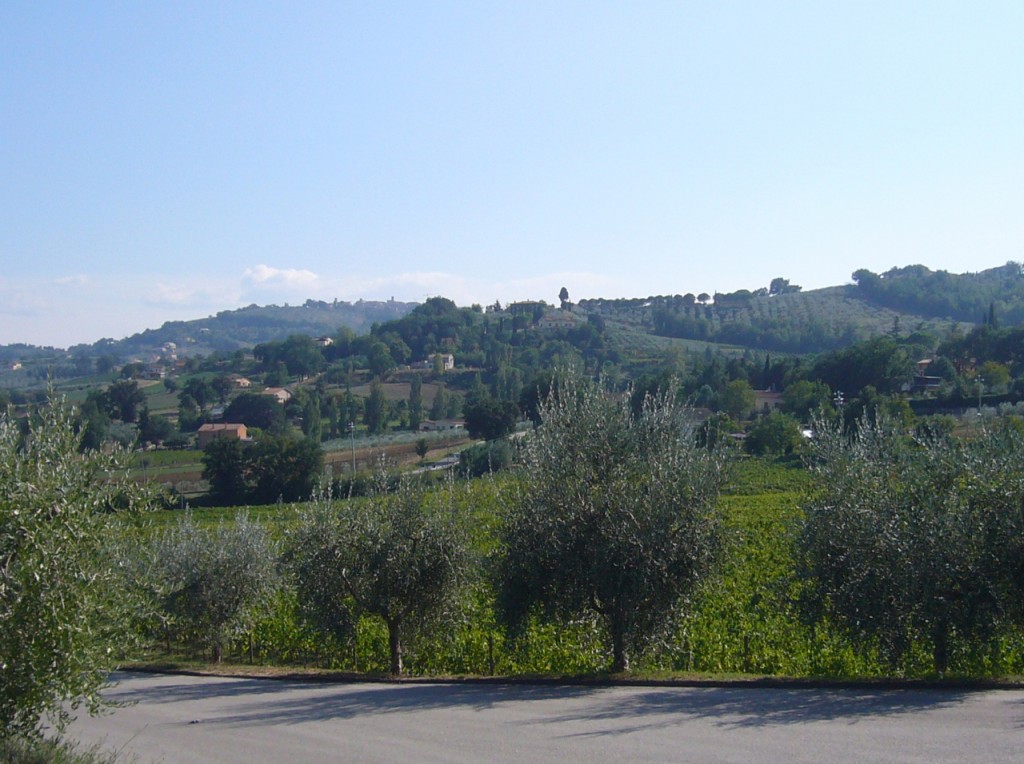 Umbria is landlocked, and enclosed on three sides by the Apennines mountains, but the many rivers that flow through the region bring with them warmer air from the Mediterranean. The interplay of these warmer air currents with the cool air that flows down from the Apennines provides the ideal environment for viticulture. But winemaking in Umbria has always competed with olive oil production and grain cultivation.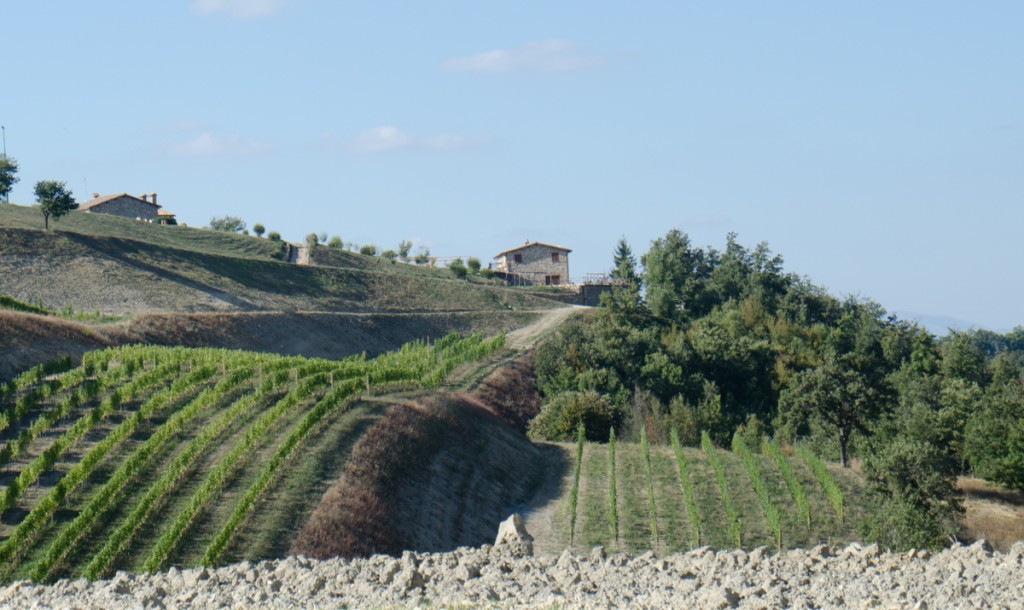 Centuries ago, rather than the neatly manicured vineyards we see today, the grapevines were interspersed among trees such as maple, elm, and even olive. The trees acted as natural trellises, raising the grapes off the ground so they could ripen without rotting. As recently as the 1970s, wine production in Umbria was basically a farmhouse operation making wines for local consumption. Today, a few of these family producers have transformed themselves embracing modern production methods and controls, and are now producing high quality wines worthy of international attention.
There are now 13 DOC and 2 DOCG wine zones in Umbria. A few of the distinctive wines you will find in this region are:
Grechetto
Grechetto is a white varietal found in central Italy, particularly in Umbria. It is believed to be of Greek origins, and related to the greco grape of Campania. It is primarily used as a blending grape, though now some varietal (single grape) wines are being produced.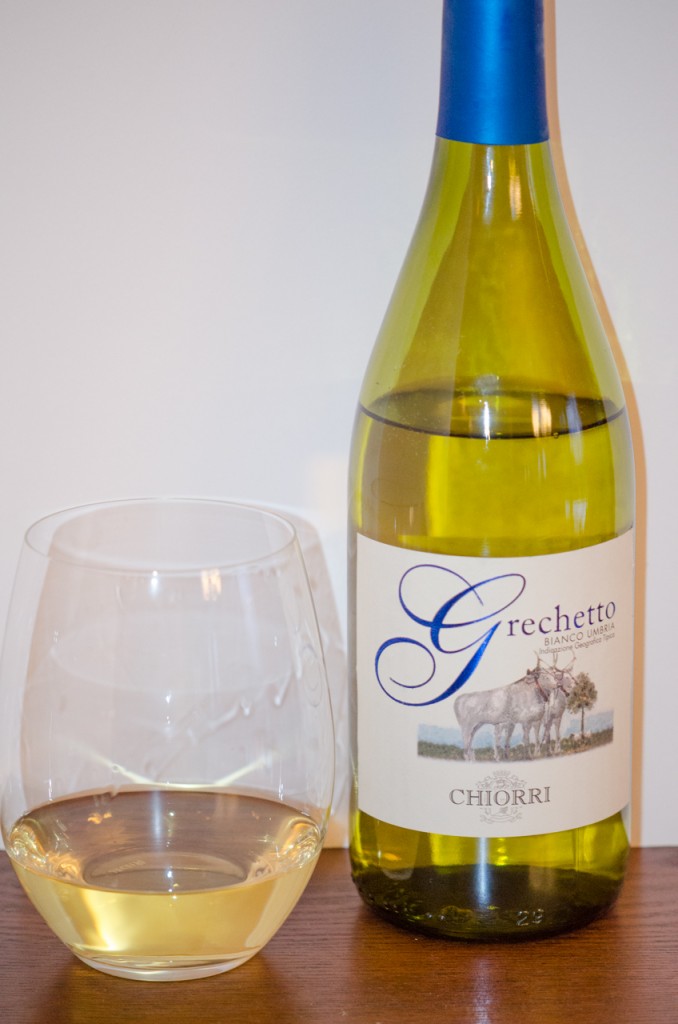 The producer Antinori describes Grechetto as "small, dark-yellow, thick skinned, highly acidic, low-yielding, notable tannic Umbrian grape that produces creamy wines with unique spicy, herbal, freshly mown hay flavors, good structure, good aging potential, and elegance."
Several denominations in Umbria use this grape, including Orvieto, probably the most well-known white appellation in the region, as well as Assisi, Colli di Trasimeno, and Colli Martani. In addition to the varietal wines, we will search out the regions traditional Trebbiano based blends that are now becoming very interesting as producers add varietals such as Grechetto and Chardonnay to the mix.
Torgiano Rosso Riserva DOCG
In 1968, Torgiano was the first zone to be awarded DOC status in Umbria, and was elevated to DOCG status in 1990. The success of this zone is largely the work of one farsighted producer, Lungarotti, who was the first Umbrian wine maker to become a true commercial entity. Lungarotti now operates a winery, hotel, restaurant, enoteca and several museums, one for wine, one for olive oil, all located in Torgiano.
Torgiano Rosso Riserva is a blend of Sangiovese (50-70%), Canaiolo (15-30%), and Trebbiano (10%), with other red grapes such as Ciliegiolo and Montepulciano allowed, up to a maximum of 5%. It must be aged a minimum of 3 years, beginning November 1 of the year of the harvest. They are ruby red in color, with a delicate bouquet that develops complexity with age. Dry, well-balanced, with a persistent finish, they pair wonderfully with the local cuisine – roasted meats and game, and aged hard cheeses such as pecorino.
Sagrantino di Montefalco
If you wish to find the one wine unique to Umbria, it is the Sagrantino di Montefalco. Sagrantino di Montefalco is a single varietal wine, produced exclusively from the Sagrantino grape. This varietal of unknown origin – some claim it hails from France, others claim Greece – is very rarely grown outside of Umbria, and almost disappeared even here until rediscovered in the 1970s. Today, there are only a handful producers that make this wine, and only about 250 acres under production.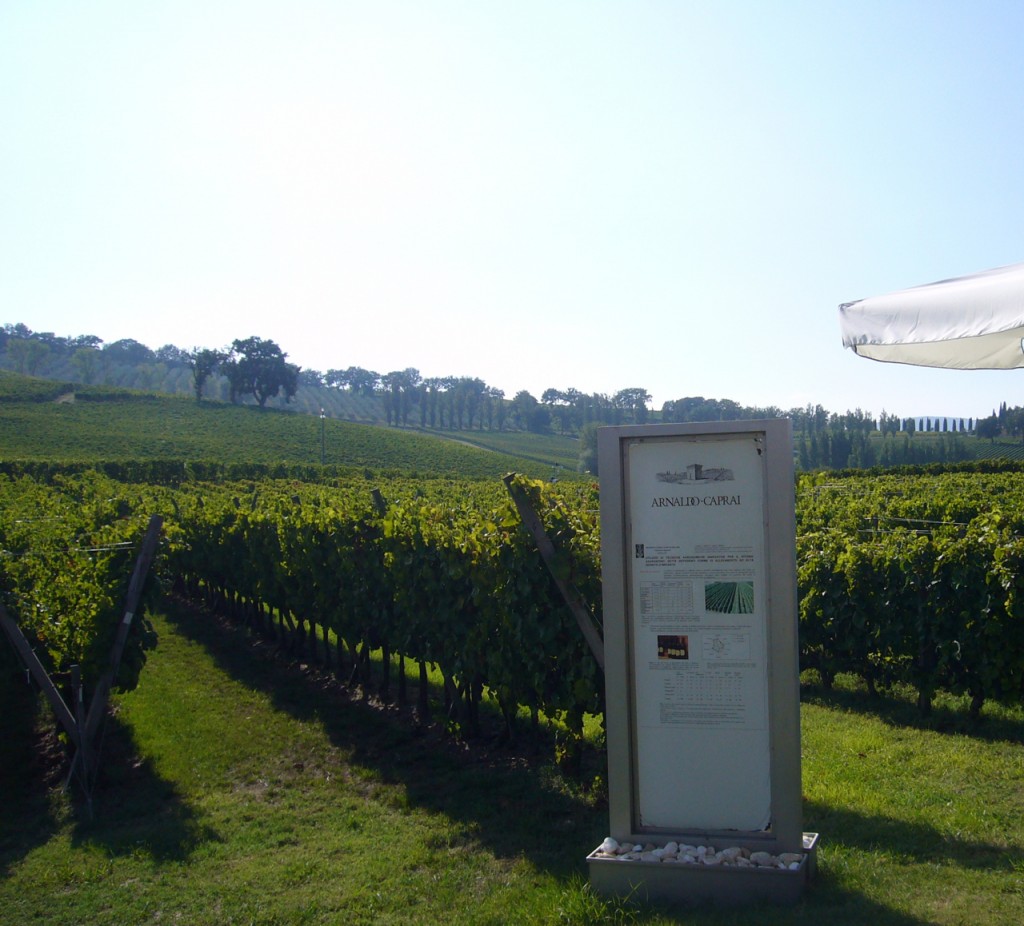 Two types of Sagrantino are produced; a dry red, which much have an alcohol content of at least 13%, and a sweet wine, with a minimum alcohol of 14.5%. The dry style, Sagrantino Secco, must age for 30 months, 12 of which must be in a cask. The sweet style, Sagrantino Passito, must also age for a minimum of 30 months. As Sagrantino grapes have a particularly high concentrations of polyphenols, it requires a bit of skill to produce a drinkable wine with this grape, one in which the tannins don't overwhelm everything else. These long periods of aging allows the tannins to mature, resulting in a more balanced, less aggressive wine.
Dark and dense, loaded with dark fruits with some spicy and earthy notes. It expresses flavors of black cherry, licorice and chocolate. Medium to full bodied, and high in tannins, but with tannins that are more sweet than austere, producing a wine that manages to be both sweet and savory. Another great pairing with the cuisine of Umbria – roasted or grilled meats and hard cheeses.