Valle d'Aosta – Wines From The Alps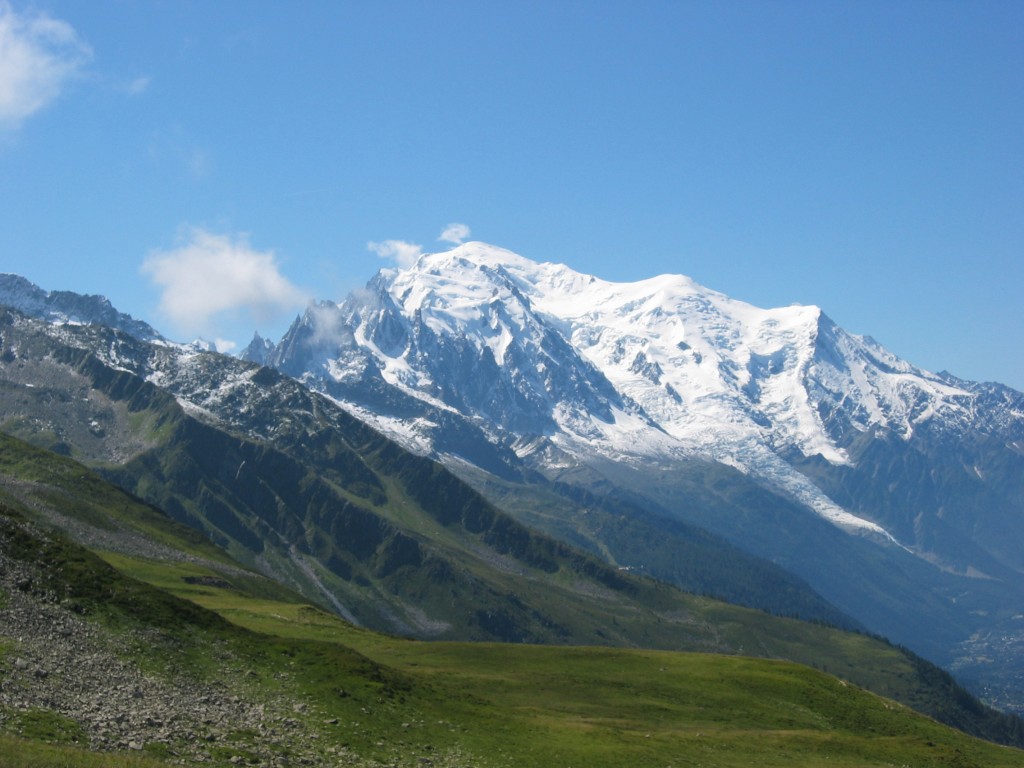 In the most northwest corner of Italy, tucked away in the Alps beneath majestic Mont Blanc, is the smallest Italian wine region, full of obscure, but wonderful wines. To quote Joseph Bastianich and David Lynch in their "Vino Italiano – The Regional Wines of Italy", "Given the minuscule quantities of wine..., very little Valle d'Aosta wine makes it out of the region, never mind overseas. But if there were ever a wine region that merited a field trip, Valle d'Aosta is it. The valley often feels like a land that time forgot, with a string of Medieval castles set on dramatic hillside perches and terraced vineyards where tractors would fear to tread." Not to mention world class skiing at venues like Cervinia, Courmayeur, Alagna, La Thuile, and many more. A perfect spot for one of our Italiaoutdoors Food and Wine gourmet Italy ski holidays.
On the label of any bottle of these Alpine wines, you may find the French Vallée d'Aoste as often as the Italian Valle d'Aosta. Vineyards in Valle d'Aosta perch on steep slopes at the highest elevations of any in Europe. The precarious position of these vineyards means every task must be performed by humans, as tractors cannot function on these slopes. The wines are by both tiny producers, such as the Viticulteurs Encaveurs Vallee d'Aoste, many of whom still age their wines in the traditional stone cellars, as well as bigger cooperatives. You will find a few familiar grapes, a mixture of Swiss, French and Italian, such as Pinot Noir, Nebbiolo, and Gamay, as well as some varietals rarely seen elsewhere, like Cornalin, Fumin and Petit Rouge.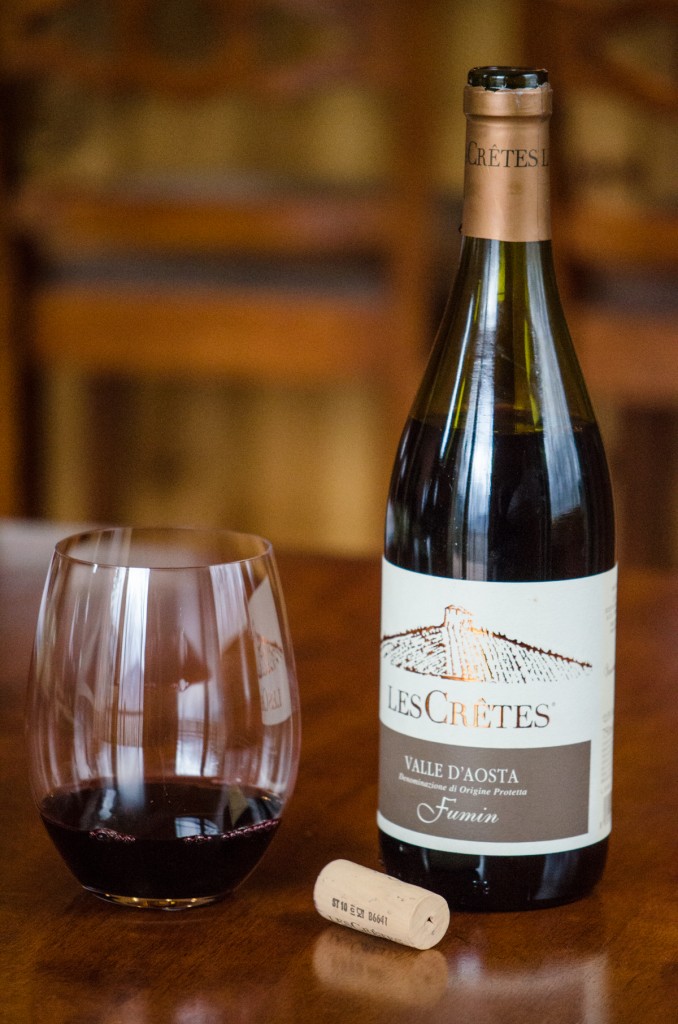 The wine designations here are a bit confusing. There is one overarching Valle d'Aosta DOC, with around 25 styles included – some defined by their varietal, others by a geographical designation – so the labeling sometimes may indicate the grape, others a location. These designations are summarized below.
Valle d'Aosta DOC
Varietals
White:
Chardonnay, Muller-Thurgau, Petit Arvine (Swiss Valais), Pinot Gris/Pinot Grigio, Pinot Noir Blanc/Bianco (Pinot Noir vinified as a white, separating the juice from the skins.)
Rose:
Prëmetta (a red grape with very thin skins)
Red:
Fumin (native grape, similar to Syrah), Gamay, Petit Rouge, Pinot Noir
Blends:
Rosato (rose wine made from a blend of approved local grapes), Nouveau/Novello (blend from new grapes), Rouge/Rosso (blend of approved red)
Geographic subzones
Arnad-Montjovet DOC
This subzone is located in the east part of Valle d'Aoste, near Arnad. The red wine produced here are based primarily on the Picotendro, or Nebbiolo grape (min 70%), with Dolcetto, Pinot Nero, Neyret, Freisa and Vien de Nus (max 30%). The Supérieur version comes from limited production vineyards located in the heart of this area.
These wines display an intense aroma, with hints of spices and nice tannic structure. Producers include the co-op La Kiuva which I have found here in the US.
Blanc de Morgex et de La Salle DOC
The Blanc de Morgex et de La Salle DOC is particularly interesting, made from grapes harvested in the highest vineyards in Europe at the foot of Mount Blanc. The name is a combination of varietal (Prié Blanc) and place (Morgex and La Salle), and the vines used for its production are still planted ungrafted. Two types of wines are produced in this subzone, a sparkling wine produced using the metodo classico (Champagne method), as well as a crisp, dry white. Perfect aperitif after a day of skiing!
Chambave Muscat DOC
This subzone covers a white wine produced from Moscato (Muscat) grapes cultivated in the commune of Chambave, in hills just east of Aosta. It is a full-bodied wine that is dry, with a subtle bitter aftertaste. Ideal as an aperitif, it is also used to prepare zabaione.
A sweet wine is also produced here, known as Chambave Muscat Flétri. The best white Moscato grapes are left to dry in an area away from the sun, concentrating their sugar and aromas.  The result is an intensely perfumed wine, wonderful with the local Fontina cheese.
Chambave Rouge DOC
From this same geographic area, a red blend is produced, mainly from Petit Rouge grapes (min 70%), blended with Dolcetto, Gamay and Pinot Nero. A ruby red wine, with floral hint and nice fruit, it is perfect with the local pork and hearty soups.
Donnas DOC
The Donnas DOC is an important wine, and used to have it's own DOC designation before being incorporated into the Valle d'Aosta. It is a favorite of Nebbiolo fans, and has been referred to as "the mountain equivalent of Barolo". Its production uses primarily the local Nebbiolo grapes, here called Picotendro (min. 85%),  blended with Freisa and Neyret. Full bodied and well balanced, with persistent tannins, it pairs well with grilled and roasted meats and game, as well as aged cheeses.
Enfer Arvier DOC
Produced in the Arvier territory, originally in vineyards located in a natural amphitheater where they received strong sunshine, from which the name Enfer, or "inferno" was derived. These dry, intense wines are a blend Petit Rouge grapes (min 85%) with Vien de Nus, Neyret, Dolcetto, Pinot Nero and Gamay. They are ideal with the local meats such as mocetta or bresaola, traditional soups and local cheeses.
Nus Malvoisie DOC
The name of this subzone is a bit confusing, as the Malvoise grape is actually a clone of Pinot Grigio cultivated in the commune of Nus, and is not related to the varietal Malvasia seen in other regions in Italy. More aromatic than a typical Pinot Grigio, this dry white is pleasant and versatile, great as an aperitif, with first courses of pasta or risotto, and white meat.
Here we also find another dessert wine, also called Flétri, the Nus Malvoisie Flétri. Once again, the best grapes are left on the vines to desiccate, then undergo slow fermentation and aging in small, wooden barrels. A wine with aromas of peaches and hints of dried fruit balanced with a nice acidity.
Nus Rouge DOC
Again from the commune of Nus, this red blend is based primarily on a practically extinct local grape, Vien de Nus (min 50%), with Petit Rouge, Pinot Noir and other authorized local grapes. Local legend claims that this elegant, dry red was much appreciated by Pontius Pilot, although I am not quite sure why they came up with this as a selling point. Ideal with the local meats and cheeses, it is very hard to come by.
Torrette DOC
The most produced wine of the Valle d'Aosta, this area is the largest geographical region, covering eleven municipalities include Aosta, Gressan, Saint-Christophe and Villenenuve. A blend which must be based on Petit Rouge (min 70%), with Pinot Noir, Gamay, Fumin, Vien de Nus, Dolcetto, Majolet or Prëmetta. A full-bodied red, crisp and dry, spicy and juicy, it is a versatile red that can be enjoyed all year round, either after a summer hike or winter ski day. A Supérieur version is also produced from the sunniest vineyards with per hectare yield restrictions, and longer aging requirements.