Lenticchie – Lentils, And 5 (Or More) Different Ways To Use Them
Ski season will soon be upon us, and I'm craving warm comfort food with the onset of cold temperatures. A warm meal in a mountain rifugio is a perfect mid-day break during our Dolomite ski holidays. But comfort food does not have to mean unhealthy; the right recipes can combine a wide variety of good-for-you foods into a warm and wonderful dish.
This post is about one of my favorite healthy foods – lentils. Lentils are legumes, not beans, and don't require the pre-soaking that dried beans do. I can keep lentils in the cupboard, pull them out, and have a great soup in about an hour.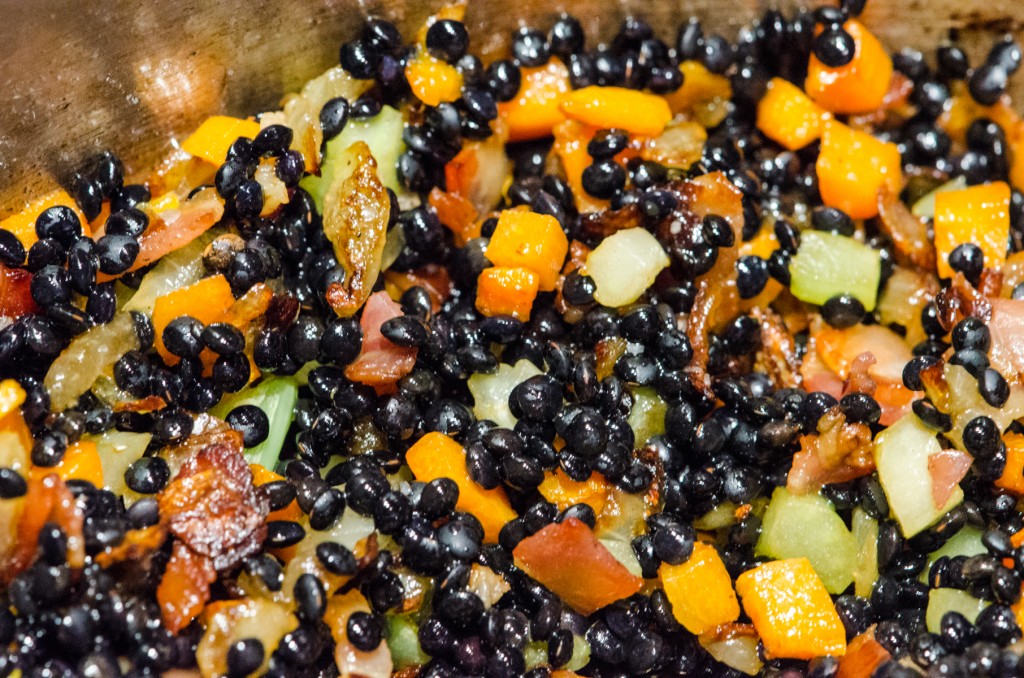 Lentils are the lens-shaped seeds of a bushy annual plant of the legume family. They are eaten throughout the world, and have been part of our diet since ancient times. Lentils are commonly used in soups in Europe, North and South America, and often combined with rice in Western Asia and the Mid East.
In Italy, there are a couple of basic lentil recipes that you'll find in many regions of Italy. Lentils and sausage are favorite combination in Umbria and Tuscany. Lentils are stewed in tomato sauce and broth in Emilia Romagna, where they are often served along with sausage on New Year's Day, as eating lentils to welcome the new year is believed to bring luck – their coin-like shaped predicting future wealth.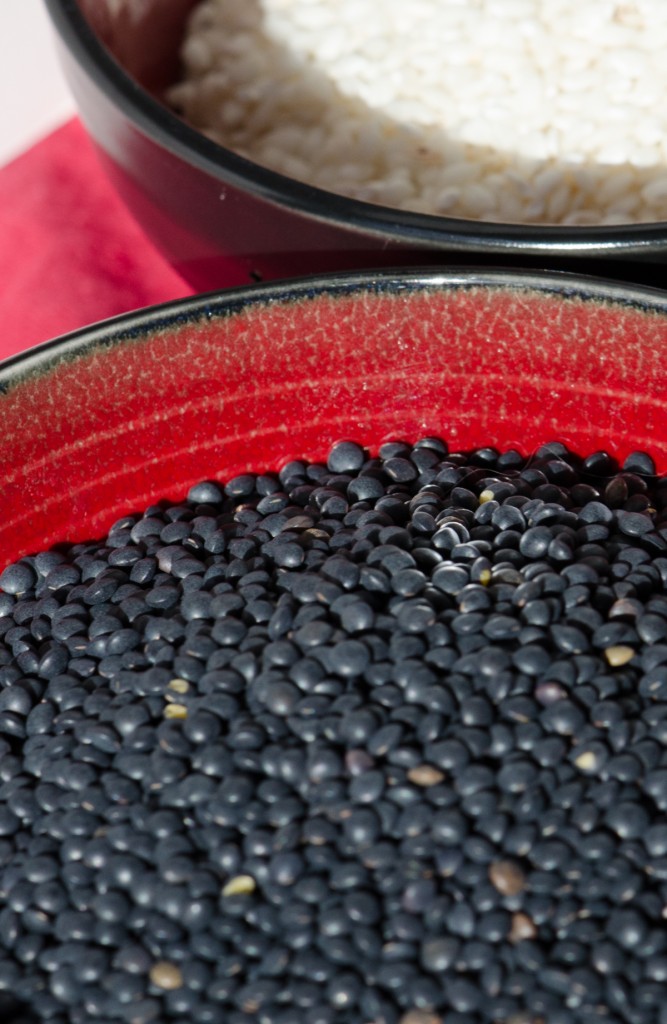 Eating lentils brings good fortune any time of year, as they are extremely nutritious. With about 30% of their calories from protein, lentils have the third-highest level of protein, by weight, of any legume or nut, after soybeans and hemp. Lentils are an essential source of inexpensive protein in many parts of the world, especially in areas which have large vegetarian populations. Lentils also contain dietary fiber, folate, vitamin B1, and minerals.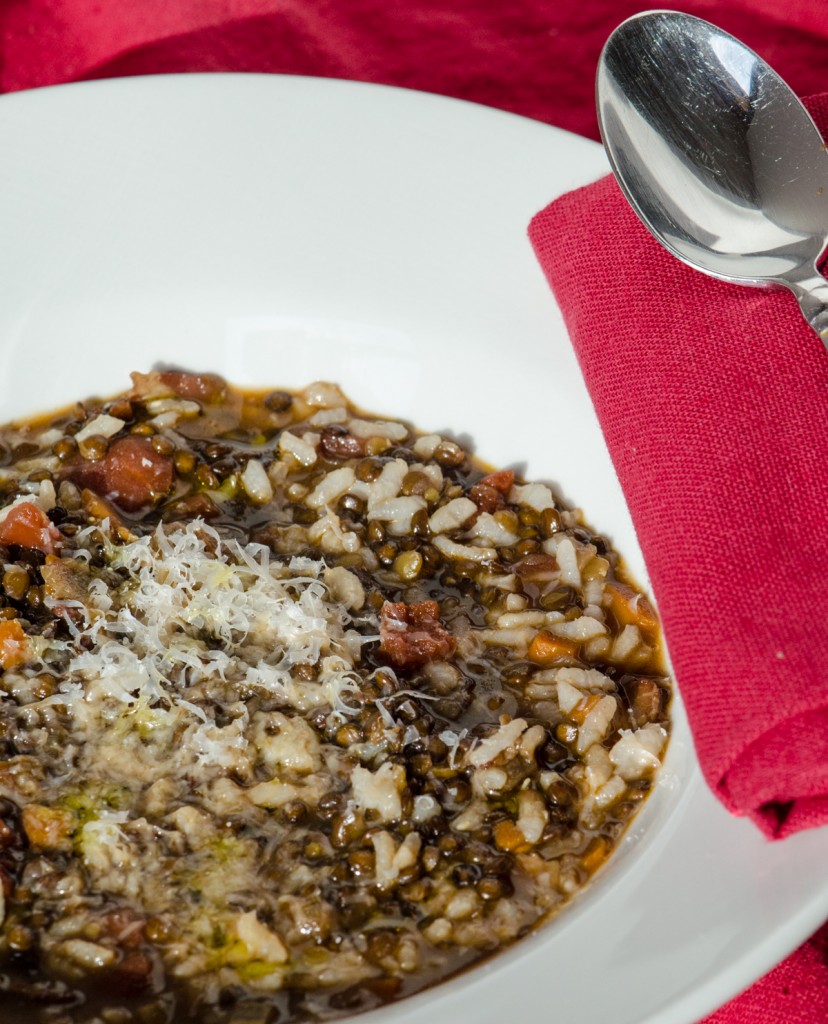 As I sat down to write up this post, I was following an on-line discussion on how to eat healthy meals during our busy day-to-day lives. It is tough to bypass easy to grab processed foods, but with a little bit of planning when you do have a chance to cook, you can prepare the pieces for several healthy meals. So I thought I'd share how I take a basic Italian lentil recipe and turn it into several variations I can enjoy throughout a busy week. When I am overloaded on lentils, I take any leftovers and pack them in small resealable sandwich bags and pop them in the freezer for future use.
Per Serving 386 calories
Fat 19 g
Carbs 26 g
Protein 28 g
6

Ingredients
3 tablespoons extra virgin olive oil
1 small onion, chopped into 1/4 inch dice
4 ounces pancetta, chopped (optional)
1 carrot, cut into 1/4 inch dice
1 stalk celery, peeled and cut into 1/4 inch dice
Kosher salt and freshly ground pepper
1 cup canned plum tomatoes, cut into 1/4 inch dice
1/2 pound (about 1 1/4 cups) dried lentils, rinsed
3 cups beef, chicken or vegetable broth
Instructions
Pour olive oil into a soup pot and heat over medium high heat. Add the onion and pancetta and cook, stirring occasionally, until golden brown.
Add the carrot and celery. Cook for 3 minutes, until beginning to become soft. Season with salt and pepper.
Add the tomatoes and lentils to the pot, stirring well. Add the broth. Bring to a simmer, then reduce heat to a gentle simmer and cover, stirring from time to time, and cook until the lentils are tender, but not mushy. Lentils vary greatly in cooking time, from 10 minutes to 45 minutes, depending upon the type and if the hull has been removed, so rely on taste rather than time. If needed, add more broth or water.
When the lentils are done, season with salt and pepper and serve.
Now that you have a delicious batch of lentils, you can serve it as a side to sausages, as they do in Italy – see my post on Lenticchie con Salsiccia.
Puree the lentils, and serve as a side with fish – it goes wonderfully with trout.
Leave out the pancetta, and combine the lentils with rice for a great vegetarian dish.
Add a bit more broth, and you have lentil soup. If you prefer a creamier soup, puree briefly with an immersion blender. Or puree until totally smooth. Add some great Greek yogurt for a tang
Add lentils to a green salad. Smoked trout would be a great addition for some additional protein.
There are many variations of lentil soups in Italy – here are just a few:
Add some leftover pasta
Add leftover risotto (gluten free)
Add some sautéed greens – kale, arugula, escarole
Top with toasted bread (crostini), rubbed with a garlic clove and drizzled with olive oil.