This 100-Square-Foot Kitchen Holds More Storage Than You Think
December 1, 2017
A small kitchen doesn't have to mean minimal storage space
Houzz
A lack of adequate storage space forced this condo owner to toss everything on the countertops like he was having a yard sale. Designer Sarah Kahn Turner took on the challenge and actually created fewer cabinets with larger and smarter storage for a streamlined look that hides all the clutter. Before Photo, original photo on Houzz Kitchen at a Glance Size: 102 square feet (9.4 square meters) Layout: L shape plus island Location: Washington, D.C. Cost: $68,600, not including construction costs but including $25,600 for high-end appliances Special features: Concealed walk-in pantry; swing-out corner storage; appliance garage Designer: Sarah Kahn Turner of Jennifer Gilmer Kitchen & Bath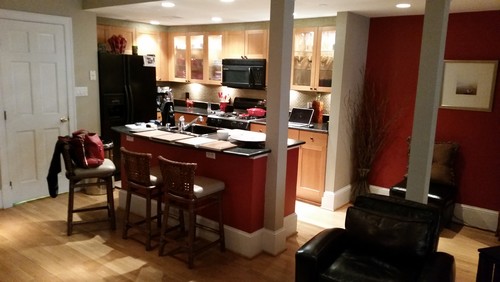 BEFORE: Aside from being out-of-date, the kitchen didn't offer much storage, which forced the homeowner to leave things cluttered on the countertops. But Turner's first design decision was to make the white pantry door (seen to the left of the black fridge) disappear. "It was the first thing you saw when you walked into the condo," she says.
AFTER: For a more uncluttered look, Turner put in fewer but larger cabinets and paneled the appliances. She replaced the pantry door with a concealed spring-loaded touch door that also made the wall appear longer and the kitchen larger. She says the door was an easy add-on and cost-effective. The hardware cost around $500 and the solid-core door, about $200, plus the cost of labor. While the overall size of the kitchen didn't change, the cabinets did move about 6 inches into the living room. Turner removed a small but tall wall and absorbed part of one of the structural posts into the island. She couldn't easily move the electrical and plumbing, though, because the unit sits on a concrete slab and the homeowner didn't want to muck with the existing hardwood floors. But the homeowner preferred having the sink at the island anyway.
The cabinets are covered in architectural veneer in a consistent pattern that looks like wood. Turner says these take stain evenly, something that helps in a small space. "You want things to look as quiet as possible in a small kitchen," she says. "It wouldn't look as big if it were really busy." Deep drawers to the left and right of the oven and cooktop provide easier access to cabinet space. Turner also paneled the appliances so as not to draw attention to them. Backsplash: Lagos Blue natural stone; countertop: Caesarstone in Lagos Blue Related: How to Tackle a Cabinet Refacing Project
And speaking of appliances, the homeowner has them all, but you wouldn't know it. "He's got a double oven, a speed oven, a Miele espresso maker, a full-size refrigerator, a wine fridge, a dishwasher — and there's still storage," Turner says. Here, a corner cabinet hides small appliances when not in use.
A swing-out shelf makes the most of corner storage. Swing-out shelf: LeMans, Hafele
The concealed door opens to a semi-walk-in pantry. Details Walls moved? No. A small, tall, nonstructural wall was removed. Plumbing moved? No. A concrete slab and desire to keep the hardwood floors intact convinced the homeowner to skip relocating any plumbing. Other professionals hired: Brook Custom Remodeling (general contractor); R. Bratti (stone labor) Duration of project: 2½ months Lived in during remodel? Yes. Turner set up a temporary fridge in the living room and put a plastic covering over the kitchen. The homeowner is a single guy, and not having to cook for a big family made it easier. Cost Breakdown Cabinets: $31,000 Countertops, integral sink and tile: $12,000 High-end appliances: $25,600 Total: $68,600, not including construction costs. —By Mitchell Parker