What Is Monkey Bread
The Daily Meal/ Taste of Home
Don't let this unique bread's name make you think of bananas.  This baked treat is often compared to coffee cake  and cinnamon rolls.  Monkey bread
a gooey-layered pull-apart loaf that is a great dessert, breakfast, or coffee accompaniment. If you entertain, or simply enjoy playing with your food, this indulgent bread finishes any meal perfectly, or makes a great midnight snack.
Rolling and stacking small balls of dough dipped into butter gives this bread its pull -apart quality. If you have a sweet tooth to satisfy, it is common to add raisons, and cinnamon. Monkey bread isn't just for dessert lovers; you can go savory with cheese and herbs. Traditionally baked in a bunt pan, once cooked, it should be turned up side down.  Here, the clumps of dough cling together forming a golden, sticky, solid loaf of goodness. Then it's time to get in-touch with your animal instincts and pull apart its warm buttery layers.(Photo courtesy of Myrecipes/Sidney Fry)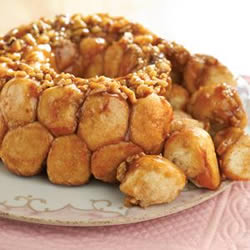 Mystery surrounds this delicious curiosity's origins.  No one truly knows the creator of monkey bread. Some say that it evolved from the ever-popular Parker House roll.   It is also speculated the 1940s famous film star Zasu Pitts and her neighbor collaborated to create this sticky treat.  It's rumored the women named their creation after their neighborhood children, calling them meddling "monkeys" who couldn't resist their fresh-from-the-oven bread. (Photo courtesy of Allrecipes/Smucker's Summer Desserts)
Also known as bubble bread, this treat shares its name with the fruit of the thick trunk baobab tree found in Africa.  The tree's fruit is extremely starchy and is highly enjoyed by monkeys. Despite this similarity, whether this baked good is named after the fruit is uncertain. There are many theories about where monkey bread got its name.  However, the most logical source is our furry friends' excitement in pulling and picking at almost everything. Due to this coincidence, why shouldn't a pull- apart loaf share their name?