Pre-Graduation Family Dinner Menu
What to serve for a celebratory dinner at home
The night before a graduate's big day, celebrate the momentous occasion by making a delicious meal at home. Invite the grandparents, aunts and uncles, and cousins if you wish — or the immediate family of another graduate (and your grad's good friend). Start off the night with a Champagne toast and passed trays of smoked salmon and caviar appetizers (just be sure to read our guide to purchasing and serving caviar first) then spoil your guests with these delicious dishes.
Mesclun Salad
A simple salad that gains a boost of flavor with Kalamata olives...
— Robert Rabine
Roast Leg of Lamb
A simple lamb preparation that is easy to make and good for serving a large group of people.
Ratatouille
The great thing about making a large pan of ratatouille is that you can use some of it the following week, perhaps served with couscous...
— Clodagh McKenna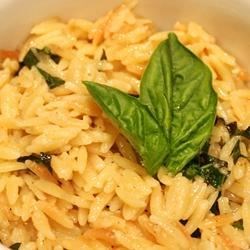 Orzo with Parmesan and Basil
A delicious sides dish with flavors that pair well with ratatouille and lamb.
Sweet and Salty Cake
Made with an irresistible combination of deep, dark chocolate and salty caramel, it's hard to stop at just one slice.