PIZZA Domenica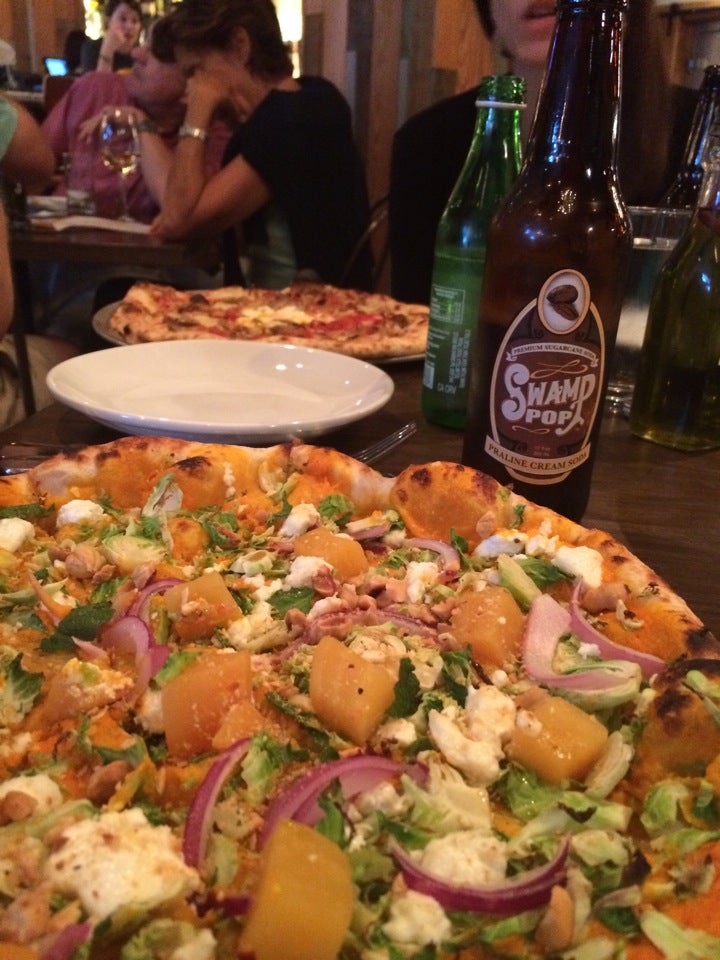 Would you expect a Mississippi-born, Louisiana-bred, former Marine Corps reservist to serve one of America's best pizzas? Probably not, but chef John Besh does at the New Orleans restaurant Pizza Domenica (Italian for "Sunday") that's part of his restaurant group. At the helm? James Beard Award winner Alon Shaya (Best Chef: South), who is also executive chef and partner of sister spot Domenica, which also has pizza on the menu (the former is in Uptown, the latter in the renovated and historic Roosevelt Hotel — and is making waves with his personal take on Israeli cuisine at Shaya, which Times-Picayune critic Brett Anderson just called "one of the best new restaurants to open in New Orleans so far this decade." Exciting stuff.
And the pizza? The slightly imperfect circles ringed with light, puffy, and black-blistered crusts, the centers of the pies sauce-speckled and beautifully topped with stellar (and fun) ingredients like bacon and eggs, peach and pecans, roasted carrots, smoked pork, salsa verde, and Chisesi ham — you'll have a hard time choosing between the 12 pizzas made in the Pavesi pecan-wood-fired oven. So don't. Order the most popular pie, the Margherita, try the signature Calabrese, then wild-card your third choice by choosing either the smoked pork (mozzarella, red onion, Anaheim chili, and salsa verde) or the wild mushroom (tomato sauce, bacon, onions, and egg).
Is there a difference between the pizza menus at Pizza Domenica and Domenica? At the moment, yes. The former serves a chicken pie (zucchini, onion, roasted peppers, and mozz), a pepperoni pizza, and the "Tutto Carne" (fennel sausage, bacon, salami, and Chisesi ham), and Domenica serves a white pie with ricotta, mozza, roasted garlic, and basil.
— Arthur Bovino, 101 Best Pizzas in America 2015, 8/6/2015
Foursquare Tips
So delicious! Prosciutto pizza is my fav

The shaved brussel sprout salad is amazing!

Do yourself a favor and get the roasted carrot pizza.

The chopped salad is lovely. As was the chicken liver crostini and the grilled octopus. AND the garlic knots.

Just when I thought nothing could compare to Sylvain's version... A new shaved brussels sprouts salad.

Worth the wait! BYOB

Clam and gorgonzola pizza

Clam pizza and garlic knots. In any other context, this might lead to confusion. At Pizza Domenica, it leads to pure bliss.

Happy Hour

Get the garlic knots!

HH Monday-Friday: 3:00-5:00 PM

Garlic knots are a MUST. Also, if you're a particularly curious person, request to sit at the pizza bar! You can watch the chefs make the entire menu in front of you. My favorite pizza in all of NOLA!

Hands down best happy hour pizza deal in the city. Can do half half pies. Also blackberry Bellini was delicious

Happy hour on draft beer and pizzas.

Get the garlic knots. You have to.

Garlic knots are special... Imagine if a croissant had a baby with the chewiest, lightest most amazing Neapolitan style crust you know...

Can't miss with the smoked pork pizza

Garlic knots! Do it.

One of the best Happy Hours in town both drink and pie

Everything is delicious!