Italian Wines Versus American Wines – What Makes Them Different – Corté Riva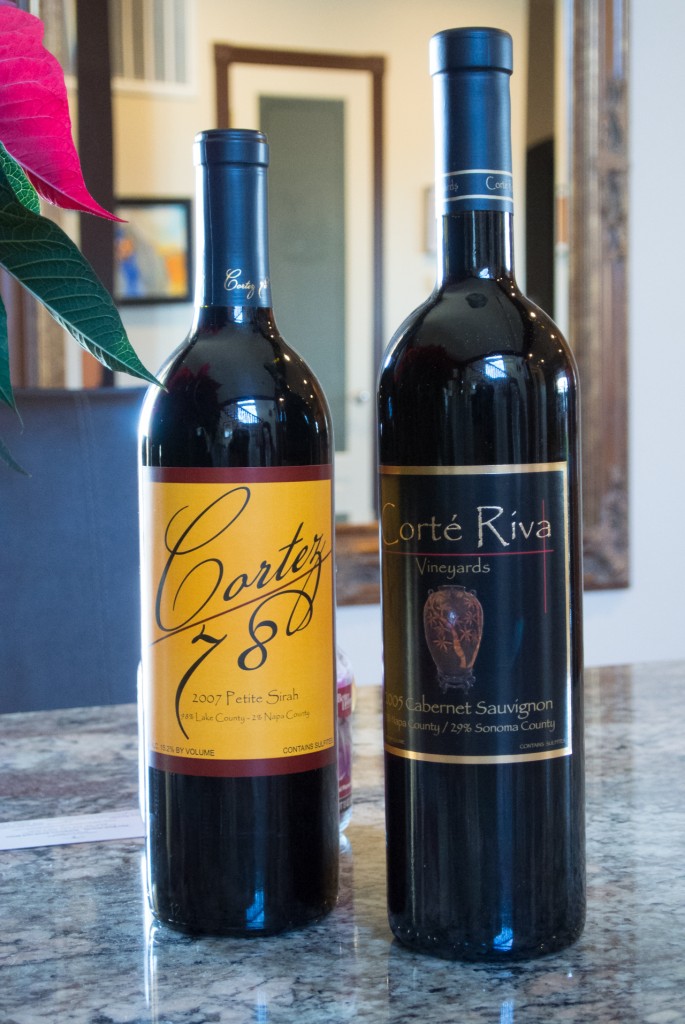 My recent vacation in California wine country inspired me to share a few thoughts on the differences between the US wine industry and the Italian wine industry. We discuss this very subject on almost all of our Bike the Wine Roads tours in Italy. My last post, on Bell Vineyards, discussed the different perspectives on terroir, the natural environment in which the wine is produced.
Our visit to another winery, Corté Riva, brings up other contrasts between the two. My guiding partner, Vernon, often shares his perspective on cultural differences he's experienced as an American residing in Italy. In Italy, he shares, if your grandfather was a baker, your father then became a baker, and you would be destined for the same – that is the expected route, and many Italians are quite happy having their paths laid out for them, success being measured by becoming the best baker you can be. Many wine producers in Italy are still family run, every one with a story of how their ancestors started in the business, and how future generations expand, innovate and modernize. In the US, there is much more freedom to choose a different road, with many of us encouraged to find our 'passion', becoming a 'self-made' man or woman. So that is the story behind many a California producer – individuals pursuing a dream.

A great example of following your passion to create your own American success story is the family behind Corté Riva. Lawrence and Nieves Cortez, who with cousin Romel Riva began Corté Riva in 2001, shared their inspiring story with us over a two hour lunch at their lovely home, built by Lawrence himself.
Lawrence, Nieves and Romel all immigrated to the US from the Philippines. They ended up in California working as field workers, tending the grapes for various wineries. Nieves vividly described how difficult the work was for her. Hoeing was the worst, and harvest season, handpicking the grapes. She recalled one day when she was out working in extreme heat, the smoke from a tractor making her physically ill. The other field workers observed her discomfort, and suggested she apply for an inside job. She left the field, and went into the winery offices, still covered in dirt, and asked for an application. She needed assistance in filling out the application, but in spite of the odds, something about her appealed to the winery owner, Hans Kornell, and she was hired immediately.
She moved up the ranks, first attracting notice as the fastest labeler, and gained more responsibility on the business side after earning her degree in computer technology from Napa Community College. She got both Lawrence (her eventual husband) and Romel jobs at Kornell as well.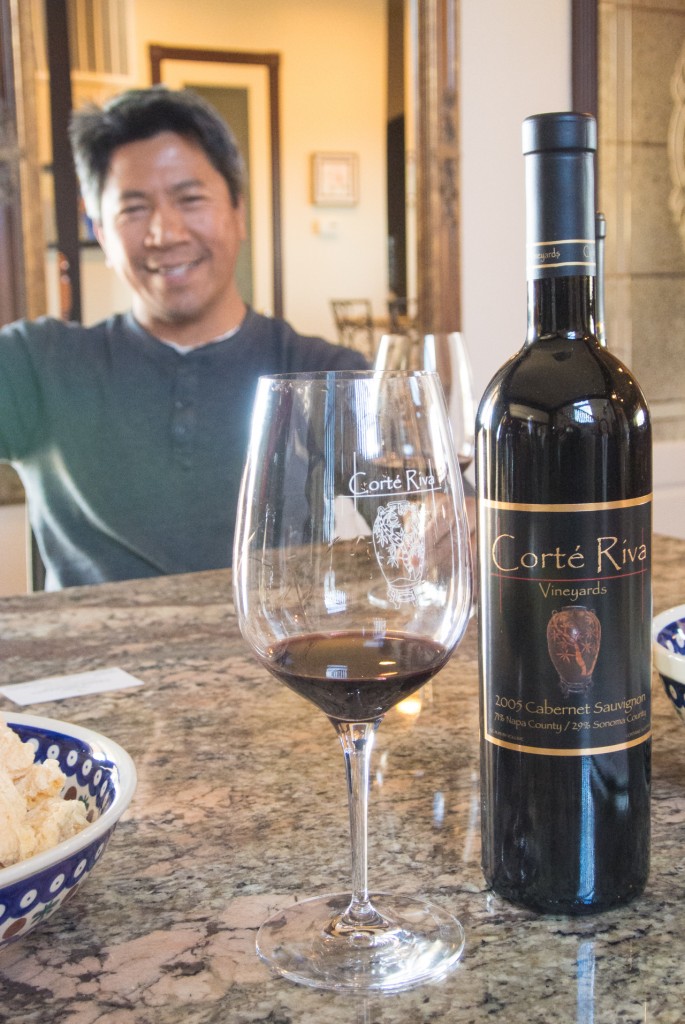 Lawrence's career has taken him through just about every role in the entire production process – from field work, driving the tractor, pruning, picking grapes, to production, blending, and aging. From Kornell, Lawrence then headed to Pride Vineyards, where he still works as head of Cellar Operations. While at Pride, Lawrence learned from the exceptional wine maker Robert Foley, who Lawrence describes as his mentor.
Lawrence began experimenting with making his own wine in his garage in Calistoga. His friends and family wanted to buy everything he could produce. Over dinner one evening in 2001, Nieves succeeding in convincing Lawrence and Romel to start their own label, and Corté Riva was born. Unbeknownst to Lawrence, Nieves took out a loan on their house to finance their first production, 350 cases of Merlot. They sold out in two months. Today, Lawrence oversees production of the grapes in five vineyards, which they rent. Production space is also rented from larger wineries.
I asked Lawrence what he looked for in a vineyard. His response – sandy, rocky, red soil. Healthy vines, where the right clone has been matched to the right location – his experience has taught him the value of terroir. He likes his grapes to result in wines with  just the right mix of fruit and earth; very well balanced, with elegance and some spice.
Today, Lawrence oversees cultivation and production, Nieves handles the business side of things, and traveling to market their wines across the globe. In many ways, their winery resembles those I see in Italy – where family members fill the various roles, and rely on years of hands-on experience and knowledge, rather than formal training. But Lawrence and Nieves wonder about the future. Only one of their four children shows any interest in continuing the family business. We all value the freedom of the self-made American success story; striking out to define your own path. But there is also value in following your family tradition, being part of a lineage that hands down a wealth of knowledge through the generations.
I asked how the 2013 harvest looked, and Lawrence confided that this is probably one of the best seasons ever. He harvested late, allowing for lots of ripening to occur. He shared that many owners don't listen to the farmers, they just want the grapes harvested before the rain. So the farmers obey, and they harvest. Lawrence gambled a bit this year, and waited. His gamble worked, and he ended up with excellent fruit – "the best year ever."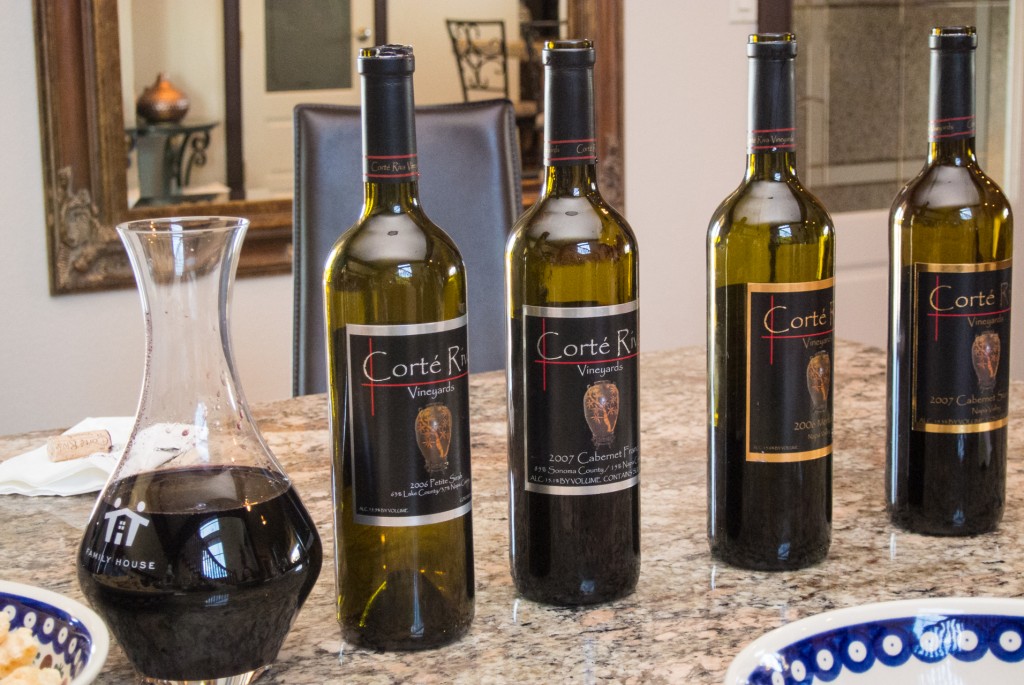 Tasting notes:
2005 Cabernet Sauvignon
This wine is a blend of Cabernet Sauvignon grapes from across Corté Riva's vineyards; 71% coming from their fields in Napa, the other 29% from Sonoma. The nose is redolent with scents of earth and dark forest berries, full-bodied and elegant, with soft, velvety tannins. Wonderful with the grilled steak we enjoyed for lunch!
2007 Cabernet Franc
A Cabernet Franc "to die for" is how my friend at Masciarelli Wine, the Boston area distributor for Corté Riva, described this wine, knowing I am a big fan of this varietal. An intense nose with notes of citrus and herbal aromatics. Many dimensions of flavors, from tobacco and oak to stone fruits and pepper. A very pleasant, persistent finish. Produced from 85% Sonoma grapes, and 15% Napa.
2006 Merlot
Made exclusively from Napa County grapes, this is an intensely fruity wine, with lots of dark forest fruit flavors. Notes of plum, blackberries and chocolate produce an extravagant wine, smooth and sleek.
2006 Petit Syrah
Lawrence stated that Petit Syrah is his personal favorite. Petit Syrah is a big cluster varietal, with tightly packed small grapes that can be susceptible to rot. This high skin to pulp ratio can result in a highly tannic wine if proper care is not taken during production. Made from 63% Sonoma grapes, and 37% Napa, this wine displays aromas of licorice, dried cherries and spice. Flavors of plum, pepper and chocolate are all found in this robust wine, with very well balanced tannins. This will age remarkably well