A Cramped Kitchen in Maryland Opens Up With a Better Layout
January 16, 2018
A cramped kitchen renovation!
Houzz
Homeowner and architect Margaret Upton often felt trapped in her kitchen whenever she and husband Kyle cooked together or entertained. Previous owners had opened a small galley layout to an adjacent dining room, but an angled peninsula, in the crook of which sat the cooktop, still made things feel closed off. "I needed an escape route so I didn't end up with a dead end," Upton says.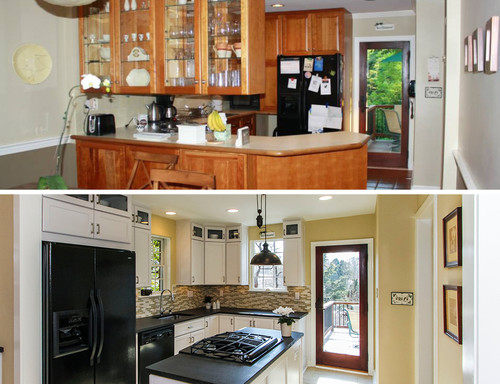 Kitchen at a Glance Size: 99 square feet (9.2 square meters); 9 by 11 feet (not including the walkway to the backyard) Layout: L-shape plus island Location: Kensington, Maryland Cost: $44,700, including appliances, labor, materials, installation and additional cabinetry in the adjacent dining room Special features: Downdraft cooktop, slim island, built-in overflow storage Designer: Upton Architecture (also the homeowner)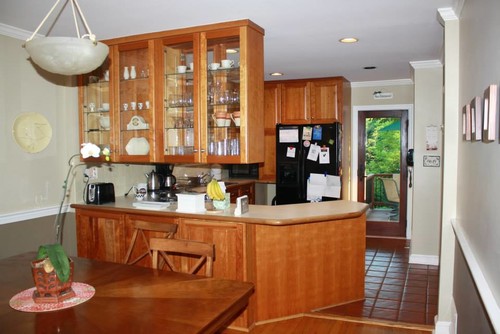 BEFORE: Aside from the closed-off feel, cherry cabinets gave an orange tone to everything and clashed with the pink terra-cotta floor tiles, which were hard to clean. Upton also disliked that guests sitting in the dining room often looked directly at the refrigerator in the kitchen rather than through to the backyard.
AFTER: Upton gutted and reconfigured the space, adding a 2-foot-deep island that creates better traffic flow. She says she probably wouldn't design such a slim island for her clients, but the arrangement made sense for her. She can't open the stove door and dishwasher at the same time, but if she's cooking in the kitchen with Kyle, there's a path around to keep her from feeling trapped. Related: Every Size Kitchen Island to Fit Your Room's Layout Upton moved the fridge to another wall, and added a window to bring in more light and views to the backyard. Porcelain floor tile: 24 by 24 inches, Architectural Ceramics; cabinets: semicustom, Polar White in eggshell finish, Bertch Company
The sink stayed in the original location, while the refrigerator and range moved. The gas line was moved, and a new vent for the stove's downdraft had to be routed through the floor and out an exterior brick wall. Wall paint: Putnam Ivory, Benjamin Moore; trim and ceiling paint: White Dove, Benjamin Moore; backsplash: French Palace stone and glass mosaic, Home Depot; countertop: antiqued black granite
Photo by Upton Architecture, LLC
-
More home design ideas
For more storage, Upton added built-in cabinets, including a window seat with storage underneath, in the adjacent dining room. She also added a partial wall to create a doorway and define the two rooms, something she likes to do in older homes to help make things feel as if they've evolved over time. She saved on some costs by designing the kitchen herself and working with the cabinet supplier to semicustomize the units.
Her general contractor
, with whom she'd worked on previous projects, charged her only for materials.
Details
Walls moved:
No. A partial wall was added.
Plumbing moved:
No, but gas lines were rerouted.
Other professionals hired:
General contractor, painter, floor refinisher and electrician
Duration of project:
About three months
Lived in during remodel:
Yes. Because the renovation took place in the summer, the family moved the refrigerator,
microwave
and coffeepot into the family room, and grilled most nights while eating dinner on the back porch.
Savings:
Upton acted as the designer for the project and reused many appliances.
Cost Breakdown
Kitchen cabinets, countertops and materials:
$37,600, including labor and installation
Appliances:
$2,600
Dining room cabinets, painting and flooring:
$4,500
Total:
$44,700 —Mitchell Parker, Houzz