An Attempt To Translate The 6 Most Common Guy Fieri Sayings
Love him or hate him, Guy Fieri is the reigning king of Food Network. He has a daytime cooking show, he hosts Guy's Grocery Games, and, of course, he's also the host of the long-running Diners, Drive-Ins, and Dives. The secret to Fieri's success is his big personality and his ability to describe a dish he's sampling in a style that's entirely his own, one that involves a whole host of sayings and expressions that you certainly won't hear anyone else on television saying. Here are six of his most popular food descriptors, along with an attempt to decipher them:
"This is Gangsta!"


There are only so many ways you can say that something tastes good, and "gangsta" also implies that the dish is a bit subversive, like a macaroni-and-cheese-stuffed burger.
"This is Money!"


Not only tasty, but also of value to the chef and restaurant, like a signature house-made roast beef sandwich with fried eggplant and mozzarella.
"We're Riding the Bus to Flavortown!"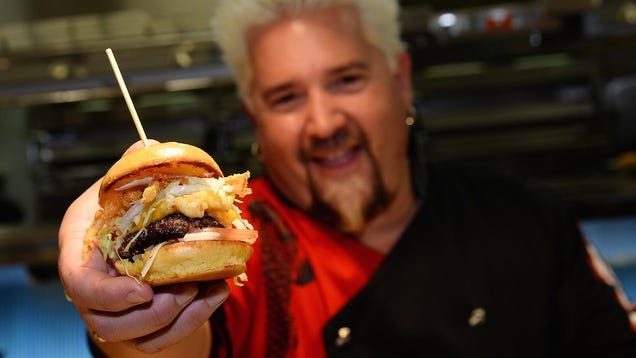 Reserved for only insanely delicious and fattening foods, these are usually wacky and over the top in some way too, like fries topped with pulled pork and cheese sauce.
"This is Out of Bounds/ Off the Hook!"


Also reserved for only the truly (and oftentimes surprisingly) delicious food items, it's usually uttered in a somewhat reverent tone and followed by "This is honestly in the top five [insert dish name here] I've ever eaten." 
"Holy [food item], Batman!"


This food is unexpectedly delicious, and it's taken Fieri by surprise. Occasionally it's also used when the portion size is much larger than he was expecting. Stromboli, for example, would be ideal, especially because it rhymes with "holy."
"Shut the Front Door."


Aside from the obvious "front door" stand-in, this is more or less Fieri's way of saying, "I can't even," and is reserved for when he's truly stunned by how tasty or insane a food item is, or when an additional component is added to an already outrageous-looking dish, like adding a pile of pastrami to a massive bacon cheeseburger.