Pat's King of Steaks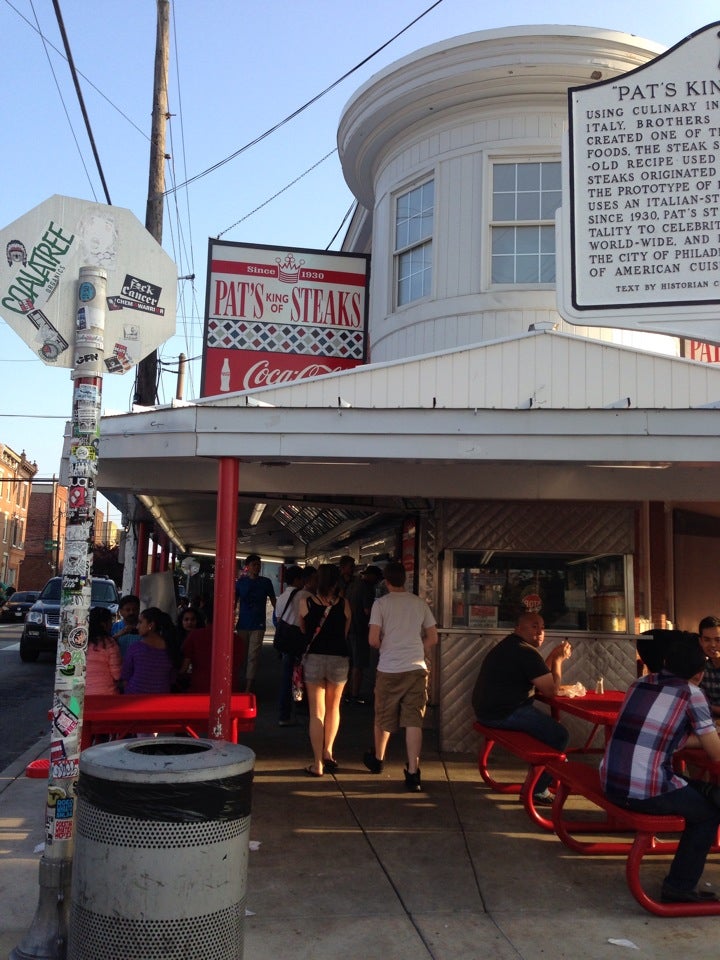 Foursquare Tips
Cheesesteak ordering etiquette: for a steak w/ Cheez Whiz & onions, order Whiz Wit. If u prefer provolone & no onions, order Provolone Witout. Wanna go to the back of the line? Ask for fontina.
Friday, May 21, 2010 - 20:39
"Screw Geno's! These are the best cheesesteaks in Philly, bar none." - Conan O'Brien
Thursday, November 10, 2011 - 07:44
don't go to Geno's!!!!
Wednesday, August 10, 2011 - 07:04
better than Geno's and they are not neo-nazis!
Wednesday, June 9, 2010 - 01:21
Opened in 1930, Pat's chops its steak while Geno's does not. Grab one of the 1,500 steak sandwiches they make daily - "wit" or "wit-out," your choice.
Monday, September 20, 2010 - 10:31
Have your money and order ready before you get to the window, or else you piss off the employees and the people behind you.
Saturday, August 7, 2010 - 16:43
Go & get yourself a killer cup'o'cheese fries (or a cheese steak, or both).
Friday, March 13, 2009 - 10:22
Try the Philly Cheese Steak
Tuesday, January 18, 2011 - 19:51
Friday, July 23, 2010 - 19:43
Whiz wit. That's all you need to say.
Saturday, July 3, 2010 - 06:41
Pats King of Steaks claims that its founder, Pat Olivieri, invented the steak sandwich in 1930. Have your order ready as you approach the counter, & know whether you want your steak "Wit" or "Witout"
Sunday, August 14, 2011 - 11:34
People can't decide which place has the best Philly cheesesteaksPat's or Geno's. It's best to try both.
Friday, May 6, 2011 - 08:36
One of the two legendary Philly cheesesteak places in town. You can't visit Geno's without hitting Pat's.
Thursday, April 14, 2011 - 08:02
it's better than geno's. i'd go here instead.wiz witout
Tuesday, May 25, 2010 - 18:05
If your in Philly You MUST Come and have a Pats CheeseSteak There to die for ! You Can't say you truly went too Philly till you've wandered into South Philadelphia and stood in the Insane Line in the
Friday, November 19, 2010 - 00:45
Even the cheese fries are better than Genos!
Monday, May 31, 2010 - 15:46
Honestly, Roccos cheesesteaks at Home Depot here in Queens New York are better than these. When youre in Philly, you go to Jims. Its just a tourist destination with dissappointing food. Sadness.
Sunday, March 3, 2013 - 17:05
Over rated. Geno's is better.
Sunday, November 15, 2009 - 05:32
A bit better than Gino's in my opinion. These have more meat and it is chopped more.
Wednesday, November 9, 2011 - 06:20
Cheesesteak wit, no need to say more!
Monday, November 23, 2009 - 15:26