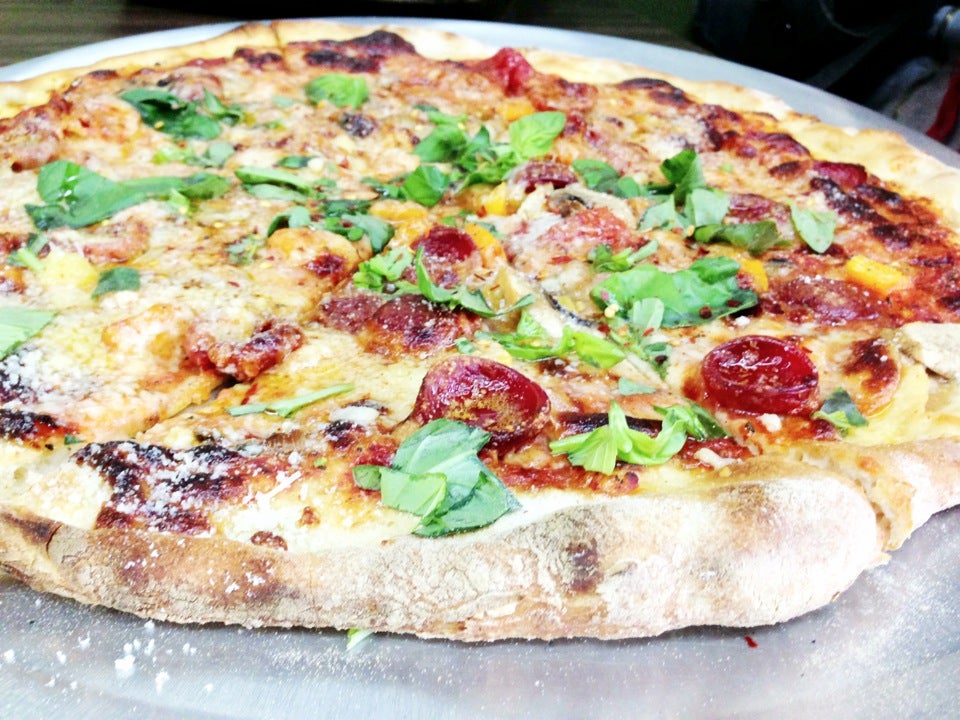 Domenico DeMarco is somewhat of a local celebrity, having owned and operated Di Fara in Midwood, Brooklyn, since 1964. Dom cooks up both New York and Sicilian-style pizza Wednesday through Sunday for hungry New Yorkers and tourists willing to wait in long lines and brave the free-for-all that is the Di Fara counter experience. Yes, you're better off getting a whole pie than throwing down money on the $5 slice. Yes, it's a trek (we're talking 11 subway stops out of Manhattan on the Q train to Avenue J here), and sure, Dom goes through periods where the underside of the pizza can trend toward overdone, but when he's on, Di Fara can present a very strong case for making America's best pizza. If you want to understand why before you make the trip, check out the great video about Di Fara called The Best Thing I Ever Done. -- Arthur Bovino
Di Fara Pizza - Midwood - New York Magazine Restaurant Guide New York Magazine Skip to content , or
Foursquare Tips
You're probably already here, so my tip to GO BEFORE OPENING is probably wasted on you. So I'll just say, GET A WHOLE PIE. Round or square. Both great. It's not worth the wait for only a slice or two.
Tuesday, August 16, 2011 - 05:39
Dominick is a true pizza master and takes his time to get it right. Be patient and don't be picky. You will be back. Cash only
Friday, April 30, 2010 - 23:17
Exercise patience, receive pizza.
Wednesday, July 22, 2009 - 11:08
On Food Network's The Best Thing I Ever Ate, Sunny Anderson reveals her favorite Italian dish, Pizza with Mushrooms and Garlic, from Di Fara Pizza in Brooklyn, NY. Find more tips at FN Local.
Friday, August 5, 2011 - 10:18
If you want any chance at doing something else with your afternoon or evening, get there about a half hour before it opens. Order a whole pie; it's not worth the trip to get it by the slice.
Thursday, November 11, 2010 - 12:46
Think pizza only tastes great from wood or coal burning ovens? Think again. Fresh, quality ingredients imported from Italy set these pies apart - try the real, thick-cut pepperoni or fresh artichokes.
Tuesday, August 24, 2010 - 09:11
The best pizza you can possibly eat in New York City. Others will scream about Grimaldi's or some other place, the is no better pizza than Di Fara. Take the Q train to Ave J, you will never regret it
Thursday, July 1, 2010 - 22:23
NY (Eat): My favorite food venue in Brooklyn is Di Fara's Chef Dan Silverman, The Standard Grill
Sunday, October 10, 2010 - 07:04
This legendary Brooklyn pizzeria garners two hour waits for $5 slices. And yes, it's worth it. Just read up on the rules.
Thursday, March 28, 2013 - 18:47
Go to Di Fara. Get there before he opens (around noon). Barely a line to speak of.
Monday, March 16, 2009 - 14:00
http://slice.seriouseats.com/archives/2009/07/is-difara-pizza-slice-worth-5-dollars-whens-the-best-time-to-go-whats-good-there.html
Sunday, January 10, 2010 - 07:11
Order a plain pie the first time you go - then come back to experiment.
Sunday, August 2, 2009 - 20:09
Wednesday, March 3, 2010 - 13:28
If you love pizza. This is the place to go. You might have to wait at the counter for a while, so get there early.
Tuesday, March 17, 2009 - 18:49
Wednesday, August 17, 2011 - 18:12
Domenico De Marco opened Di Fara in 1964, and today, the famed pizzaiolo still makes his own tomato sauce and grows his own basil. The line can sometimes reach two hours: but the wait is worth it.
Wednesday, August 17, 2011 - 09:01
Greatest pizza in the world; nothing else to it....Dom makes his pizza with love he's a hard working living legend
Friday, August 5, 2011 - 13:32
Monday, November 22, 2010 - 19:34
This man is so badass he can touch a piping hot/sizzling pizza pan with his bare hands. Experience it before he gets too old!
Saturday, June 23, 2012 - 16:16
If you want the best, you've gotta work for it. Get there before it opens if you want to wait for 20 minutes instead of 2 hours.
Friday, February 3, 2012 - 06:23