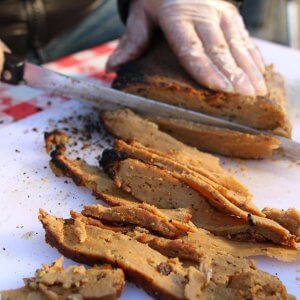 Monk's Meats just successfully completed a crowd-funding campaign to open Brooklyn's first vegan butcher shop. Monk's has been a favorite at the Brooklyn Smorgasburg, the borough's "food flea market," but it hasn't had its own brick-and-mortar building until now. The owners are looking to style it after traditional Brooklyn deli and butcher shops but with a twist: Everything is vegan.
Check out this write up about our coming shop!! #eatatmonks #vegandelicatessen #vegan #eatrealfood #freshfoodtastesgood Thanks @dnainfony https://www.dnainfo.com/new-york/20161205/bed-stuy/seitan-brooklyn-vegan-food-bed-stuy (Link in profile)
A photo posted by Monk's Meats (@monksmeats) on Dec 6, 2016 at 6:30am PST
Monk's serves "modern American comfort food with a 'Brooklyn' sensibility and a healthy focus." The menu includes asparagus and seitan steaks, meat-free meatballs, shiitake bacon, mushroom lasagna, and classic deli sandwiches.
Winter is coming and this weekend marks the start of the #winterflea. We will miss you #bulgolgiseitan #sandwich. See you next spring! Check us out at @bkflea all winter long. #nationalsandwichday #bkflea #vegansandwiches #vegan #veganfoodshare #monksmeats #freshfoodtastesgood #eatatmonks
A photo posted by Monk's Meats (@monksmeats) on Nov 3, 2016 at 8:38pm PDT
Monk's Meats isn't the first vegan butcher stop in the U.S. In January 2016, The Herbivorous Butcher opened in Minneapolis, and just recently, it was named one of the best food and drink makers in the country by USA Today, proving that it's loved by vegans and nonvegans alike. The Herbivorous Butcher also takes online orders and delivers anywhere in the country. With the popularity of vegan cuisine on the rise, more vegan butcher shops are sure to open in the future. In the meantime, check out some of our favorite vegan meat options that you can find at a store near you.
If you're thinking about making the compassionate choice to go vegan, order our free vegan starter kit. Or if you're already vegan, order one for a friend. You'll receive everything from recipes and tips for eating out to health information in just a few weeks!
The post Which Butcher Shop Would PETA Love for You to Visit? appeared first on PETA.