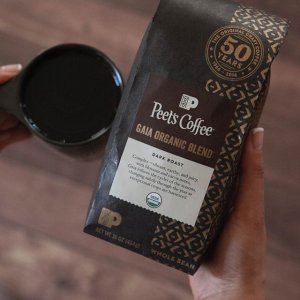 This piece is adapted from peta2.
Coffee chain Peet's Coffee & Tea has started selling a vegan whipped cream, pumpkin latte, and dark chocolate pumpkin mocha! Gone are the days when compassionate people had to order their coffee and other drinks with "no whip" or deny themselves the pleasure of a pumpkin-flavored drink.
Peet's has stores in California, Colorado, Illinois, Maryland, Massachusetts, Oregon, Virginia, Washington, and Washington, D.C. If you're lucky enough to live near one—or happen to be traveling to an area that has one—you must stop in and check out the vegan options. Here are some of our favorite drinks that can easily be "veganized." Just sub soy or almond milk for the dairy milk.
Coffee
So it's the first of fall favorites, and I hate to be "that girl", but when I find out there is not only a vegan PSL, but also a vegan whipped cream being served up @peetscoffee, I have to go get one.
this is the delicious dark chocolate pumpkin mocha with almond milk and their special coconut milk whipped cream.
☕️ definitely a sweet treat, but worth the celebration of more vegan options being introduced at coffee shops!
A photo posted by Courtney Garza (@dallascgar) on Sep 6, 2016 at 6:14am PDT
The Black Tie
Café au Lait
Caffè Latte
Caffè Mocha
Coffee of the Day
Dark Chocolate Pumpkin Mocha
Iced Mocha
Latte Macchiato
Maple Latte
Pumpkin Latte
Traditional Cappuccino
Vanilla Caffè Latte
Blended Coffee Drinks
Be sure to specify that you want the reduced calorie, dairy-free ("light") Javiva™ Blended—and get it with soy or almond milk.
Charlie is just as excited as I am about the vegan coconut whipped cream now available at Peet's Coffee @peetscoffee!!! Woo hoo!!! #coffee #peets #peetscoffee #vegan #blended #javiva #iceblended #espresso #whippedcream #veganwhippedcream #coconut #coconutcream #summer #cooldown #dog #havanese #shabbat #shabbatshalom #friday #friyay #vegansofig
A photo posted by Jasmine's Organic Kitchen (@jasminesorganickitchen) on Aug 19, 2016 at 3:16pm PDT
Coffee Javiva
Espresso Javiva
Mocha Javiva
Pumpkin Javiva
Vanilla Javiva
Tea
Still sipping Summer. #heatwave
A photo posted by Peet's Coffee (@peetscoffee) on Sep 9, 2015 at 11:07am PDT
Chai Latte
Dirty Chai Latte
Mighty Leaf Green Tea Tropical Iced Tea
Mighty Leaf Loose Leaf Teas (multiple flavors available)
Mighty Leaf Mango Sunrise Iced Tea Infusion
Mighty Leaf Summer Solstice Iced Tea
Mighty Leaf Tea Pouch (multiple flavors available)
Pumpkin Chai Latte
Spiced Hot Tea Cider
Coffee-Free Drinks
Coffee-Free Chocolate Javiva
Coffee-Free Vanilla Javiva
Hot Chocolate
Madagascar Vanilla Steamer
Food
Peet's has grab 'n' go snacks and artisan baked goods that vary by location. Some stores offer vegan muffins, scones, bagels, and fruit bowls. Just check with the one that's closest to you to see what cruelty-free foods it offers.
Peet's has lots of vegan options year-round, but its pumpkin drinks are here for only a limited time—so get them while you can and let us know which is your favorite.
For more vegan coffee options, check out our Vegan Starbucks page!
For more news, recipes, and tips, sign up for PETA Living E-News, sent to your inbox once per week.
All fields in bold are mandatory.
By submitting this form, you are agreeing to our collection, storage, use, and disclosure of your personal info in accordance with our privacy policy as well as to receiving e-mails from us.
The post Vegan Guide to Peet's Coffee appeared first on PETA.