Vegan, Gluten-Free, and Magical: This Video of Geode Cookies Is Mesmerizing
December 9, 2016
Vegan, Gluten-Free, and Magical: This Video of Geode Cookies Is Mesmerizing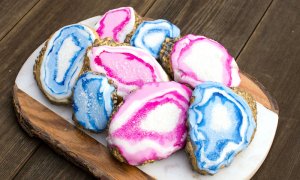 If you have a sweet tooth, we've got the video for you.
Los Angeles–based baker Cat Byrne, the owner and operator of Cup My Cakez, makes delicious agate-slice sugar cookies. The gem- or rock-inspired baking trend is huge right now, and Cup My Cakez was kind enough to share these magical geode cookies with us.
You don't need to be a gemologist to recognize how gorgeous they are. Like real gems and crystals, they're one of a kind, as Cat hand-paints each sugar cookie using natural dye-colored frosting. She even brushes the edges with edible 24-carat gold (!). Take a look:
And they taste even better than they look. Swoon.
Geode cookies are often made with sanding sugar, edible glitter, and rock candy to recreate the gem-like pattern.
When gal-pal @sara_de orders a platter of agate slice sugar cookies for her sister's bridal shower
yasss plz
#cupmycakez #vegan #glutenfree #organic
A photo posted by Owned + Operated by Cat Byrne (@cupmycakez) on Aug 28, 2016 at 10:30pm PDT
And she also makes a stunning cake version! Who wouldn't want one of these for the next special occasion?
Glad I finally got around to recreating this design using natural ingredients!
#cupmycakez
#vegan #glutenfree #allnatural
A photo posted by Owned + Operated by Cat Byrne (@cupmycakez) on Sep 21, 2016 at 10:47pm PDT
This recipe uses gluten-free flour and organic sweetener and can accommodate most allergen-sensitive people. But best of all—making these cookies will not support the suffering of any animals. From cookies and cakes to brownies and more, vegan baking can be easy. Simply use an egg replacer, dairy-free butter, and almond, soy, cashew, or another dairy-free milk.
See how easy—and mesmerizing—eating vegan can be? Yum.
If you're interested in making some sweet treats at home, we've got you covered. Try these delectable recipes that will surely impress anyone craving sugary delights.
PETA promotes a healthy, plant-based diet, but it's fine to indulge every once in a while—as long as you're treating yourself with deliciousness that's free from any animal-derived ingredients.
Want more vegan inspiration? Sign up for PETA Living E-News to have the latest trends, news, and recipes sent to your inbox once a week.
All fields in bold are mandatory.
By submitting this form, you are agreeing to our collection, storage, use, and disclosure of your personal info in accordance with our privacy policy as well as to receiving e-mails from us.
The post Vegan, Gluten-Free, and Magical: This Video of Geode Cookies Is Mesmerizing appeared first on PETA.