Ingredients
1 16 ounce package Potato Gnocchi
2 tablespoons Olive Oil
2 cloves Garlic, minced
1 14.5 ounce can Fire Roasted Diced Tomatoes
3 tablespoons Finely Chopped Basil, plus extra for garnish
Salt and Pepper, to taste
Shredded Parmesan, for serving
Directions
In a large pot of water, cook gnocchi for 2 to 4 minutes or until al dente and they float on top of pot. Drain in a colander.
In a large frying pan, heat olive oil and garlic on medium heat until pan starts to sizzle. Add tomatoes. Bring pan to a simmer and reduce heat to low. Cover and cook for 10 minutes.
Add gnocchi and basil to the pan and simmer for 5 to 10 minutes, stirring if needed. Season with salt and pepper to taste.
Serve with Parmesan cheese and extra basil.
Recommended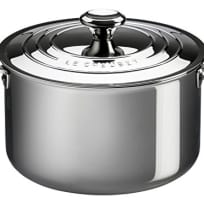 Le Creuset 7-quart Stainless Steel Stockpot