Thirsty Moose Tap House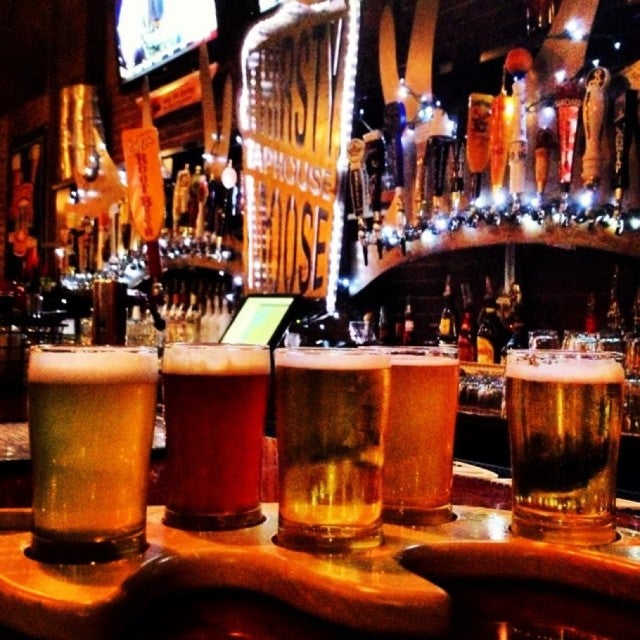 Map: Surroundings & Nearby
Foursquare Tips
Even though it doesn't seem possible, they offer more than just 116 great beers on tap! They have a full bar PLUS a great lunch and dinner menu too (even stuff for kids!) Try the food!

Gave this place a number of shots. Lots of variety but limited beer knowledge from the staff. A so so menu poorly executed by a lazy kitchen. I really wants this place to be good, but they got worse.

Happy Halloween

Go somewhere else. Bad service, bad food, inaccurate tap lists and overrun with annoying frat guys on weekends. Don't bother.

One beer to rule them all, rogue dead guy. Well, to rule them all tonight at least... Highly recommend it

Watch out if they "accidentally" add some beers to your bill. I always thought the accidental pour was free.

Don't be in a hurry. Bring cash for faster exit. Good beers on tap.

Incredible beer selection, perhaps the most extensive in all of Portsmouth.

Beer selection is second to none. Paige our waitress was very knowledgeable about the beer.

Bouncers are great and remember you

Never seen so many beers on tap-amazing! And wings-YUM! Manager Brian such a sweetheart too!

Lots of beer selection, a couple different ciders and (expensive) GF beer (not including the Red Bridge) $3 domestics on Monday night.

Portsmouth's official hesher free zone right in the heart of downtown Portsmouth! I give this place a BIG 8 out of 10 on the coolness chart!

Steph makes the best martini. Hands Down

This is a great place if you like to drink beer that comes from a tap.

Waited for 15min at a bar table without one server coming over. Obviously poor training/management!

Andrea is really nice.

Tons of beers to choose from and often great bands.

A ton of beers on draft and live music on Friday nights

Good food & a lively atmosphere. Plus great deals. Always a laid back & fun time.