Skillet Sausage and Potatoes
September 24, 2016
Skillet Sausage and Potatoes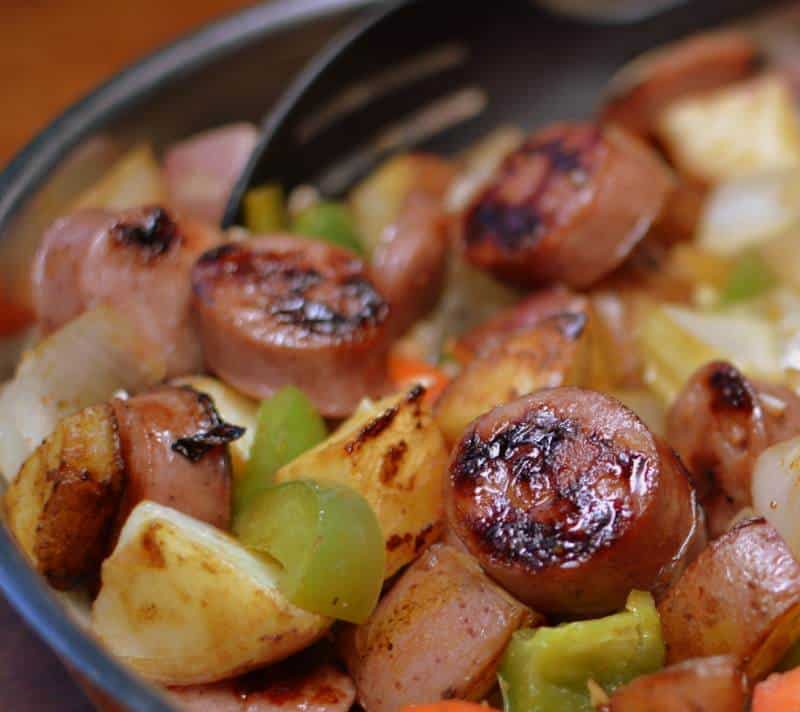 This Skillet Sausage & Potatoes is about as simple and delicious as it gets!!  It is full of healthy ingredients and  is quick to fix.  This is the perfect meal for the busy family.  I prepared this on a weekday night after work.  The evening was full of homework, laundry and blogging and still I managed to cook it and photograph it.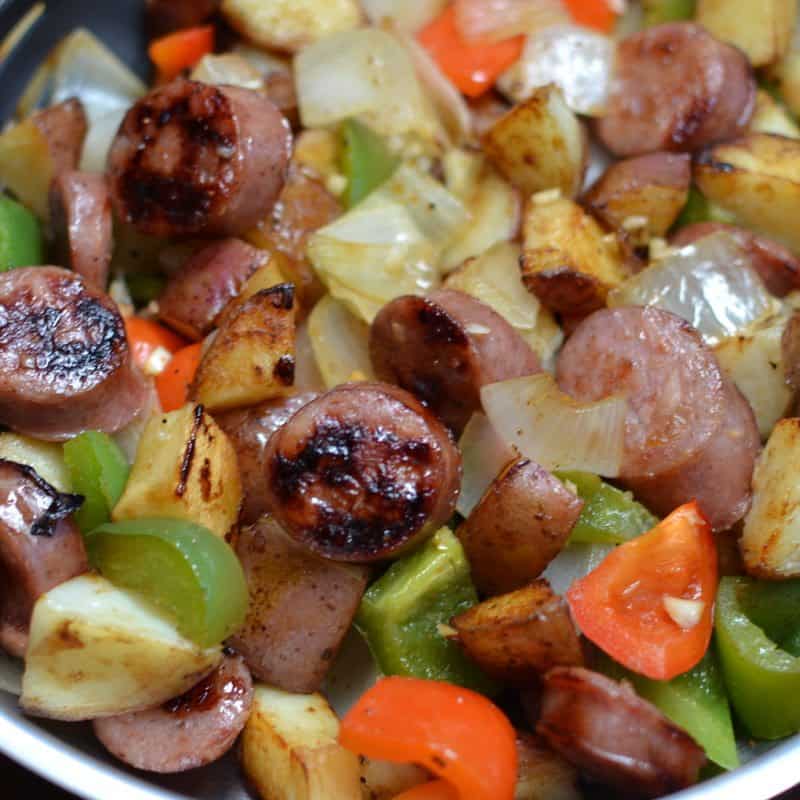 It is quick to pull together but not short on flavor and look at all those wholesome ingredients.  Nature sure has a way of delivering the best goods to us!! It is choke full of sausage, potatoes and bell peppers. It is seasoned lightly as to not mask the wonderful flavors of such delectable food.  I use Aidell's Chicken Sausage.  This was the delicious Aidell's Pineapple & Bacon Chicken Sausage.  Aidell's is made with no artificial ingredients and the chicken is raised without added hormones.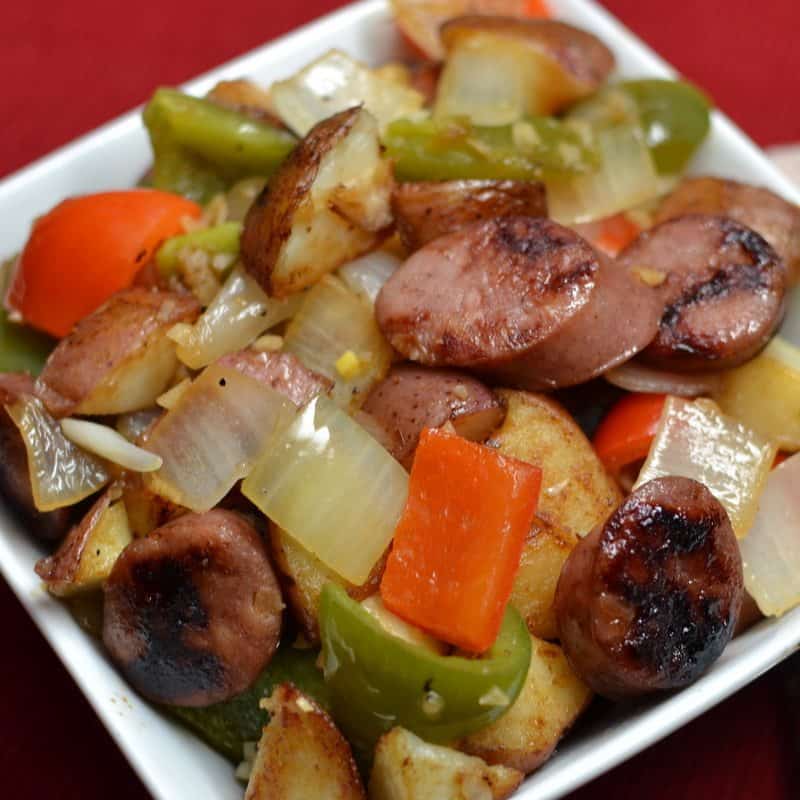 I hope you love this easy no frills but scrumptious recipe as much as we do!  Bon appetit my food loving friends!!
Skillet Sausage & Potatoes
Ingredients
1 1/2 lbs red potatoes
2 tablespoons olive oil
4 links chicken sausage (12 ounces) cut in 1/2 inch wide rounds
1 medium onion diced
1 red pepper diced
1 green pepper diced
2 cloves garlic minced
Salt & pepper
Cajun seasoning
Instructions
Boil potatoes in large pot of water for 15 minutes. Run under cold water or place in refrigerator to chill. Dice potatoes after chilled.
In large skillet over medium heat add olive oil. Add potatoes and cook until lightly browned on edges ;approximately 15 minutes. Add sausage, onion, red pepper and green pepper. Cook until the sausages are browned and vegetables are tender.
Season to taste with salt, pepper and Cajun seasoning.
Notes
I use Aidell's Pineapple & Bacon Chicken Sausage
Schema/Recipe SEO Data Markup by Yummly Rich Recipes0.1http://www.smalltownwoman.com/skillet-and-sausage-potatoes/wk_bootstrap();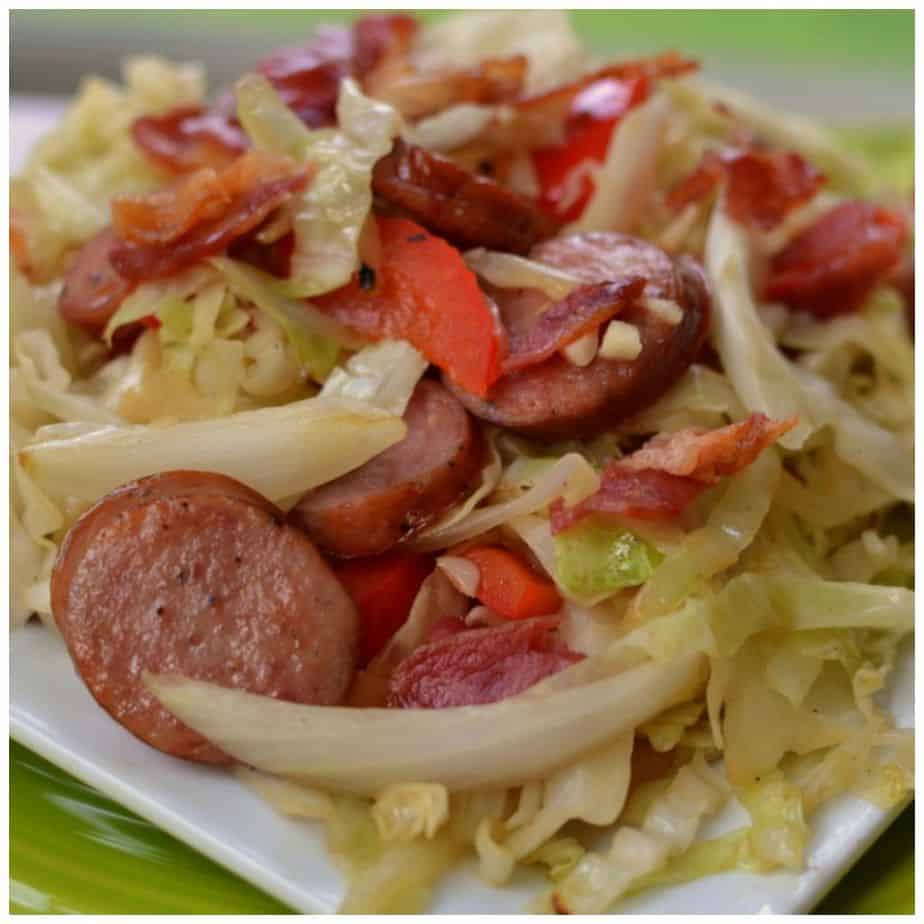 Cabbage Bacon Sausage Stir Fry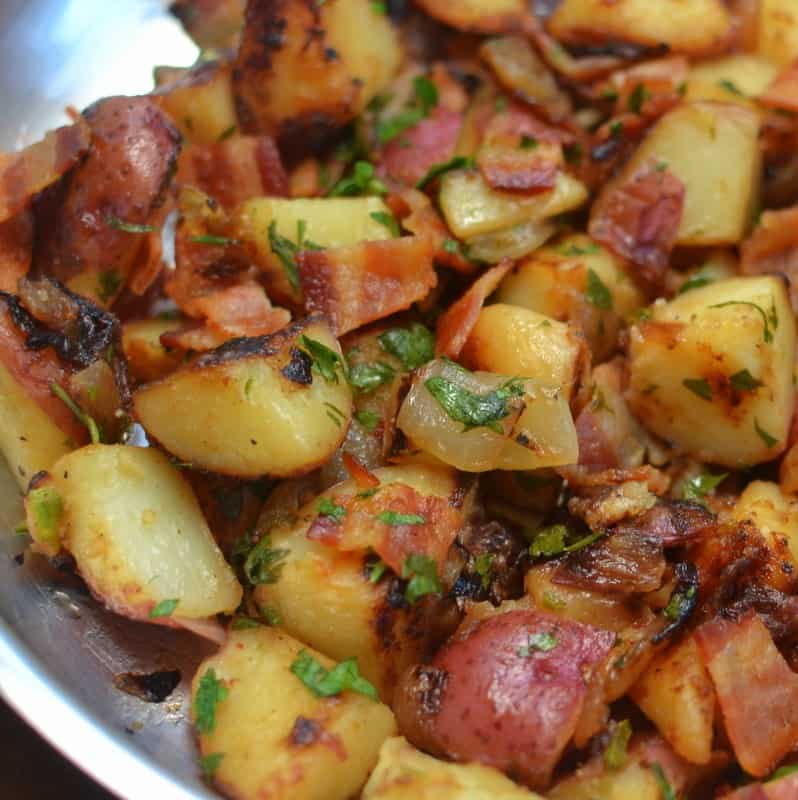 Skillet German Potato Salad
The post Skillet Sausage and Potatoes appeared first on Small Town Woman.