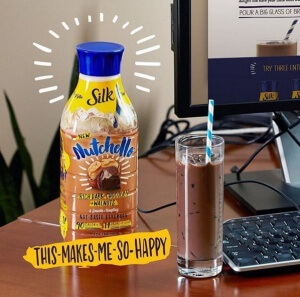 Did you hear the news? Silk recently released plain-flavored yogurt and Nutchello drinks for our snacking pleasure!
https://www.instagram.com/p/BCgCP_gvzPc/?taken-by=lovemysilk
We love adding a million goodies to our yogurt, don't you? Rev up with a bowl of yogurt for breakfast, and add powerful foods like chia seeds, flax meal, berries, bananas, nuts, and Bee Free Honee. Silk yogurt contains 11 grams of protein per serving. Yasss!
But wait—stop the presses. What is Nutchello?
We hope your 3:00 #Nutchello break makes you as #happy as it make us! Pour a big glass of break time. #LeapDay ❤️
A photo posted by Silk (@lovemysilk) on Feb 29, 2016 at 1:40pm PST
Only your new favorite beverage. Nutchello is smooth and delicious, and it comes in three flavors that you have to try right now: Caramel Almond and Cashew, Dark Chocolate and Walnut, and Toasted Coconut and Cashew.
Want more vegan news, recipes, and more? PETA Living E-news is a roundup of the best, shiniest new animal-friendly lifestyle content sent to your inbox each week.
All fields in bold are mandatory.
By submitting this form, you are agreeing to our collection, storage, use, and disclosure of your personal info in accordance with our privacy policy as well as to receiving e-mails from us.
The post Silk Releases Vegan Plain Yogurt and Nutchello Drinks appeared first on PETA.