Shake Well: 5 New Ready-to-Enjoy Vegan Protein Drinks
March 22, 2017
Shake Well: 5 New Ready-to-Enjoy Vegan Protein Drinks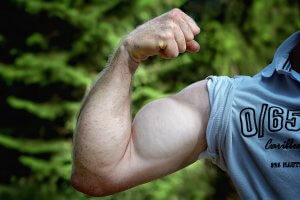 Maintaining a healthy, active lifestyle is vital. But squeezing in time at the gym and sustaining a nutritious diet isn't always easy, especially when trying to balance work, family, sleep, and a social life. Luckily, getting your protein has never been easier, thanks to five of the latest ready-to-drink vegan protein beverages.
Less than 24hrs in CA teaching yoga for the good people of #expowest2017 and @drinkevolve. It's a balancing act! #aimtrue @natprodexpo
A post shared by Kathryn Budig (@kathrynbudig) on Mar 12, 2017 at 11:12am PDT
Whether you're looking for a meal replacement, a pre- or post-workout drink, or a satisfying snack, these protein-packed vegan shakes have you and your muscles covered. Ranging from 7 to 20 grams of plant-based protein per serving—and including flavors such as toasted almond, vanilla chai tea, and mellow mocha—there's a ready-to-drink vegan protein beverage for everyone. Check out five of our favorites:
With 20 grams of plant-based protein, these "nutritional building blocks" are the perfect on-the-go shakes for busy fitness fanatics. Choose between chocolate and vanilla, and don't fret—with Vega, you'll never have to worry about artificial flavors, colors, or sweeteners.
✨NEW✨Vega® Protein+ Shake*, made with real plant-based food ingredients, is ready to take with you on-the-go, in delicious Chocolate or Vanilla flavors. Click the link in bio to learn more and buy now. *Vega Protein+ Shake contains at least 10% more DV for protein than Vega® Protein Smoothie. Protein content of Vega Protein Smoothie is 15g protein (21%DV) per serving; Vega Protein+ Shake has 20 grams protein per serving. US Only.
A post shared by Vega (@vega_team) on Mar 1, 2017 at 9:08am PST
2. Evolve Real Plant-Powered Protein Shake
After realizing that plant-based protein is the future, CytoSport introduced Evolve—a brand of plant-powered protein products, including a newly released ready-to-drink protein shake. Take a walk on the wild side with flavors such as toasted almond and mellow mocha, or keep things simple with classic chocolate and ideal vanilla. Either way, you'll up your game with 20 delicious grams of vegan protein.
Thank you @fortunemag ! Nice way to start the week #plantpowered #plantcurious #drinkevolve #fortune #thefuture #vegan http://fortune.com/2017/02/13/muscle-milk-plant-based-protein/
A post shared by Evolve (@drinkevolve) on Feb 13, 2017 at 3:59pm PST
3. PlantFusion Complete Plant Protein
PlantFusion's ready-to-drink, non-GMO vegan protein shake contains no soy, no gluten, and no artificial ingredients—but it does offer consumers 18 grams of plant-based protein. The beverage also contains only 150 calories and just 6 grams of sugar. Flavor options include chocolate and vanilla bean—just shake, break the cap, and enjoy.
Double tap if you've tried our ready-to-drink bottles – perfect for throwing into your gym bag!

by @healthwayfoods
A post shared by PlantFusion (@plantfusion) on Sep 6, 2016 at 5:53pm PDT
4. Orgain Organic Nutrition Plant Based Protein Shake
Just one ready-to-drink Orgain vegan shake contains 16 grams of organic plant-based protein from brown rice, hemp, chia, and flax—plus a fruit and veggie blend. Talk about an all-in-one shake! Fuel your day with smooth chocolate or vanilla bean flavor.
One of the best ways to take care of your bod is by making sure you get the highest quality nutrition possible. We do our best to make it easy. ✔️ 
. . . #selfcare #selflove #drinkorgain #organicprotein #orgainshake #orgainprotein #orgainnutrition #organicnutrition #plantbased #vegan #vegannutrition #gf #glutenfree #soyfree #dairyfree #nongmo #doctordeveloped
A post shared by Orgain (@drinkorgain) on Feb 14, 2017 at 11:47am PST
5. Bolthouse Farms Vanilla Chai Tea
Seven grams of vegan protein plus a boost of caffeine? Sign us up! Bolthouse Farms' Vanilla Chai Tea is a delicious blend of green tea, soy milk, chai spices, and a touch of vanilla—an ideal morning pick-me-up.
Tea time, Bolthouse Farms style. Get them ASAP on #AmazonFresh: http://bit.ly/BHFAmazonFresh
A post shared by Bolthouse Farms (@bolthousefarms) on Feb 17, 2017 at 7:00pm PST
*****
Want more protein-packed vegan options? Click below!
Vegan Protein and Supplements




Protein-Packed, Plant-Based Foods
The post Shake Well: 5 New Ready-to-Enjoy Vegan Protein Drinks appeared first on PETA.