See How Vegan Food Is Taking Over Detroit
March 13, 2017
See How Vegan Food Is Taking Over Detroit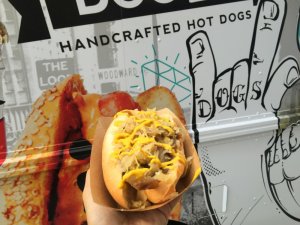 A version of this article first appeared on peta2.com.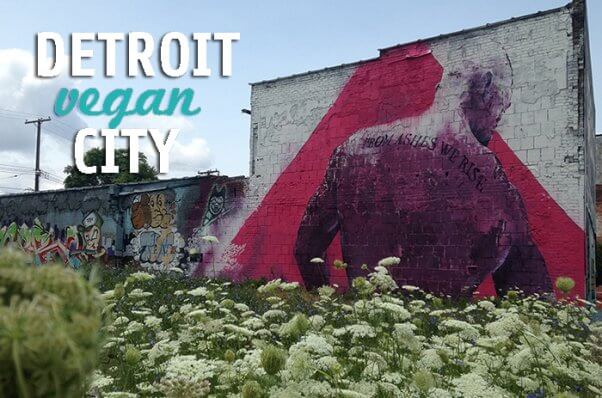 Detroit is a city of grit—it's tough, DIY, and probably not the first place that comes to mind when you think of vegan food, but we're about to make a pretty solid argument that it should be. It's full of hardworking people who are opening up restaurants and businesses, creating art, running urban farms, and thinking outside the box—and that's where a vegan lifestyle comes in.
From vegan doughnuts to delicious ramen, Detroit's got it all, including a seriously on-point soul food joint loved by locals and celebrities alike. Here are some vegan hot spots in the Motor City:
Three words: "catfish" tofu sandwich. Three more words: fried buffalo bites. Mmmm. Motivated by the campaign for food justice, Detroit Vegan Soul is owned by wife-and-wife team Kirsten and Erika, who strive to bring healthy, delicious soul food to the masses. Stevie Wonder ate here—that should pretty much sign, seal, and deliver the message that this place is cool.
#vegansoulfood #detroitvegansoul
A post shared by Sabrina Nelson (@sabrinanelson67) on Aug 27, 2016 at 2:35pm PDT
While the eatery originated in Ann Arbor, Michigan, Seva opened a Detroit location a few years ago and has been serving delicious vegan food ever since.
#Repost @sixvegansisters ・・・ Sister brunchin' at @sevadetroit
A post shared by Seva Detroit (@sevadetroit) on Sep 8, 2016 at 10:15am PDT
Uncle Herm (the uncle of late Detroit rapper J Dilla) pours his heart and soul into his organic doughnuts—and he offers several vegan flavors every day in his hip-hop–inspired downtown shop.
#DillasDelightsNowOpen #flavorsforthesoul
A post shared by Dilla's Delights (@dillasdelights) on May 30, 2016 at 7:08am PDT
Avalon's motto is "Eat well. Do good." The company values its employees, community, and the Earth and, as such, offers up tons of vegan goodies, including monkey bread, cookies, brownies, breads, sandwiches, and more.
Bringing loaves and loaves of Detroit Love to the grand reopening of the Busch's on Plymouth Green. Come by for a sample, or two…or three! It's a party over here

#avalonbreads #buschs #annarbor
A post shared by Avalon International Breads (@avalonbakery) on Nov 21, 2015 at 7:11am PST
The Russell St. Deli is a staple in the Eastern Market community. A tiny deli with a huge heart, it boasts organic food, ethical business practices, and tasty vegan options. Try the vegan TLT and the Cuban black bean soup, and look out for the specials—you'll find vegan French toast and more!
Spending my lunch roaming around #EasternMarket. I stopped by @russellstreetdeli to pick up their #Vegetarian Favorite. It's made with #Fresh Lettuce, tomato, sunflower sprouts, and house-made hummus on doughy bread. The sandwich usually comes with Swiss, but I swapped it for their Panda Tofu. #Vegan #Detroit #RussellStreetDeli
A post shared by SonaliMonika (@veggie_vixen) on Apr 5, 2016 at 8:43am PDT
Banana-walnut pancakes, tofu scramble, poutine, spicy-tofu sandwiches … yum, yum, yum, and yum.
Lunch w @crosby_jade and @fruity.jess
scrambled tofu w tempeh, fries, a salad, a piece of sourdough w vegan butter and jam
A post shared by chloe hoye (@plantchlo) on Feb 21, 2017 at 12:13pm PST
Buddy's Detroit-style pizza is the stuff of legends—and it's easy to veganize. Top any pizza with Daiya cheese and you'll be set to pile on the herbs and veggies. Pro tip: Get the Buddy Bread plain with a side of pizza sauce.
Can't stop thinking about you.
❤️ #vegan #buddyspizza #veganfoodshare #whatveganseat #veganpizza #vegandetroit #fatvegan #pizzalifestyle
A post shared by Brianna Lust (@veganbrilust) on Jan 3, 2017 at 10:45am PST
The Great Lakes Coffee Roasting Company
Voted the best place to read a good book and drink soy lavender lattes by … us, this place is a must-stop in the city. The tempeh bánh mì is what vegan dreams are made of.
@FSareini and I both agree that the #vegan Banh Mi at @greatlakescoffee is one of the best sandwiches in #Detroit. They use a bolillo bun, and fill it with tempeh, jalapeños, pickled cucumbers, cilantro, and carrots! I know where I'll be having lunch on Friday

. Make sure you follow him on his halal adventures! #vegetarian #veganfood #greatlakescoffee
A post shared by SonaliMonika (@veggie_vixen) on Jan 19, 2016 at 5:41pm PST
It gets very cold in this fair city, so you might need Johnny Noodle King's miso ramen.
Veggie Miso Bowl @johnnynoodleking @grubbable #veggie #miso #soup #bowl #wakame #seaweed #fried #tofu #rice #noodles #ricenoodles #greenonion #savory #asian #saturday #night #dinner #eatfortheplanet #eatgreen #food #foodblogger #foodblog #detroit #local #love
A post shared by Emily Barnes (@loveiskneaded) on Jan 21, 2017 at 2:11pm PST
Do we need any words when we have this picture? Just look at it.
Fun fact: with one exception, all bagels from @dibagels are #vegan! Pictured above is their signature #veggie sandwich. They use a Rosemary Sea Salt bagel and fill it with #fresh spinach, avocado, onions, tomatoes, and a tahini butternut squash spread! Next time, I wanna try their spicy lentil sriracha spread. #vegetarian #Detroit #detroitinstituteofbagels #corktown
A post shared by SonaliMonika (@veggie_vixen) on Aug 24, 2016 at 8:40am PDT
A newbie on the scene, Pie-Sci quickly won the heart of every vegan pizza lover in the city. It offers a nacho pizza topped with vegan queso, beef-free crumble, black beans, jalapeños, shredded romaine lettuce, cherry tomatoes, white onion, chili-lime chips, and vegan adobo sour cream drizzle.
It's raining and Tuesday, so of course I ate a whole pizza and then passed out on my couch for an hour. Thank you for AMAZING food, @PieSciPizza. I got the #VEGAN Nacho Mama. It's made with Nacho cheese sauce with black beans, jalapeño, topped with shredded romaine lettuce, tomato, white onion, crushed chili lime tortilla chips, topped with an adobo sour cream drizzle. This place is the best for veggies. #Vegetarian #Detroit #PieSciPizza
A post shared by SonaliMonika (@veggie_vixen) on Feb 7, 2017 at 5:46pm PST
A beloved dive bar where you can always catch a local band serving up some serious soul, PJ's serves even more serious vegan food options—including homemade spicy queso, tempeh Reuben sandwiches, vegan chili, and a vegan po' boy.
PJ's Lager House is my favorite spot for bunch. Their menu is super vegan-friendly and there's never a wait! I got the Tofu Scramble with green pepper, parsley, onion, cherry tomatoes with grilled potatoes and toast + blueberry jam. #Vegan #Vegetarian #Corktown #Detroit #PjsLagerHouse
A post shared by SonaliMonika (@veggie_vixen) on Jan 29, 2017 at 8:19am PST
Who said salads have to be boring? Top your make-your-own bowl with roasted tofu, hummus, tabbouleh, and pomegranate sumac dressing; vegan taco meat, black beans, and corn; or toasted ramen, tofu, edamame, and Sriracha—or any of the many other crazy-good options from the menu.
I could happily eat at 7 Greens every day. I always make my own wrap with tofu, kale, carrots, cucumbers, edamame, vegan cheese, hummus, and balsamic. #Vegan #Vegetarian #Detroit #7Greens
A post shared by SonaliMonika (@veggie_vixen) on Feb 12, 2017 at 8:48am PST
Breakfast all day equals happiness all day. Get fit with the diner's Coco-Yo Parfait, topped with granola and house preserves, or snag the Tunisian bake, made vegan.
Tunisian baked eggs made vegan! Spicy tomato sauce with roasted eggplant, olives, and mixed nuts. This was my first time at Parks & Rec and I'm in love. They also have some fun coconut milk yogurts! #ParksAndRecDiner #Detroit #Vegan #Vegetarian
A post shared by SonaliMonika (@veggie_vixen) on Jan 22, 2017 at 8:36am PST
Give us all the udon. And chili-lemon edamame. And tofu tacos.
As promised, here is my entree from last night. I got the Forest Udon. It's made with a porcini broth • sesame tofu • smoked trumpets • rosemary • garlic oil! #Vegan #Vegetarian #Corktown #Detroit #ImaDetroit
A post shared by SonaliMonika (@veggie_vixen) on Jan 4, 2017 at 4:11pm PST
With vegan ice cream flavors like dark chocolate peanut butter, pistachio, and Mexican chocolate, how can you go wrong?
Thank god for vegan ice cream #darkchocolatepeanutbutter #treatdreams #veganicecream #sugarcone #dessertporn #sweets #sugar #yum
A post shared by @ekmfoodiepics on Dec 29, 2015 at 7:20pm PST
Detroit is known for its hot dogs—and luckily, vegan versions are poppin' up all over, including at UFO Factory's Laika Dog kitchen. Get ready—its vegan hot dogs are out of this world. J Munch on vegan nacho-cheese hot dogs and crispy tater tots in one of the coolest bars in the city.
#Vegan nacho cheese dog topped with pickled red onions, avocado slippers, and cilantro paired with INCREDIBLE #dairyfree cheesy jalapeño tots. They let you pick from a number of condiments. I got wasabi ketchup and spicy vegan mayo! #LaikaDog #Corktown #UFOFactory #Vegetarian #Detroit
A post shared by SonaliMonika (@veggie_vixen) on Aug 12, 2016 at 11:04am PDT
This Michigan-based coffee shop has locations all over the state and tons of vegan options. Most of its clear syrups are vegan—just ask at the counter. It also offers soy, almond, and coconut milk.
You asked and we listened! We are now piloting more non-dairy alternatives in select BIGGBY® locations! You can now add coconut milk in any of your hot or iced beverages! ❤️
A post shared by BIGGBY® COFFEE (@biggbycoffee) on Feb 1, 2017 at 8:42am PST
Michigan's first and only 100 percent vegan food truck! That's right—your dreams have officially come true. Celebrate with one of the truck's beloved shakes, like the Cookie Monster, after devouring the delish nachos.
never knew vegan could be so yum #lentilburger #ShimmyShack #vegan #foodtruck
A post shared by Mary Molepske (@marynmo) on Sep 28, 2015 at 9:19pm PDT
In the 'Burbs
Chive Kitchen
Chive Kitchen in Farmington—a few miles outside the city—boasts a fun and creative menu of new takes on Michigan classics, including vegan chili-cheese fries, patty melts, chili dogs, and more.
GreenSpace Café
The perfect date night starts here! GreenSpace in Ferndale—opened by a vegan cardiologist who's passionate about health and plant-based food—has an upscale menu that features everything from macrobiotic bowls with kimchi (yum) and stuffed avocados to pizzas, burritos, and more.
Inn Season Café
Inn Season in Royal Oak is one of the originators of the plant-based food movement in Metro Detroit, serving classics such as a cashew-ginger stir-fry, The Big Baprawski—its take on a Big Mac—decadent chocolate cake with raspberry drizzle, and lots more.
Hippies Pizza
Hippies in Royal Oak not only delivers vegan pizzas with meat-free pepperoni and Daiya cheese but also offers a variety of vegan appetizers and desserts—including cinnamon banana bread and cherry bombs. You had us at vegan breadsticks, Hippies.
The Lunch Room
You'll have to trek out to Ann Arbor for this one—but it's worth it! Two locations there serve luscious sweet treats, including Mexican hot-chocolate cookies, and chai scones. Plus, check out the regular and brunch menus for dishes such as the chili mac, burritos, pancakes, and more.
Detroit Dog Co.
A food truck that serves veggie dogs? You've got it.
One more thing: Some of the most popular Better Made chips—whose headquarters are in Detroit—are "accidentally vegan," including the Original, Sour Cream & Onion Wavy, Red Hot!, and Barbecue flavors.
Want more vegan tips, recipes, and news? Of course, you do! Sign up for PETA Living E-News, sent to your inbox once a week.
All fields in bold are mandatory.
By submitting this form, you are agreeing to our collection, storage, use, and disclosure of your personal info in accordance with our privacy policy as well as to receiving e-mails from us.
The post See How Vegan Food Is Taking Over Detroit appeared first on PETA.