Seasons 52 Restaurants Serve Up Extensive Vegan Menu
June 9, 2017
Seasons 52 Restaurants Serve Up Extensive Vegan Menu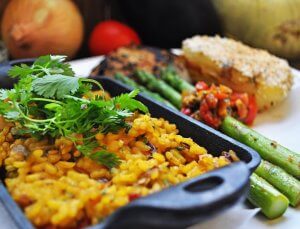 Good news on the dining front: Recently, we've seen many chain restaurants—from White Castle to Cheesecake Factory—add delicious vegan items to their menus. Darden—parent company to popular chain restaurants such as Olive Garden, Yard House, The Capital Grille, and others—is no exception.
Bet you didn't know that Darden's fine-dining establishment Seasons 52 has an entire vegan menu. Featuring vegetable pasta, wood-grilled kohlrabi steak, vegan paella, artichoke flatbread, and much else, the extensive menu offers so much more than a salad or two. Check to see if you live near one of the 41 restaurants nationwide. (Seasons 52 restaurants offer seasonal menus, so check with your restaurant for any new menu items.)
Vegetables take center stage this Autumn.
A post shared by Seasons 52 (@seasons52) on Sep 23, 2016 at 1:04pm PDT
Take a look at the scrumptious plant-based menu offerings:
Appetizers
Artichoke Flatbread featuring leaf spinach, balsamic onions, and roasted peppers. (Request without cheese.)
Blistered Shishito Peppers with roasted corn and sumac. (Request without lemon aioli and cheese.)
Roasted Roma Tomato Flatbread with fresh basil. (Request without cheese and crispbread seasoning.)
Salads
California Golden Beets with toasted pistachios and micro basil. (Request without cheese.)
Organic Field Greens with spiced seeds, cucumbers, and tomatoes. (Request oil and vinegar dressing.)
Spinach & Caramelized Bosc Pear with toasted walnuts. (Request oil and vinegar and no cheese.)
Entrées
Vegetables & Pasta featuring sautéed garlic and tomato-basil sauce. (Request without cheese.)
Vegetarian Tasting featuring wood-grilled kohlrabi steak, vegan paella, asparagus, and fennel-roasted onion.
Sides
Cremini Mushrooms
Quinoa Grain & Cranberry Salad featuring jicama, sun-dried cranberries, and fresh mint.
Roasted Carrots
Roasted Crushed Potatoes
Sweet Corn & Black Bean Salad
Dessert
It's fair to say that people are waking up to the dismal reality of eating meat. The destructive combination of cruelty to animals, environmental destruction, and terrible health effects is enough to turn anyone off.
Have you been thinking about going vegan? Our free vegan starter kit has everything from recipes and tips on eating out to health information. Order one to help you make the switch:
Send Me a Free Vegan Starter Kit
The post Seasons 52 Restaurants Serve Up Extensive Vegan Menu appeared first on PETA.