Serious Pie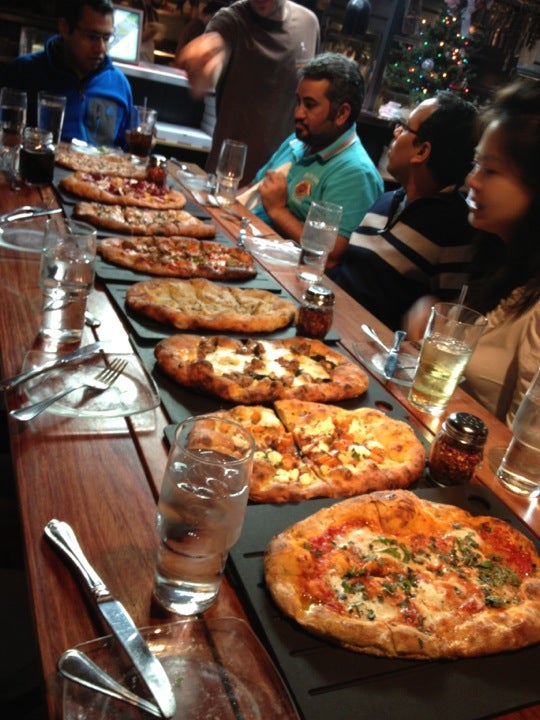 Map: Surroundings & Nearby
Foursquare Tips
Definitely get the $6 personal pie during happy hour, the full pizza is just too much food!

If you're here for a late dinner keep an eye out for the guys dancing in the Dahlia workshop below as they prep for the next day's baked goods.

Mexican coke available here - in bottles or you can get a glass.

Add soft eggs to your pizza order for $2, a delicious addition to any pie!

Internet Password: pieinternet

Can't go wrong with the buffalo mozzarella pie. Deliciously salty!

Fennel sausage for life!

If there is a pizza with burrata, that's what you want.

Try the Yukon gold potato, rosemary, pecorino pizza or the roasted seasonal mushrooms with truffle cheese pizza.. so so delicious!

The happy hour deal on half pizzas is great. Try the Pen Cove clam pizza for a taste of the Pacific Northwest...

Seriuosly good wood oven pizzas

Bing cherry salad...holy moly...get it!

The bakery in the bake is fun to watch! It services all the restaurants in the area.

Happy Hour is between 3 and 5. $5 mini-pies and $3 pints. $13 gets you two small pizzas and a beer--not bad for a late lunch or early dinner.

It was good but nothing special. They do a 20% gratuity on all bills & party sizes. The ambiance was cool. Service at the bar was slow.

Happy hour

Grits,and egg, cheese, and sausage biscuit with pepper jelly. Amazing!!

The mushroom pizza with truffle oil, soooo good!

The best pizza is Seattle ... T-Doug is the man!

Deliscious pies.